RedRoad, smart home appliance provider known for quality products, is about to release cordless vacuum cleaner V17. This flagship has cutting-edge technologies, superb features, and a stunning look.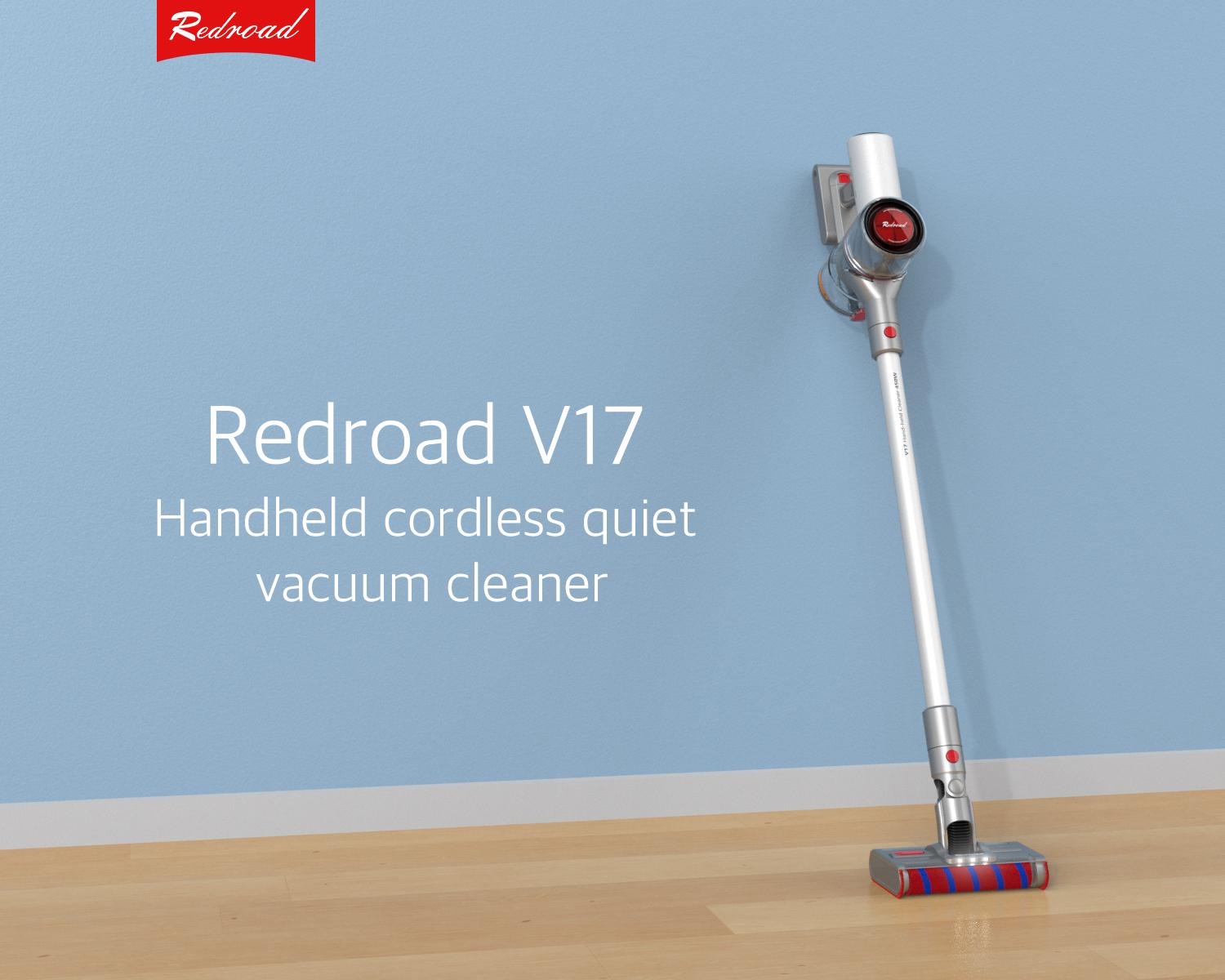 New techs on RedRoad V17 vacuum cleaner: omni-directional dual roller brush, double replaceable HEPA filters
1. RedRoad V17 omni-directional dual roller brush: clean with greater efficiency
① Strong cleaning power: doubled cleaning efficiency with dual motorized roller brush (4 bars to freely assemble for different scenarios)
With surging suction and an innovative dual motorized roller brush, RedRoad V17 is great for deep cleaning. The two bars are independently motorized to roll towards each other and better collect the waste.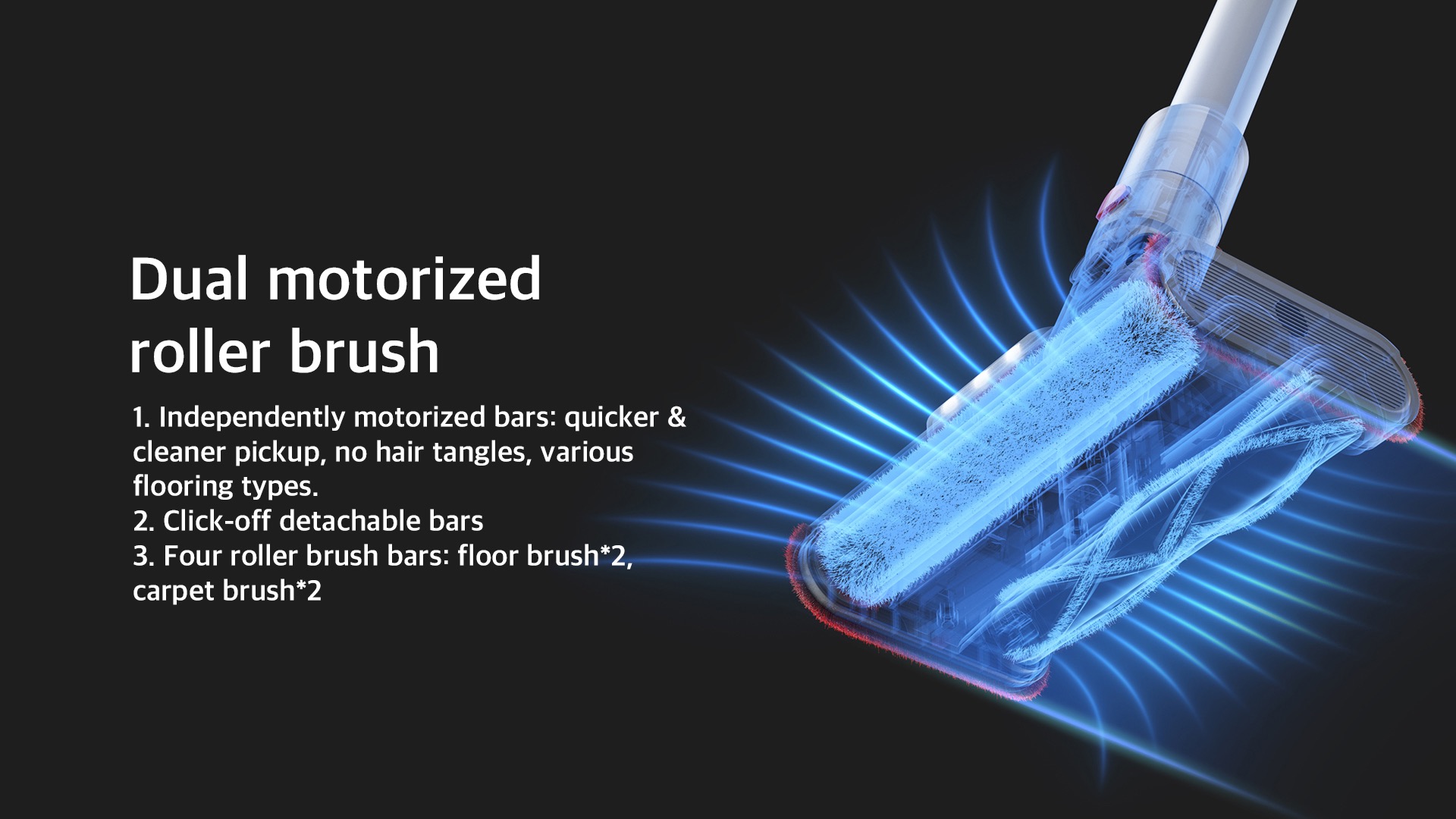 The dual motorized roller brush of RedRoad V17 has two floor bars and two carpet bars (all easily detachable) in total to clean in different scenarios. For example, you can team up two floor bars/carpet bars for hard floor or carpets. Or you can place one of each type if you have both hard flooring and carpets that you want to clean at one go.
② Omni-directional roller brush, easy to maneuver
The dual motorized roller brush is easy to maneuver and able to clean in complex house layouts with 360° caster wheels. You don't have to lift the vacuum cleaner or twist your wrist to clean hard-to-reach spots anymore.
2. Superb features for all of your needs: making life more comfy and healthy
The flagship V17 is another RedRoad appliance for a refreshing, noise-free and personalized way of home cleaning.
① Double activated charcoal HEPA filters for cleaner air to breath
RedRoad V17 is equipped with the third-gen Mandala filtration system. The inlet H12 HEPA protects the 12-cone motor, extends its service life, and the outlet H13 HEPA makes sure the outflowing air is cleaner than what you normally breathe.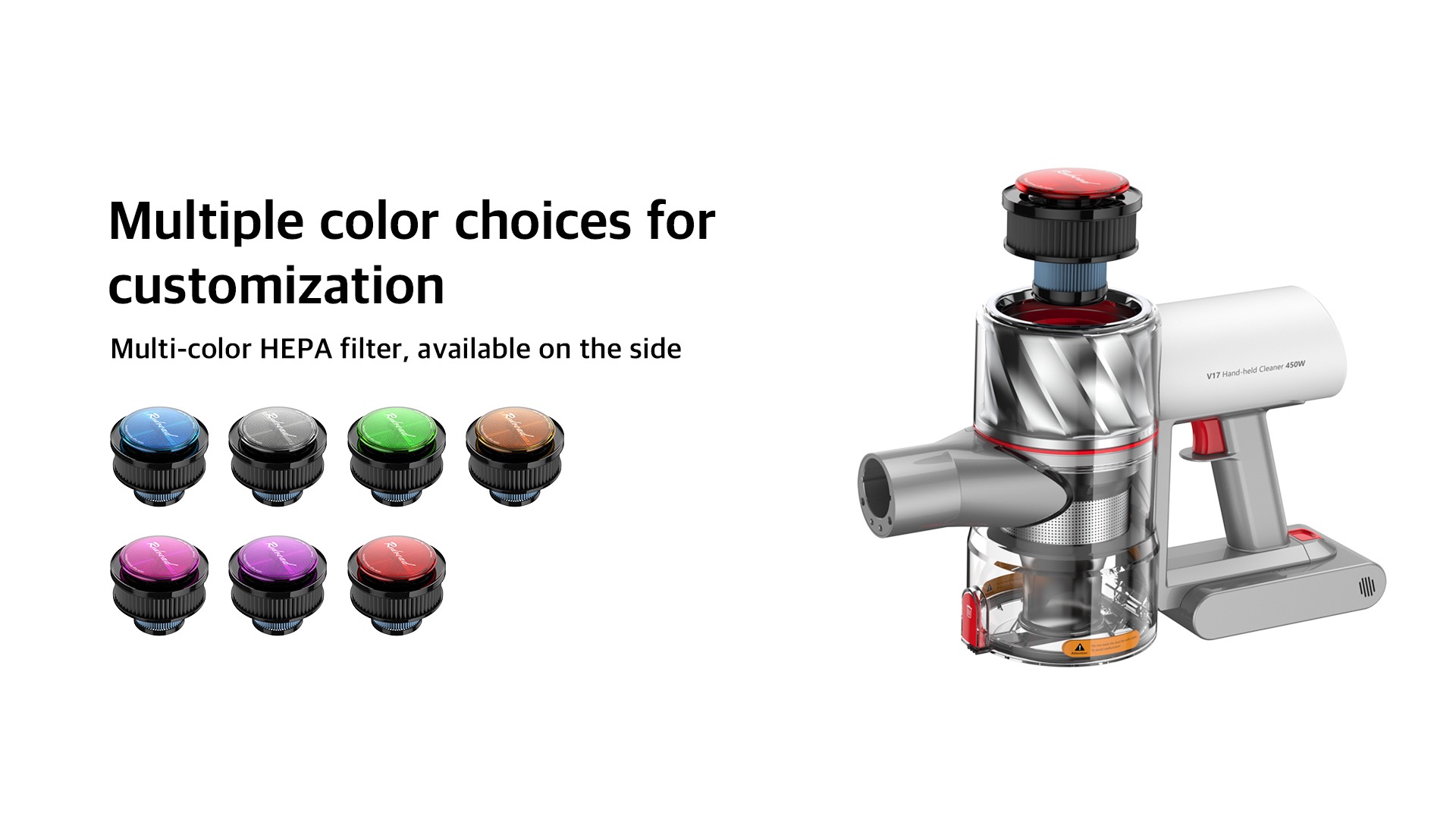 The filters can capture 99.97% of fine particles at the scale of 0.1 micron including dust mites, molds, pollen, pet dander, protecting babies and people with rhinitis or asthma.
You can also choose the color of the HEPA filter cover, and choose your own gorgeous RedRoad V17.
② 9-stage Mandala Noise Reduction System, a friend to the ears
Vacuum cleaner is by stereotype a noisy machine. But engineers across the world have been striving to reduce the noise as much as possible. And RedRoad is the leading force in noise reduction, known for the 9-stage Mandala system:
Maglev brushless motor, reducing friction and noise
Mandala polymer cotton, absorbing high pitch sound
Top outlet design, less windy noise
Maglev motor, reducing noise caused by resonance
Optimized re-flow duct, lowering high pitch sound
Compact assembly, cutting noise from friction
Altering high pitch sound to outside human hearing range
Dynamic control of rotor noise
Ring outflow duct design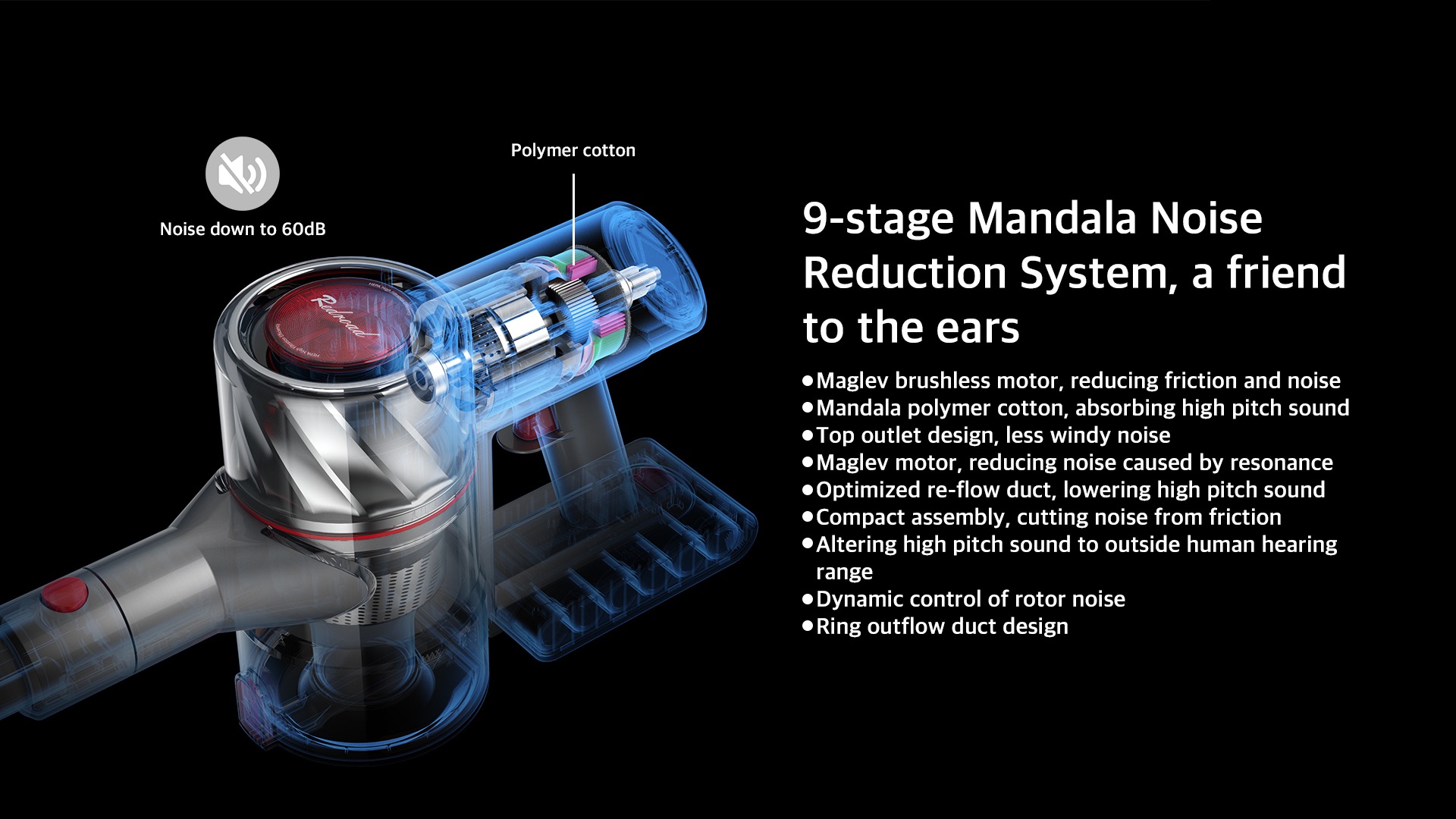 The overall design allows V17 to work at merely 60dB. It will finally free you and the family from noise pollution and have a comfortable cleaning.
3. Surging suction, abundant accessories
Cleaning power is the most essential specification of a vacuum cleaner. RedRoad V17 redesigns all the parts and accessories, produces them according to the highest quality standards, and sets a higher bar for cleaning power.
① Surging suction
RedRoad is devoted to shaping a comfortable and clean way of living. With a 120,000rpm top-notch digital maglev brushless motor and optimized air duct design, V17 represents the highest suction in this category. The 450W rated power of the main machine makes 155AW suction and 26,500pa vacuum. Such suction power is already excessive for daily house cleaning. Deep cleaning your house? It's a piece of cake for V17.
② Abundant accessories for all-scenario cleaning
The accessories of V17 include: extension rod, main brush (floor deep cleaning), crevice nozzle (with LED lights to illuminate hidden dust), wide nozzle and hose (for blind spots like the bottom of a car or inside a drawer), motorized mite brush (for bed and couch, removing 99.9% of embedded mites and pet dander), dusting brush (for keyboard, curtain and car seats). The tool set is not only enough for the indoor, but also for car cleaning.
③ Easy to clean: don't let your vacuum cleaner be dirty itself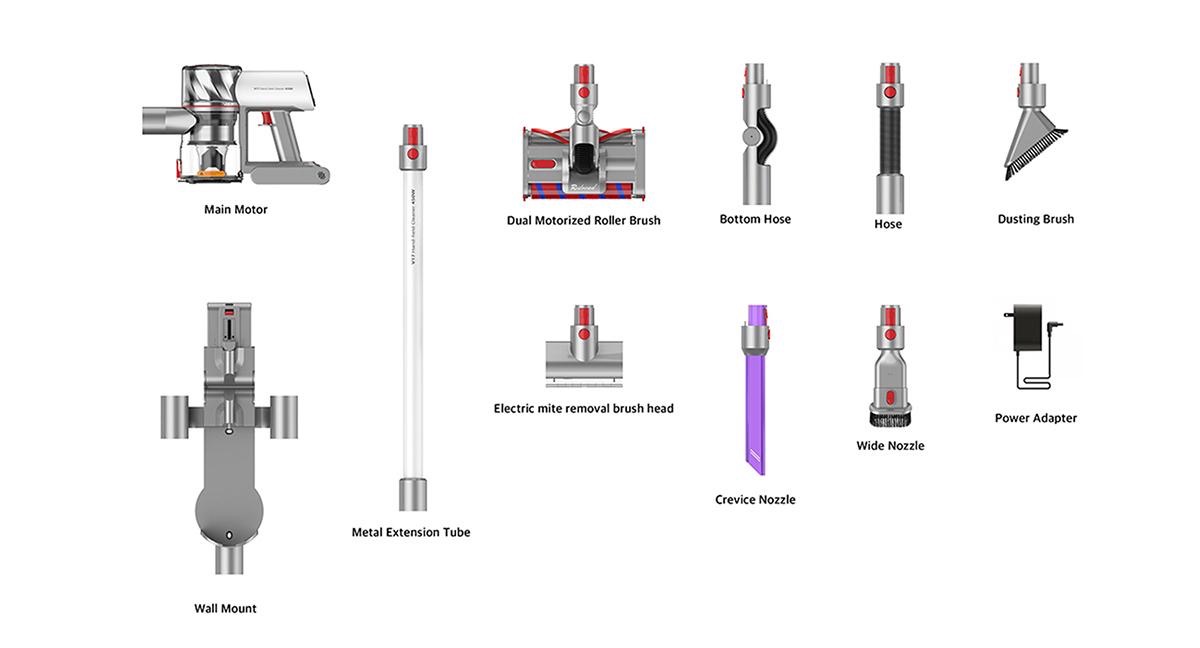 After cleaning the house, it's quite easy to clean RedRoad V17. You can dump the waste by pushing a button. You can also do some deep maintaining every week if you're worried it might have any smell. There is a small brush in the dust cup to clean it with. The top HEPA can be detached and cleaned with cool water, and be fresh as new after it's dry again. All the roller brush bars can also be detached and easily washed under a tap.
④ Smarter cleaning
RedRoad V17 is equipped with an OLED color screen that shows battery life, filled cup and consumable parts replacement reminder, and error alert, etc. in 13 languages.
There is also a trigger lock on the main panel if you want to clean without continuously pressing the button.
4. Large battery and smart design for multi-terrain and large area cleaning
Larger house requires a longer time to clean. That's why many people are looking for a cordless stick vacuum cleaner with extended battery life. RedRoad V17 has balanced the weight and battery life. Inside this 1.7Kg compact model is a 2,500mAh lithium ion battery. It sustains for 60 minutes on Eco Mode, allowing you to clean 200m² at a go.
Also, the battery of cordless vacuum cleaner tends to wear out and lose capacity due to frequent uses on different modes. Customers have to replace the whole machine or seek factory repair, and paying a lot either way. To solve this problem, RedRoad V17 adopts a detachable battery. Other than that, you can extend the cleaning time with backup batteries.
RedRoad V17 also has an advanced built-in battery management system. It monitors battery life with high precision and controls discharge accordingly, and is featured with remaining runtime estimation and floating charge. Above all these, RedRoad V17 has a 2-year warranty for your assurance.
Disclosure: We might earn commission from qualifying purchases. The commission help keep the rest of my content free, so thank you!