This post brought to you by Snapdragon by Qualcomm. All opinions are 100% mine.
In order to promote marketing activities intended for mobile processor building distribution and collaboration with the City of San Diego and the San Diego Bowl Game Association, Qualcomm has renamed the Qualcomm Stadium in San Diego to Snapdragon Stadium for 11 days. During these days, the stadium hosted a Chargers Sunday night game against Baltimore along with other 2 college bowl games: the San Diego County Credit Union Poinsettia Bowl on December 21 and the Bridgepoint Education Holiday Bowl on December 28.
This is really a smart move to bring more recognition for the brand. We all know that Snapdragon processors by Qualcomm are the digital brains inside mobile devices made specifically by top manufacturers like Samsung, LG, Nokia, and HTC, they give better experience in watching HD videos, playing excellent quality games as well as browsing the internet. At the same time, Snapdragon processors preserve the smartphones' battery life for longer periods without charging.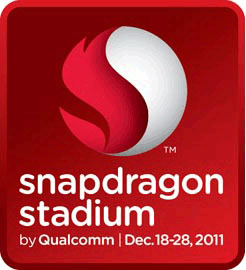 These powerful processors are intended for transforming systems that we make use of mobile devices in the upcoming years. Snapdragon processors have also been featured in a variety of SmartBooks, devices which combine the portable features of Netbooks, and the connectivity features of Smartphones.
You can check out these posts for more information on the news:
http://www.sportsbusinessdaily…
http://www.scoopsandiego.com/n…
http://www.signonsandiego.com/…