Cloud storage services are typically generic products that can host a variety of file types. However, that limits the number of operations you can do with those files. A file-specific storage service on the cloud, on the other hand, can offer a range of file actions because it targets a particular file format.
A great example of this is Adobe's Document Cloud, which is specific to PDF files and comes with several file actions that are geared to PDF workflows. Another one we recently came across is Wondershare Document Cloud, a cloud storage service that is also integrated with a very important feature – electronic signatures for online eSigning.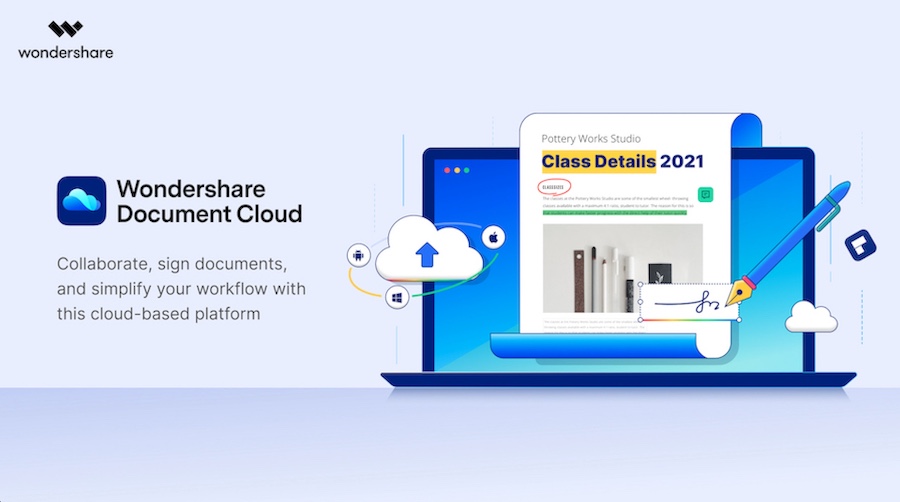 Let's look at some of the key features of this product from a business user's perspective.
File Storage and Sharing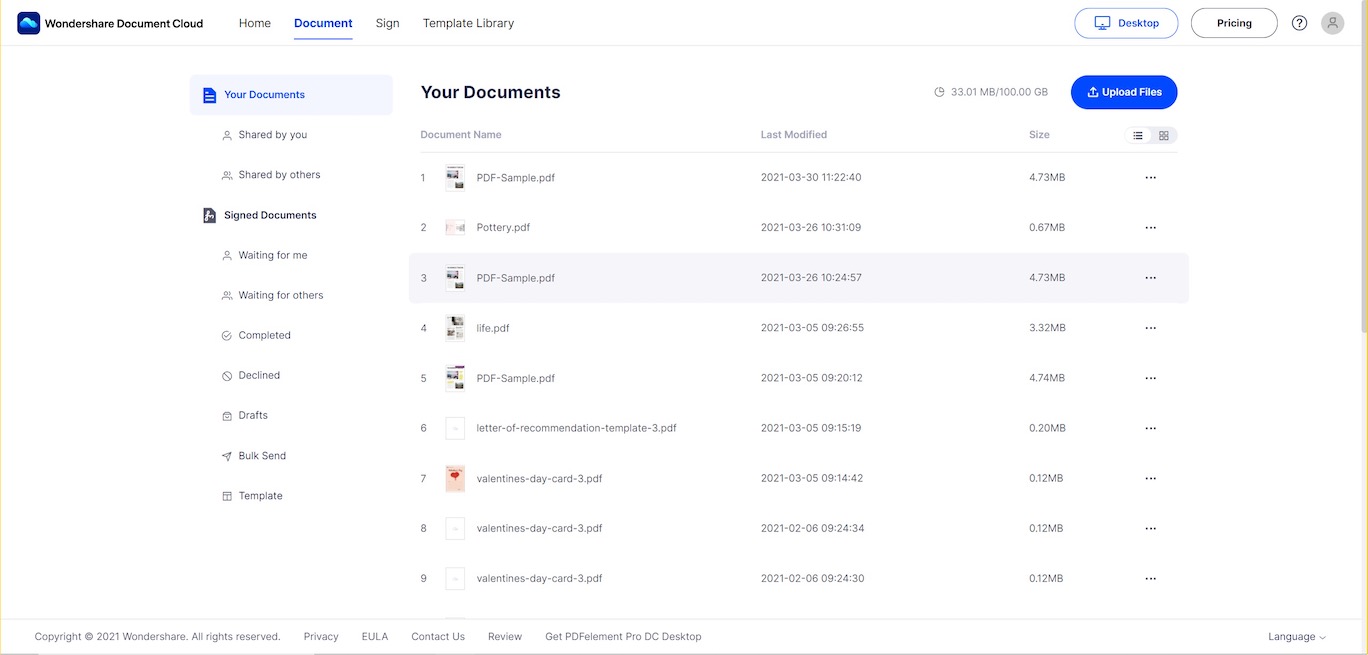 The purpose of any cloud storage service is to make files globally accessible to authorized users on a secure platform. Wondershare Document Cloud provides this platform for PDF files. But why just PDFs? PDF is ubiquitous across the business world and is the preferred format for distributing data and information. The advantage is that, unlike formats like MS Word, PDFs retain the layout and attributes of their content on any device and operating system. This makes the content easily viewable and consistent across smartphones, tablets, PCs, and other device formats. The file-sharing option in Wondershare Document Cloud allows users to share cloud-stored PDFs with others using secure links, but that's not all: these links can have specific permission levels so the recipient can either view the file or view and comment on it. And that brings us to the annotation feature
Two Types of Annotations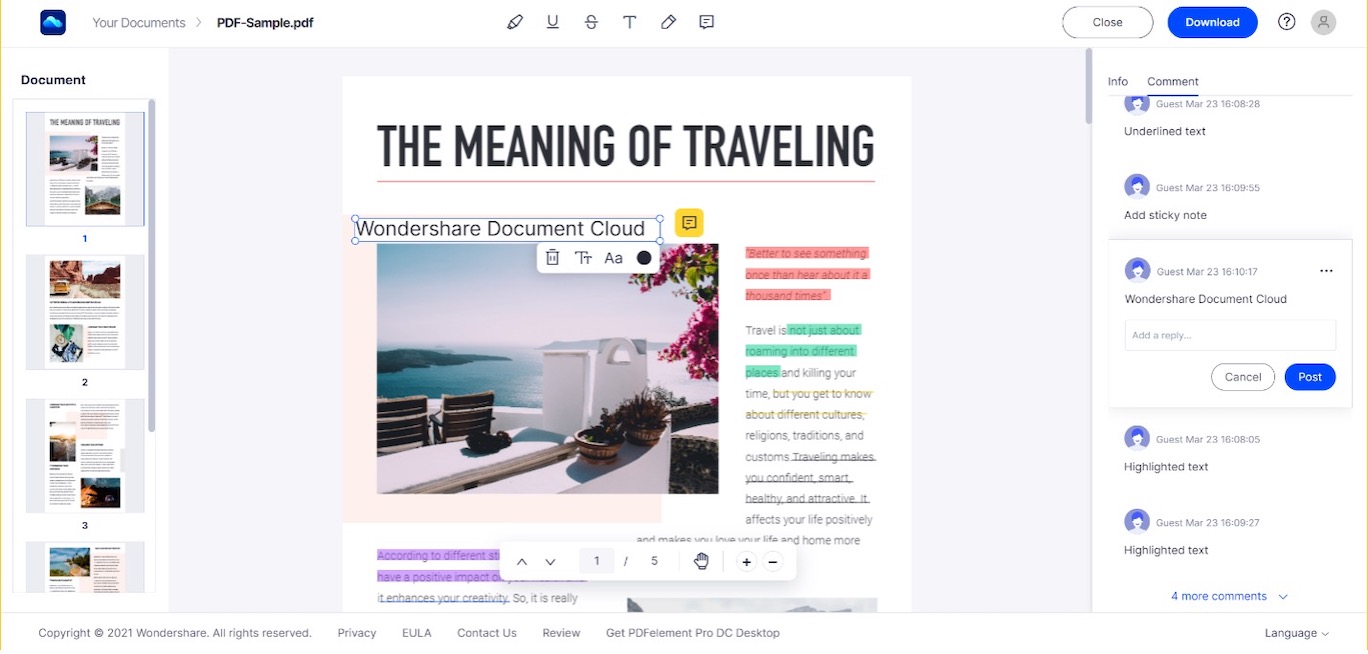 In general, annotations are publicly viewable, but in Wondershare Document Cloud, users have the option to add private notes that only they can see. They can also add multi-user comments that others can view and respond to based on the permission level of the share link they received. For businesses, this allows employees to add notes to themselves as well as to other stakeholders viewing the document. It facilitates private note-taking as well as multi-user collaboration, but of which are very relevant to PDF workflows that every business handles on a daily basis.
Two Types of Signature Collection

Electronic signatures are legally binding in all major markets around the world, which makes them a highly valuable tool to speed up document workflows. Wondershare Document Cloud offers two types of signature collection in addition to e-signature creation and e-signing PDFs. The process flow is simple: just upload a file to the cloud with the Upload Files button, go to the Sign tab, choose one of the signature options, select a document from the cloud or your local drive, prepare it for signing, and send it on its way. Once you send a file, you can track its progress on the dashboard until it shows 'completed'. The Send for Signature method lets you capture several signatures on a single PDF file, and you can even set the signing order. The Bulk Send feature captures one signature per copy.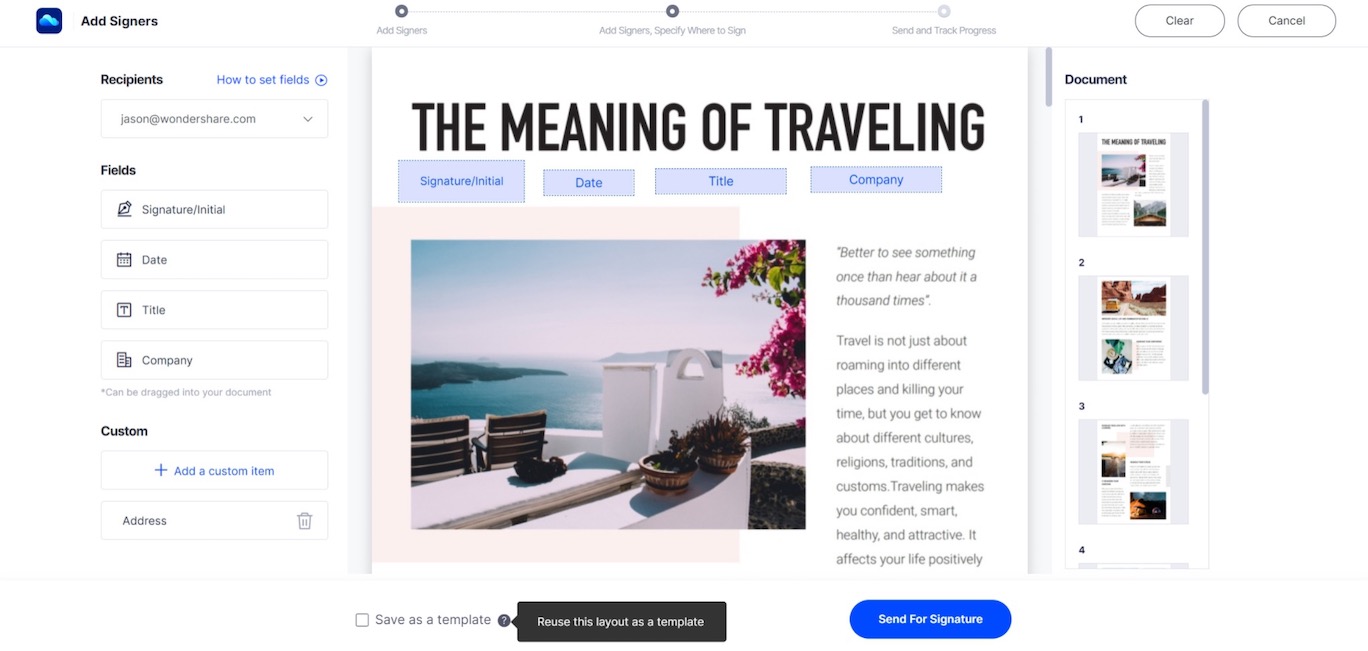 Businesses can use the first method for contract-signing and other such purposes, while internal teams like HR and Finance can use the Bulk Send option to get employee acknowledgments for internally circulated documents. In addition, Wondershare Document Cloud provides a PDF template library for users. You're allowed to one-click to save templates to cloud or send templates for electronic signatures directly.
What Else Can You Do with Stored Files on Document Cloud?
As with most cloud storage services, certain standard actions can be performed on PDF files stored in Wondershare Document Cloud: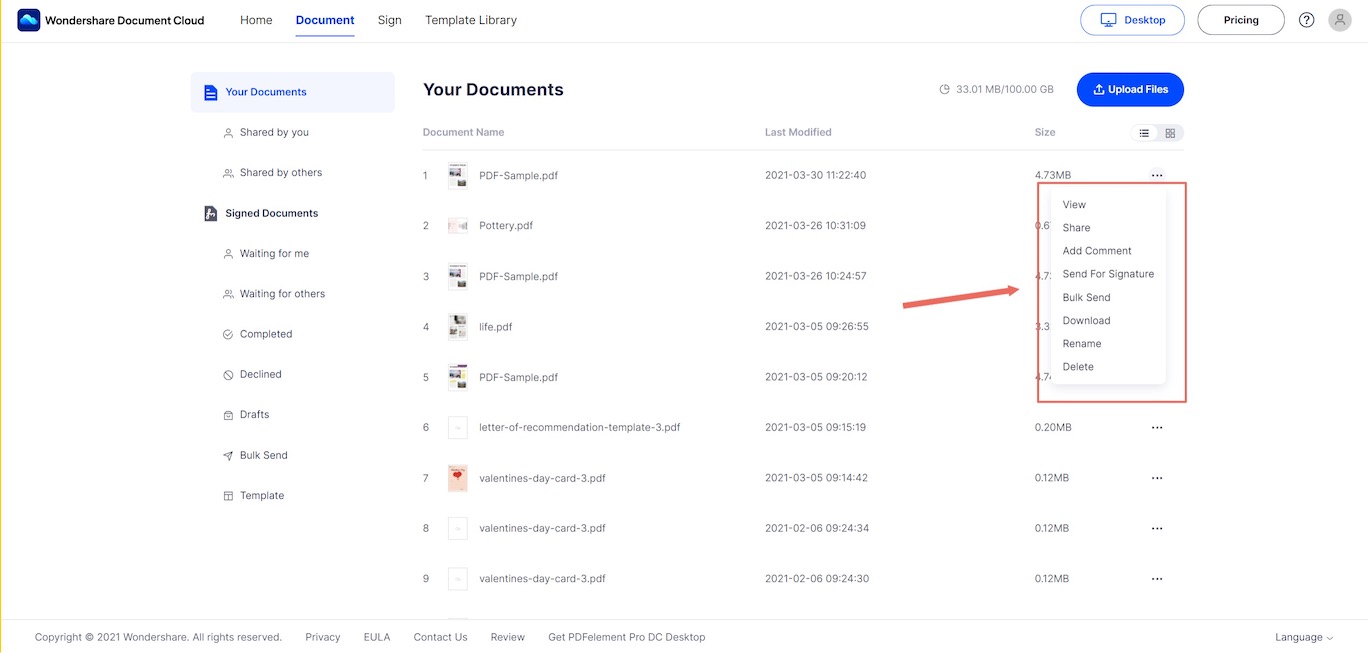 View – Open and view the contents of a PDF file
Delete – Remove a file from the cloud when it is no longer required
Download – Save a file from the cloud to your device's local memory
Rename – Change the name of a file to track the version, etc.
Send for Signing – Initiate the e-signing process through the document view (Recent Document Activity or the Document tab)
Share – Share a file by generating a link, the attributes for which can be edited
Comment – Add a private comment or multiuser annotation with this option
When you combine all these features, what you have is a robust service that is so much more than just cloud storage. In other words, it can act as a central hub or repository for PDF workflows, from where multiple users can easily access and manage what they need to without having to log in to a company server via a VPN. Wondershare Document Cloud's security protocols are similar to what large enterprises use, so you can leverage that for your own small or medium-sized business. In addition, you can add unique branding elements like your company logo or a personalized email when sending documents for signing.
Our Overall Impression
Our impression of Wondershare Document Cloud was overall a very positive one. We saw the value of having a PDF-specific platform because there's a huge demand for such a service but very few operators in this space. Aside from Adobe, not many companies focus on solutions just for PDF workflows in the cloud, which is why Wondershare Document Cloud stands out as a pioneering product. The integration with Wondershare PDFelement pushes its capability into the desktop environment, which results in a sort of hybrid model where you can work locally on a PDF file and then upload it to the cloud for sharing and collaboration. The collaborative aspects, particularly multi-user vs. private commenting as well as easy link-based sharing of PDFs, are particularly attractive for any business that handles heavy traffic of PDF files like invoices, forms, documents, contracts, and so on. More importantly, it makes these files accessible from any location in a secure manner, and that's critical in today's work-from-home and work-from-anywhere culture. A true "multi-terminal experience", as Wondershare puts it.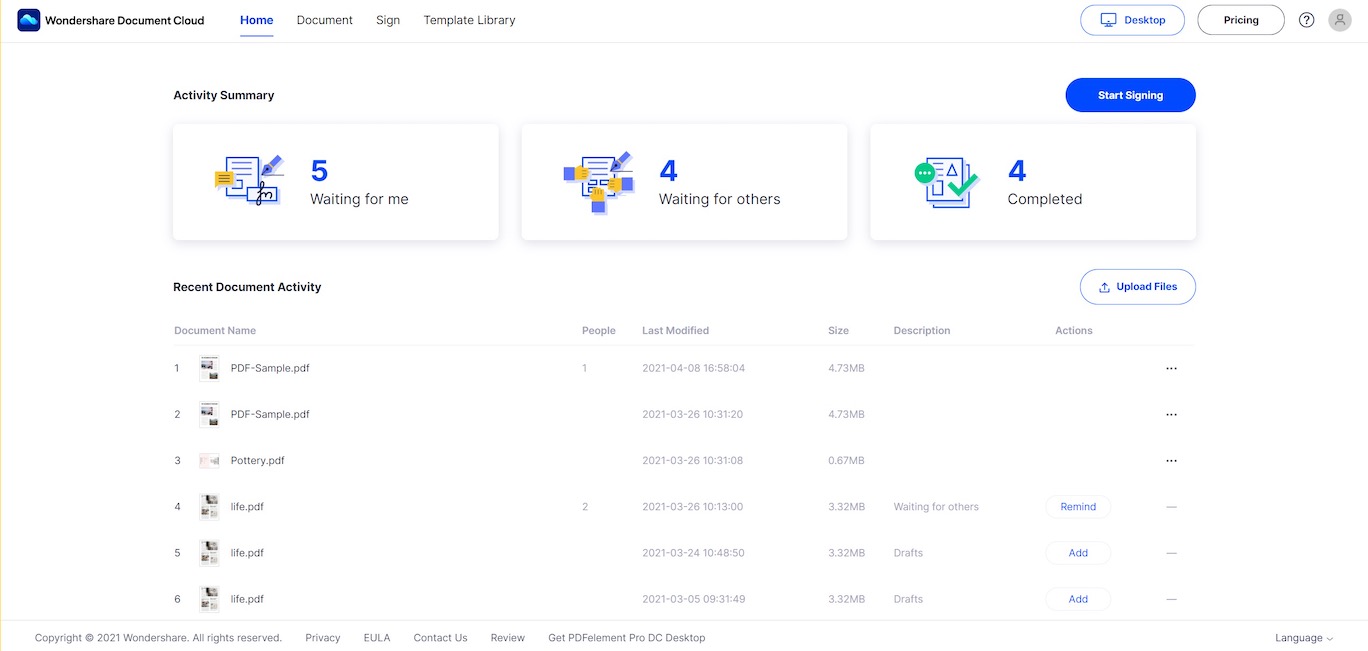 On the other hand, we also found that the product lacks a few attributes and features that we'd like to see in newer updates, such as a more polished and intuitive UI. Right now, the service has a very simple look. While that's great in terms of having a clear layout with features neatly labeled, it doesn't have much of a design element. It's a relatively new product on the market so we're hoping that this is on their list of development priorities, but we do understand that functionality is equally important so UI considerations may be pushed to the back burner for now. However, one particular feature we'd like to see is TFA or MFA. This is a key security aspect of any digital workflow, so at least having two-factor authentication will put users' minds at ease when it comes to security. Other than that, no complaints. We'll be watching to see how this product evolves over time and gets new features. As a cloud service, updating your version is simply a matter of refreshing your browser, so we hope to see rapid feature additions and hopefully a refreshed UI in the coming months. We wish the Wondershare team all the best for this fantastic new product that we're sure businesses of all sizes will appreciate.
Disclosure: As an Amazon Associate, I earn from qualifying purchases. The commission help keep the rest of my content free, so thank you!