Many users of iPhone 6 and iPhone 6S have been complaining lately over the short-span battery drain they are experiencing with their handsets even while not using energy hog apps, not the least Facebook's core app.
Majority of users have a common observation pointing to the Facebook mobile app as the culprit for all the quick emptying of their iPhone battery, as shown in the device's battery analytics tool that calculates how much energy an app has used and the amount of time that app has drained your mobile phone.
Since the Facebook app is perhaps the most downloaded item in both Google Play and Apple App Store, billions of people could be suffering from the battery drain issue. The bad thing is the app has been designed in such a way that it will persist in consuming your iPhone power even when the app is closed or not running.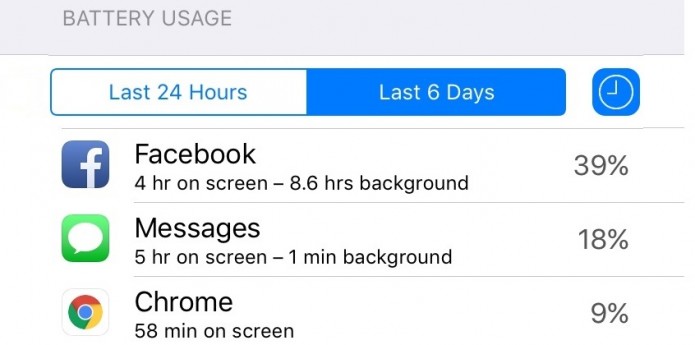 For example, some users noticed via their built-in analytics that Facebook used up 15 percent of their total battery power, and that twice of the app's activity was recorded in the background as it is on screen, revealing that there is something really wrong with how the app functions. All this while the background app refresh option is switched off.
This feature is used to disable the background app refresh functionality in order to stop non-Apple app from running in the background. What seems to be the problem, though, with this setting is that the Facebook app continues to run even with this option turned off.
For some users, the solution had been to change the location tracking service to "While Using" from the default setting "Always". Notwithstanding, the Facebook app has been found to be the top battery hog among all the apps, and still the background refresh remains the top consumer of energy.
Facebook or Apple has yet to issue a fix for this escalating and worsening problem.
Some Facebook users suspect that the company is resorting to other medium in order to continue refreshing the core app in the background even if the user chooses otherwise. Still others believe Facebook is keeping audio silent in the background while a video is playing – as is the default setting for mobile.
One way to break away from this problem is to use the mobile web version of Facebook and stop using the app, uninstall it. You can also create a bookmark of the Facebook homepage and send it to your device's home screen. The mobile browser version works in much the same way as the core app, anyway.
Disclosure: As an Amazon Associate, I earn from qualifying purchases. The commission help keep the rest of my content free, so thank you!