"What is Native Cloud Game(NCG)?"
Since the concept of NCG was proposed, the field is still in the exploration stage. However, great progress and breakthrough have been made by the R&D team of Tencent's NCG technology solutions.
On June 27th, the Demo of Native Cloud Game "EVOLUTION", which was produced by START ENGINE, was premiered at the 2022 Tencent Games Annual Conference. The mystery of NCG was unveiled for the first time.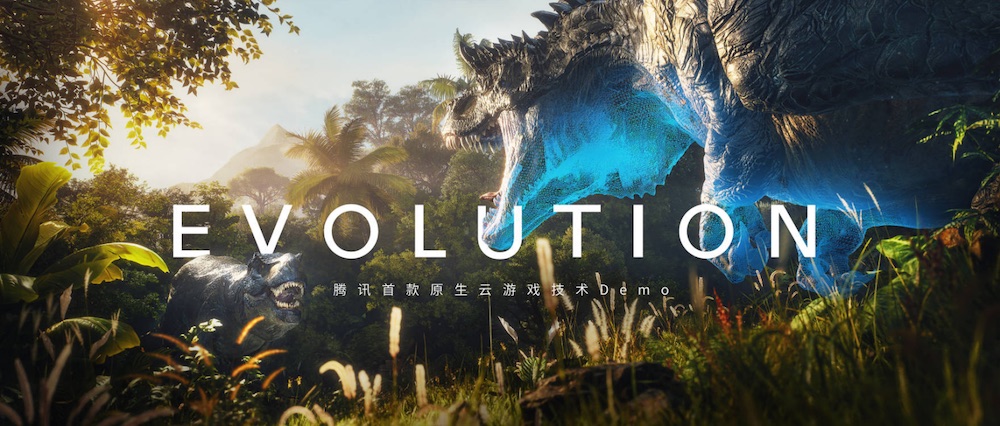 The world premiere demo of "EVOLUTION" is different from movie blockbusters before which can only be watched but cannot be experienced. The R&D team of "EVOLUTION" has created a cinematic level, real-time interactive scene for players through native cloud technology. The scene with super-fine dinosaur rendering and dense and real woods makes players feel as if they were in the era of dinosaurs billions of years ago.
In addition, "EVOLUTION" built by native cloud technology naturally has the online advantage. Players don't need to consider complex synchronization problems that traditional online games must take into consideration.
Real-time high-precision creature rendering
Zero defects at any distance, bringing the cinematic experience to the game
Because the subdivision technique of traditional games is quite different from that of film and television production, current games cannot achieve near-real skin features, texture, and luster in creature rendering.
However, the real-time subdivision processing solution proposed by START ENGINE can apply the model subdivision technique in film and television production to real-time rendering. In addition, this part of intricate work can be transferred to a dedicated graphics card for execution. Finally, the cinematic look with a detailed photorealistic scene exceeding the 3A level will be presented to players.
Ultra-high precision details are rendered through directly importing film-level fine assets
Real-time surface subdivision technique of low-precision models without any preprocessing
Adaptive grid level of detail(LOD) with ultra-high resolutions up to 1000 times more than the original model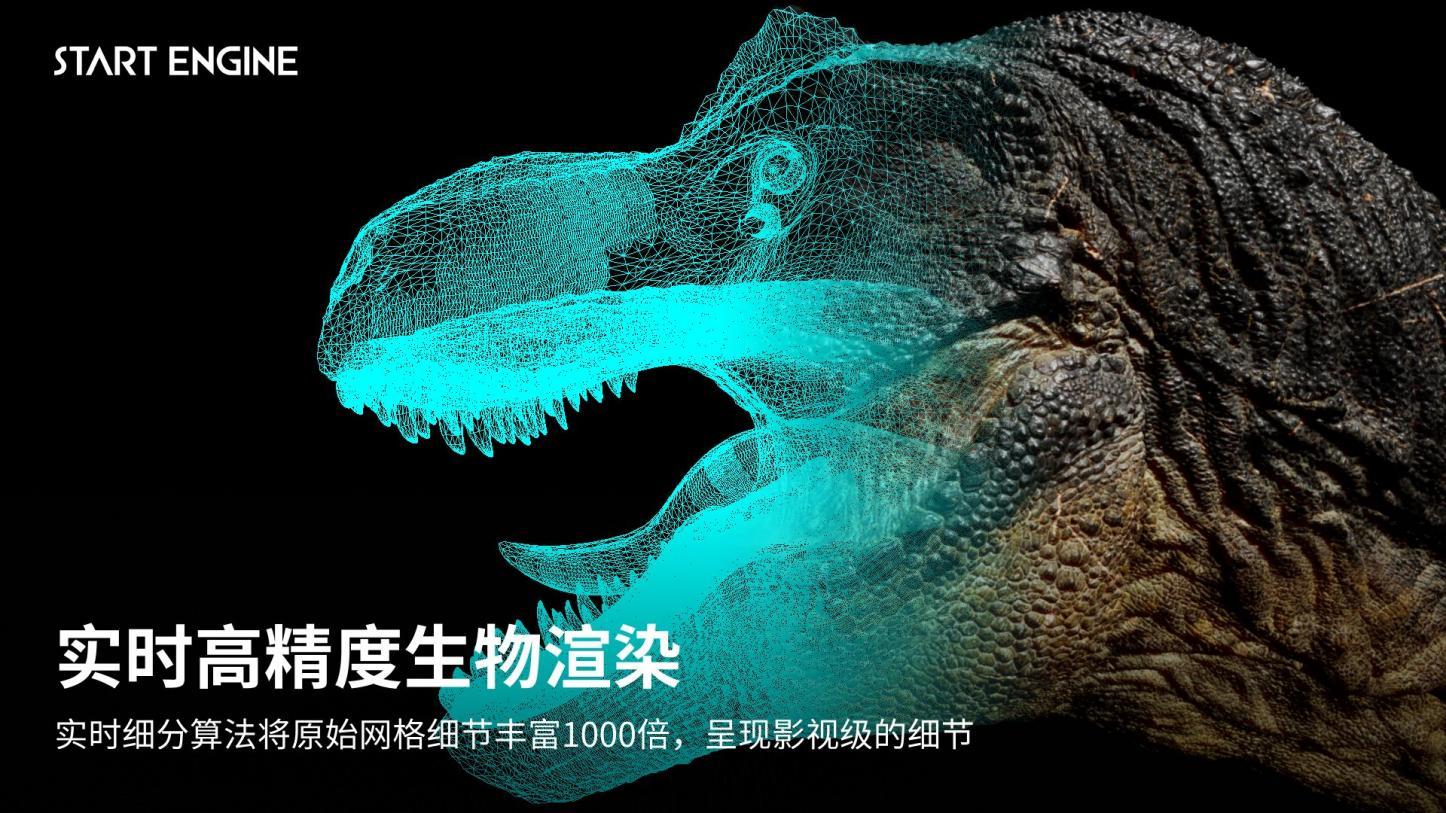 Real-time high-density and high-precision plant rendering
Add cinematic real tree scenes to real-time games with finely detailed leaves
One of the important but quite difficult problems in game production and graphics research is the real-time rendering of large-scale hyperreal tree clusters. The reason behind this is that the data required for rendering high-precision tree models is too large, which greatly increases the rendering load.
To tackle this difficulty, START ENGINE specially developed BroadLeaf, a real-time rendering algorithm for high-density and high-precision plants. It cannot only ensure the quality of plant rendering, but also ensure its real-time performance. The algorithm can render tens of thousands of trees at an average frame rate of 1000, which is far more efficient than existing rendering engines.
What's more, trees and leaves rendered by START ENGINE can even achieve monolithic interaction. Relying on the cloud computing platform, BroadLeaf makes it possible to add large-scale cinematic level tree scenes to real-time games, which greatly improves the richness and real-time of game scenes.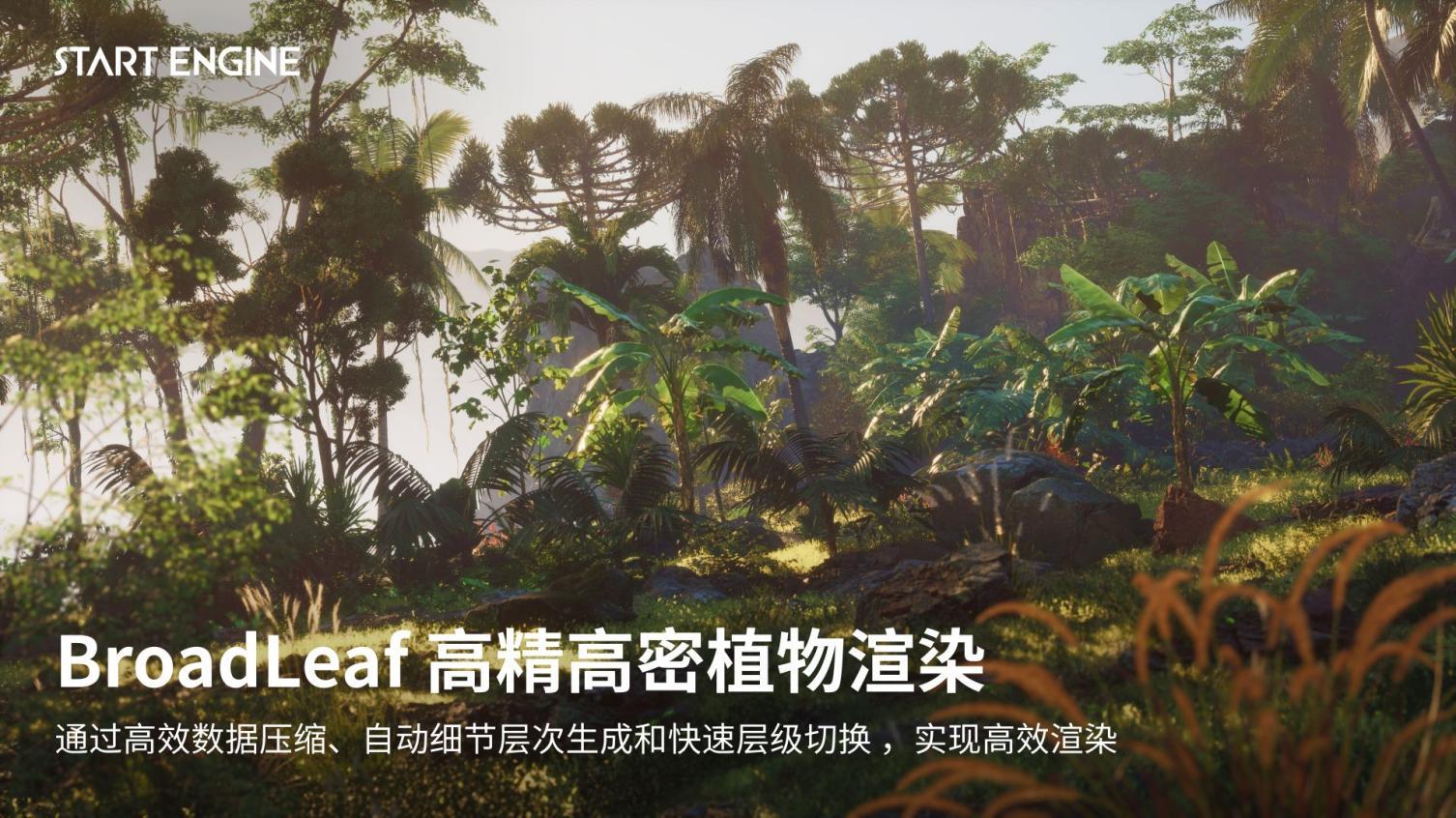 Real-time dynamic tree simulation
Make trees interactive through blow, bend, and collision
In traditional game production, the physical simulation of trees often requires much simplification to reduce the amount of calculation for real-time effect due to the limitation of computing power. Thus this leads to an unsatisfactory real-time tree simulation effect.
START ENGINE takes advantage of the computing power of multiple graphics cards on the cloud to achieve real-time high-precision tree simulation in native cloud games based on GPU acceleration technology. Hardware ray tracing technology is used to perform accurate physical collision detection, which is quite satisfactory. When trees collide with high-precision models, accurate physical feedback can be obtained in real time, which further improves the physical performance in the real-time field.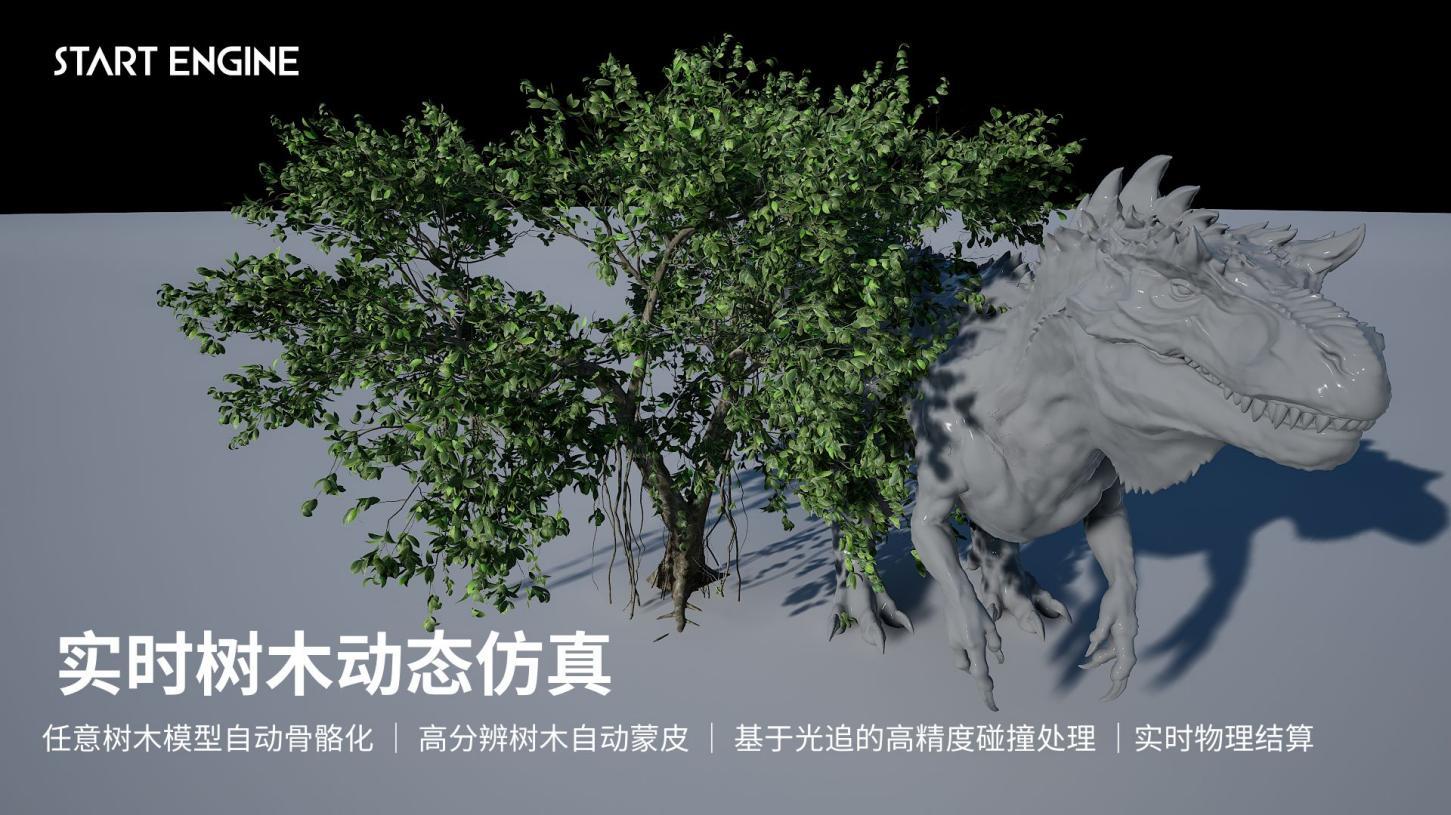 GPU accelerated real-time fluid simulation
The real and delicate water flow with 1.5 million water particles can be felt
High-precision fluid simulation effects often appear in films and television shows. However, due to the complexity of fluids, only a very small number of particles can be used for approximation in real-time, thus the rendering effect is relatively rough.
START ENGINE puts over 1.5 million particles on the cloud for computing, using GPU for acceleration and a special rendering card for water body geometric extraction and rendering of the fluid simulation results through SDF in real time.
In the end, START ENGINE successfully brought high-precision fluid simulation to real-time games, bringing players a new and realistic experience.
Join in hands and set off to the real world together
Just like the name "EVOLUTION " of the demo of the native cloud game, the START ENGINE team will further specialize and excel in technical development in the field of NCG, bringing fundamental and transformative improvement to the efficiency and process optimization of traditional game development. The brand new gaming experience will be enjoyed by terminal users.
This is just the beginning.
In the foreseeable future, native cloud game technology will be applied comprehensively to the gaming industry. In addition, such breakthrough technology can also provide new possibilities for the development of film and television production.
START ENGINE looks forward to collaborating with global game studios, independent developers, and creators in the film and television industry to explore more possibilities with the technical capabilities provided by START ENGINE and set off to the real world together.
For more information about technology applications, development experience, and latest activities of START ENGINE, please scan the QR code below to follow the START ENGINE WeChat official account, or go to our official website (https://start.qq.com/m/engine/index.html).
For more cooperation and technical support from START ENGINE, please follow and click "More Content" in the menu bar and select "Contact Us".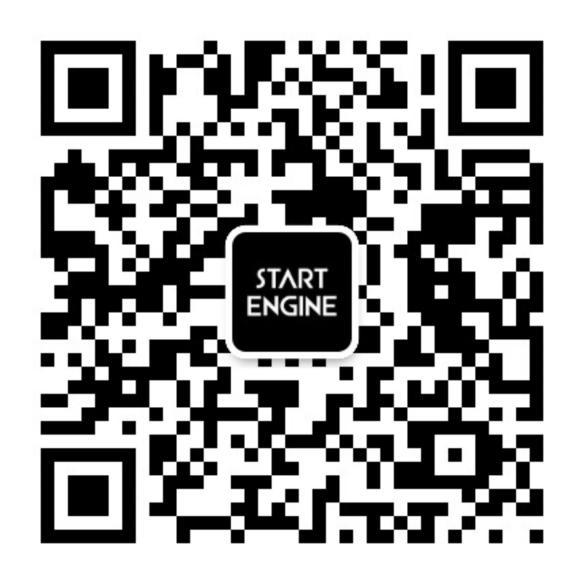 Disclosure: We might earn commission from qualifying purchases. The commission help keep the rest of my content free, so thank you!