Today I will put some light on the topic Plagiarism. As per Wikipedia – "Plagiarism is defined in dictionaries as the 'wrongful appropriation,' 'close imitation,' or 'purloining and publication" of another author's 'language, thoughts, ideas, or expressions,' and the representation of them as one's own original work."
In simple words when you copy content from someone's blog or website and publish it on your own blog or website under your name, the act is called as Plagiarism. It's like stealing someone's intellectual property and if you are a writer/blogger it will definitely going to hurt you economically, socially, and mentally. But you can always take some precautions to prevent this Scumbags and thieves from getting your content because prevention is always better than cure.
Before going any further I want to tell you something about Accidental Plagiarism. Accidental Plagiarism is a type of Plagiarism where you unintentionally or unknowingly copy some content. For an example, say, you are a blogger and you want to write something on some topic and that's why you are searching the web to find out what other bloggers has written in the past on that topic. Suddenly you come across a very good article and got influenced by it. Now when you start writing, you have the fresh memory of that "very good" article and this is the way you might end up creating a blog post that might just look like the awesome article you were reading on the web.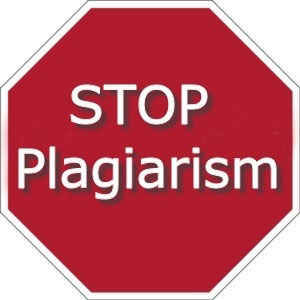 Steps to save your blog from Plagiarism
1. Checking your blog and the web
First of all you can always make use of the Plagiarism checker websites to check if any website is copying your content. It is also a free (sometimes paid) way of checking your blog for Accidental Plagiarism. Some of them are:
Copyscape: This website is probably the most used website for Plagiarism checking. They offer a free scanning of your website but will produce fewer results if you don't go premium. They also provide you a free "PROTECTED BY COPYSCAPE" banner.
The premium Copyscape service is much reliable and will show you the full list of websites that might have been stealing from your website. It will cost you only 5c per search. They also provide a service called Copysentry that will automatically monitors the web for copies of your pages and will email you the results. This service is also paid and costs $4.95 a month.
plagiarisma: Plagiarisma is also providing a free Plagiarism checker tool. You can paste your content as text and the tool will search for duplicate content on the web via Google (Available for registered users only) , Bing and Yahoo. You can also enter you URL to check if you are a victim of Plagiarism.
Search engine reports: Searchenginereports.com also provides you Advanced Plagiarism Checker. You can enter your content here as text format or you can enter the url of your blog post and it will search for any similar posts on the web that may be copied your content. This service is completely free.
Duplichecker: This is also a very good website for the same. Unlike Plagiarisma they provide search on Google, Bing and Yahoo for free.
2. How to take action:
You got the website name/blogger name who is stealing your content. Now what? You definitely have to take action against them.
First contact the Plagiarist with an email and alert him/her about the whole thing. You should approach the Plagiarist with a calm and requesting attitude. If it was a case of Accidental Plagiarism they will immediately remove the contents. But if it was a deliberate Plagiarism then you will have to go through some hard work to get your content removed from their website.
Go to the website whois.net or to whoishostingthis.com and type the url of the website you just found guilty. This websites will provide you many important information like the registrant of the website, the host name and may be a contact information (if you are lucky enough).
The more tricky part is contacting the host and alerting them about the nuisance. Find more on "How to contact a HOST" here.
You can also contact the Plagiarist directly by sending them a DMCA(Digital Millennium Copyright Act) Cease and Desist letter. You can find the appropriate way of writing a Cease and Desist letter here:
Here's a video of a daring journalist named Duane Lester who tough the Plagiarists a lesson:
Here's another Blogger IAN LURIE who placed a trap on his blog by placing an invisible widget on his own blog and caught the Plagiarist red handed.
Now, Plagiarists stop your god damned Ctrl+c/Ctrl+V -ing work and stop killing the writers by stealing their content.
Disclosure: We might earn commission from qualifying purchases. The commission help keep the rest of my content free, so thank you!