ORTUR released the first generation of the Laser Master 2 just over a year ago. Although it lacks many features as seen on the 2 Pro-S2, it is still a decent laser engraving machine in the lower price range. The gap between the two machines becomes closer as the brand has released the new ORTUR Laser Master 2 S2 with some notable improvements. Let's check it out.
Disclosure: This is a sponsored article; We were compensated to publish this post on our website
Specifications
Motherboard
9th-gen Ortur Laser Motherboard, with 32-bit MCU
Firmware
OLF-V180 Series Firmware
Safety Precautions
1. Active Position Protection,
2. Exposure Duration Detection and Limitation,
3. Laser Beam Safety Guard.
4. Power Control System
Add-ons (Optional)
1. Ortur Offline Controller
2. Adjustable Z-axis Lifting Device
3. Enclosure
Frame Materials
Aluminum Profile + Powder Coated Steel
Motors
NEMA 17 Stepper Motors
Mechanical Precision
Y:12.5um,X:12.5um
Pixel Accuracy
Adjustable (Default: 300 pixels per inch, about 0.81um Pixel Accuracy)
Engraving Area
X390MM x Y410MM
Available Laser Modules
LU2-2 24V Laser Module
(Electric Power: 7W, Luminous Power: 1,000-1,600mw)
LU2-4-SF 24V Short Focus Laser Module
(Electric Power: 20W, Luminous Power: 4,500-5,500mw)
LU2-4-LF 24V Long Focus Laser Module
(Electric Power: 20W, Luminous Power: 4,500-5,500mw)
Wave Length
445±5nm
Focus
Fixed Focus
Control Mode
PWM
Power Rate
S0-S1,000
Engraving Speed
0-10,000MM/Min
Baud Rate
115200 – 921600 (Default: 115200)
Computer OS
Win XP, Win 7, Win 8, Win 10 (LaserGRBL)
Mac and Linux (LightBurn)
Control Softwares
LaserGRBL (Free), LightBurn (Paid Software)
Input Format
JPG, JPEG, PNG, BMP, SVG, etc.
Available Materials
of Engraving
Wood Board, Paperboard, Black Acrylic, Leather, Food, Stainless Steel, Power Coated Metal, etc.
Available Materials
of Cutting
Wood Board, Paperboard, Black Acrylic, Leather, Felt Cloth, Dark Color Plastic Sheet (Melt), etc.
Input Voltage
100-240V 50/60Hz
Power Adapter Output
24V / 2A
Operating Temp.
-20℃-50℃
Product Size
22.83″ x 21.65″ x 5.91″
Net Weight
5.29 lbs
Packing Way:
X-axis Aseembly+Y-axis Aseembly+Laser Module+Accessories, inserted in PE Foam, packed in a Cardboard Box.
Box Size:
24.41″ x 8.46″ x 5.12″
Gross Weight:
7.5 lbs
The New Features
Similar to previous products, the Laser Master 2 S2 is relatively easy to put all the parts together. If you follow instructions (including video guides), the whole setup process takes just about 10-15 minutes. It comes with a pre-assembled frame to reduce the number of parts. They use high-density aluminum frame and powder-coated steel material, so the machine is fairly lightweight while feels very sturdy at the same time. Both X and Y axes have precise graduation lines so that you can measure quickly.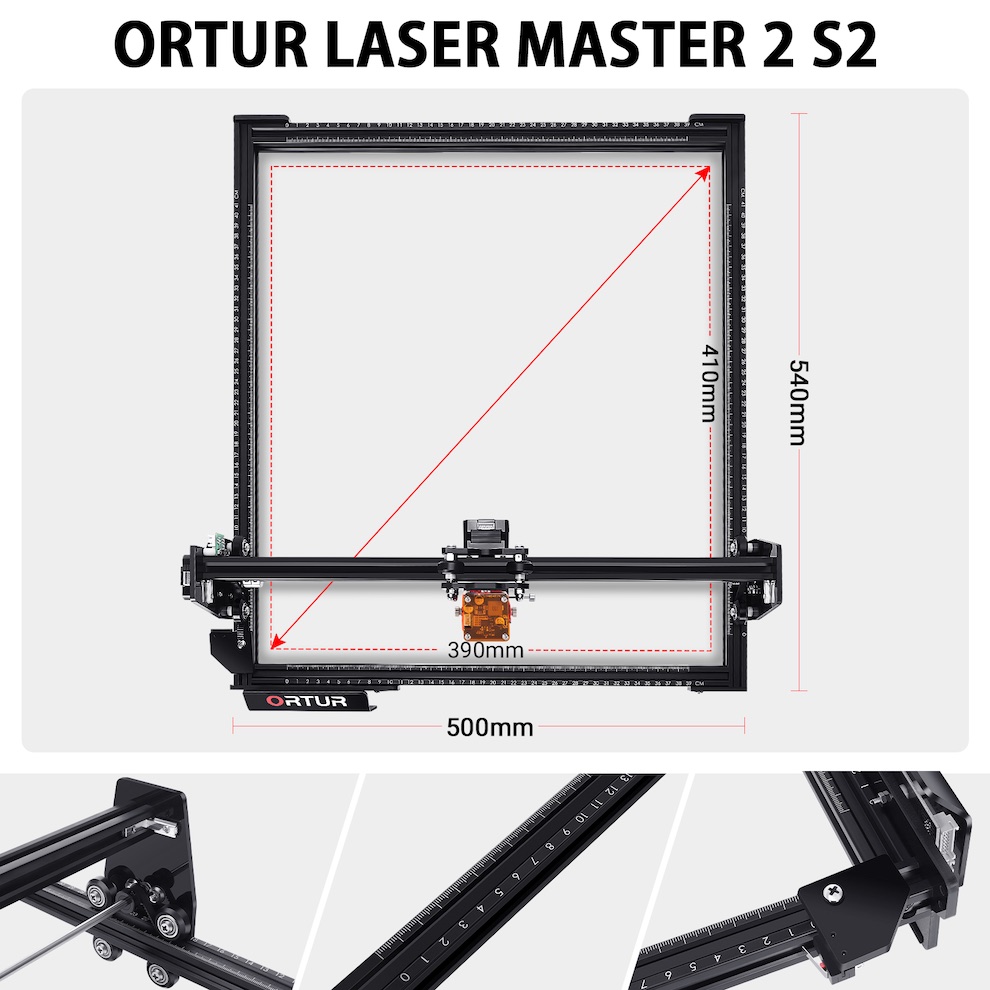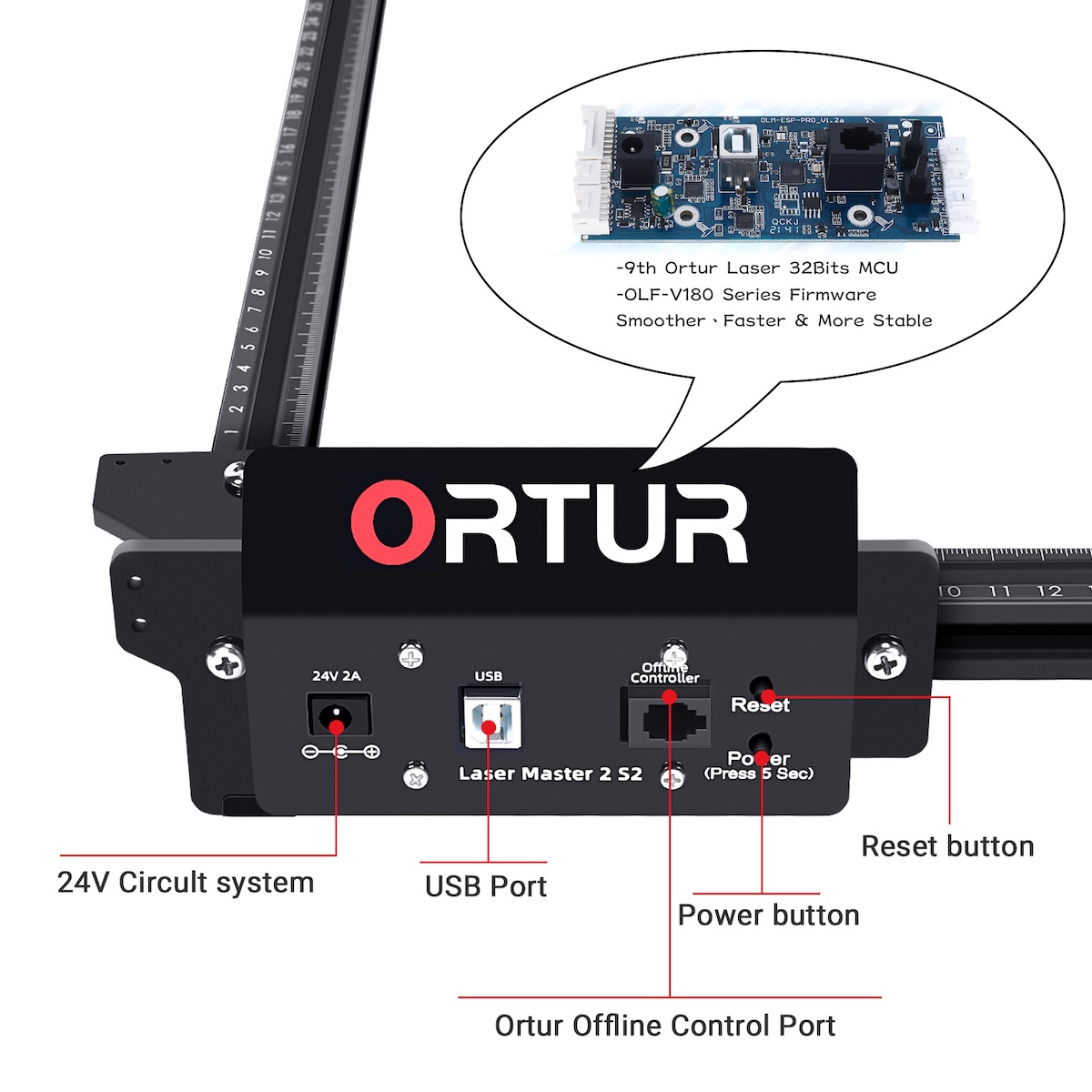 The first update is that the firmware is now updated to Ortur Laser 1.8 firmware, which is the most advanced laser engraving machine firmware on their whole product lineup. It helps the machine run smarter, faster, and improve precision. It is adapted to ESP32 MCU and optimizes the motion algorithm, therefore, the maximum engraving speed now increases to 10,000mm/min; This is an impressive achievement as the speed is equivalent to the Pro series. Besides, the firmware adds some functions like current and voltage detection for better protection of the machine, and active power-off function to shut down automatically in case of abnormal power supply. It is also compatible with more accessories including OOC2.0 Offline Controller, OE2.0 Laser Safety Enclosure, LU3-Series Digital Laser Modules, Flame Detector, Emergency Stop Switch, etc.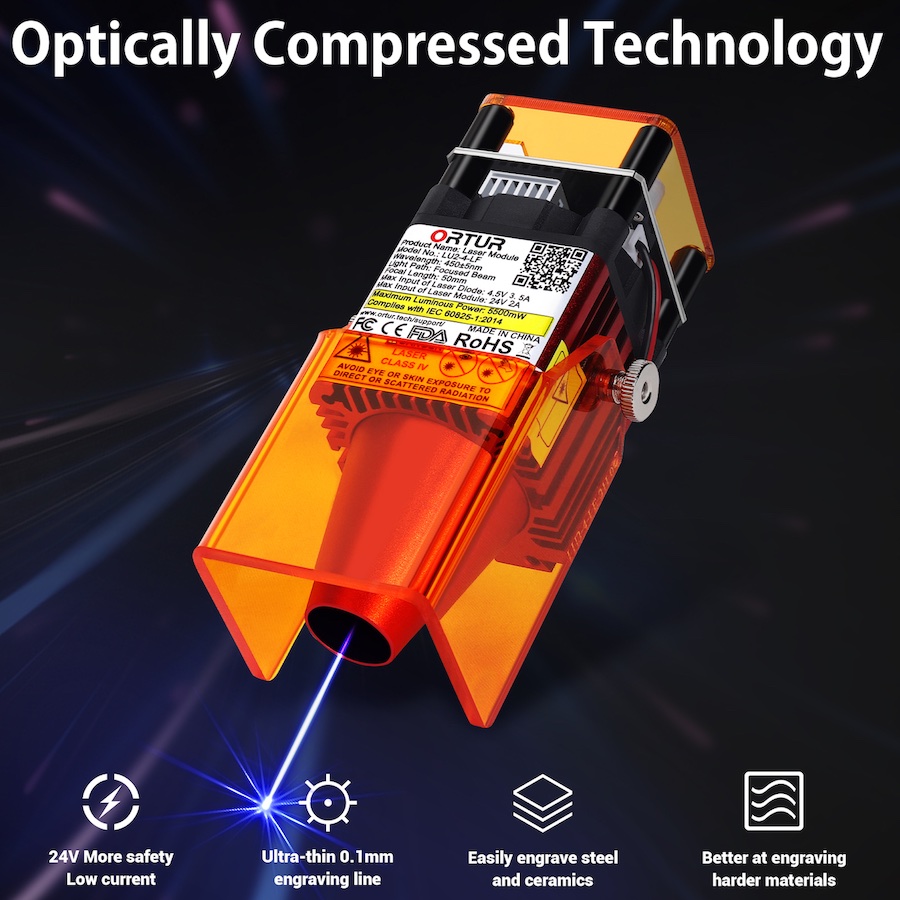 Secondly, it is equipped with second-generation compressed focal spot laser module; It is upgraded from LU1-2/LU1-4 to LU2-2/LU2-4. The new module adopts optically compression technology, so the spot is smaller and the engraving is more accurate. It has an ultra-thin 0.1mm engraving line which works better when engraving harder materials. The laser module comes with a protective cover, which can isolate 95% of the laser beam. When you purchase the machine, you have some different models to choose from. You should choose the laser module carefully because each one has its own characteristics and can perform better on specific materials. Overall, they work on a wide range of materials, such as plywood, acrylics, leather, and some soft metals like aluminum. Here is a comparison of those modules.
| Laser module | Electric power | Focal Spot | Application |
| --- | --- | --- | --- |
| LU2-2 | 7 W | 0.07×0.06mm | High-precision engraving, but not recommended for cutting |
| LU2-4-SF | 20 W | 0.12×0.15mm | Suitable for engraving hard materials like stone and glass |
| LU2-4-LF | 20 W | 0.17×0.25mm | With air nozzle, ideal for cutting |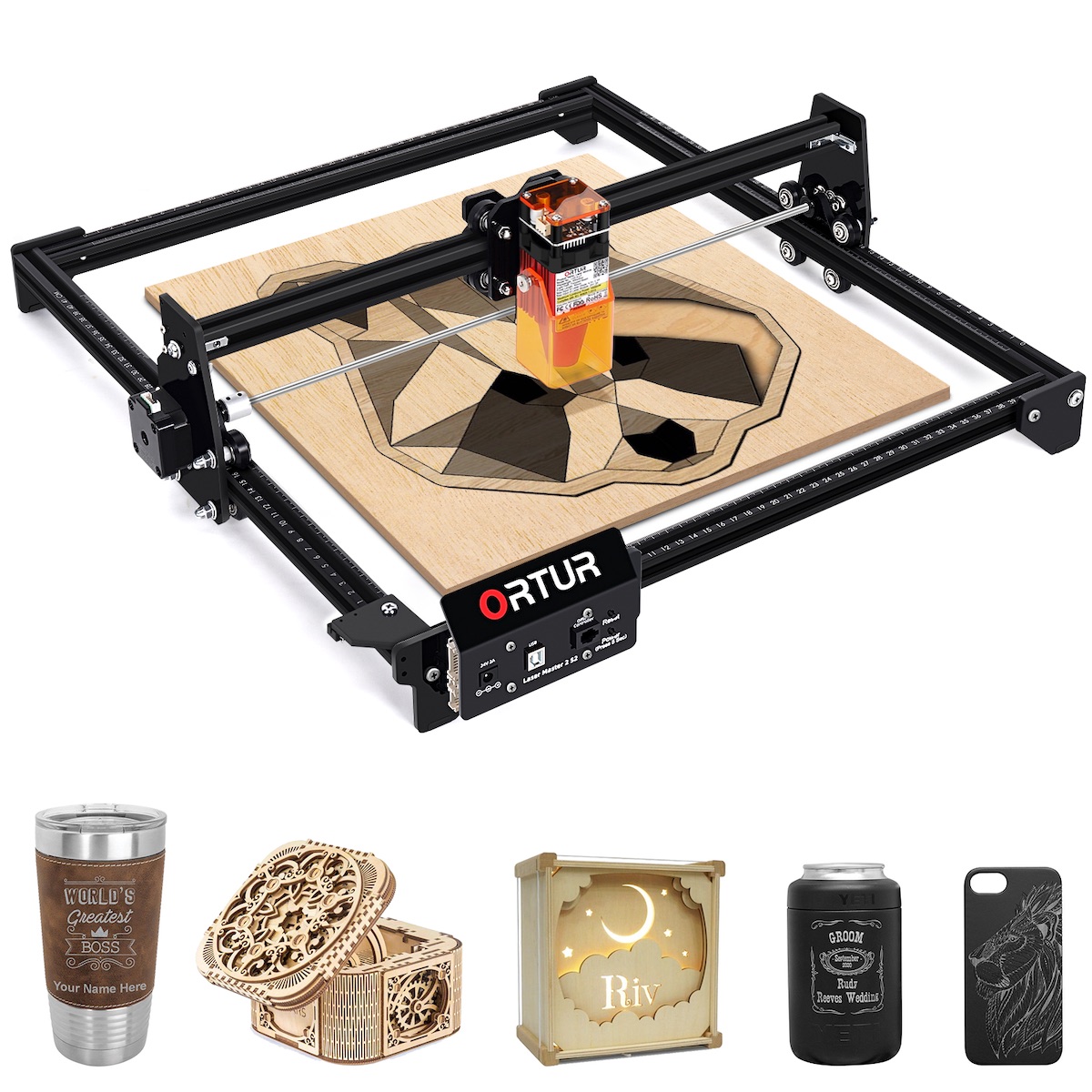 In terms of safety, the Laser Master 2 S2 also features quadruple safety protection. It stops working when detecting abnormal movement. The laser beam automatically turns off when computer is off or USB cable is unplugged. If the laser engraving machine is in the control state and user forgets to use it, the machine will automatically stop working. And finally, if the computer enters sleep mode, the machine will automatically shut down.
Later this month, Ortur will release an extension kit that can expand the engraving area by 200% to 400mm x 800mm. This add-on will be useful for customers who need to engrave larger pieces. The kit will be available for $149.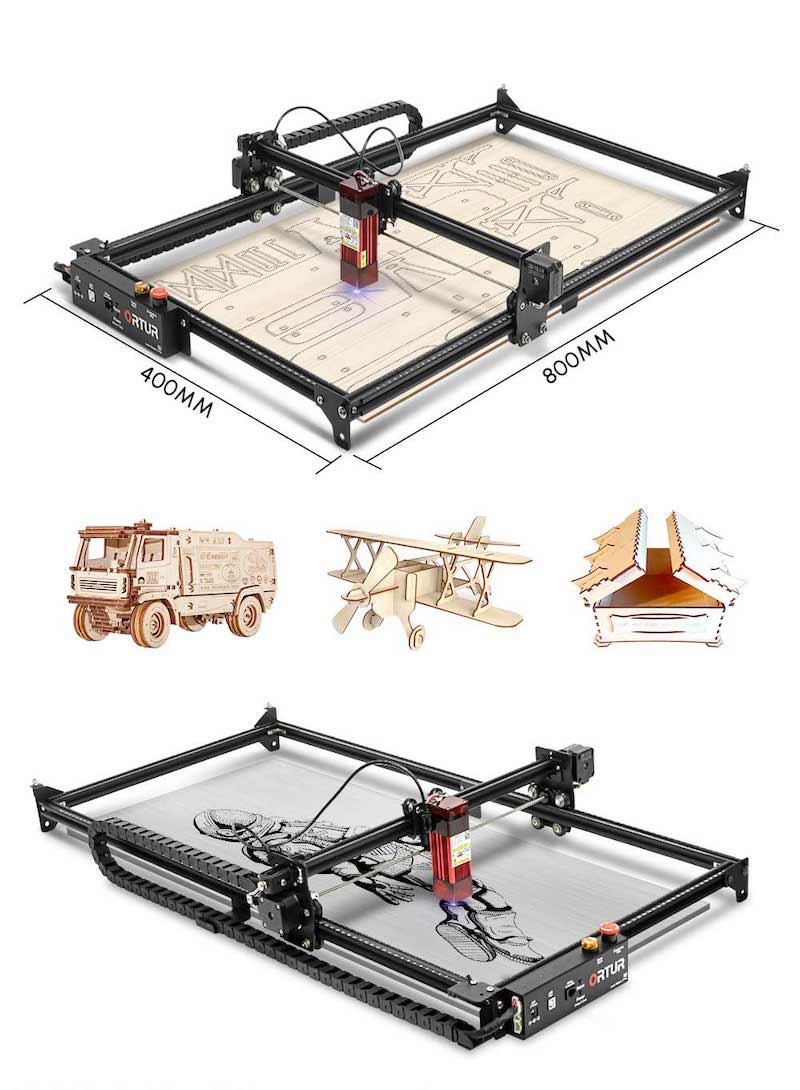 The ORTUR Laser Master 2 S2 is a decent machine for engraving enthusiasts who don't want to pay a premium price for the Pro version. It is primarily an engraver but still can cut through soft materials like wood, fabric, or cardboard. Considering the price starting from just $299, it is actually a great value for such a capable machine. You can buy it on Amazon or Madethebest.
Disclosure: We might earn commission from qualifying purchases. The commission help keep the rest of my content free, so thank you!