Disclosure: This is a sponsored post, I was paid to publish this article on the website.
Actually, my old laptop was not dead but it was so slow that I guess nobody could be patient enough to wait for its processing. I bought that Asus laptop 7 years ago and I left it unused for more than 3 years. In fact, I tried a PC optimizer before but I couldn't see the difference, so I just let it go and left the laptop in a corner for years.
That was until I had a chance to test a PC optimizer called Auslogics BoostSpeed which is said to make your old PC work like new. That sounds really impressive and I decided to give it a try. The software comes with a free trial and you can download it for free. It comes with many limitations but you can use it to run a complete checkup of your computer.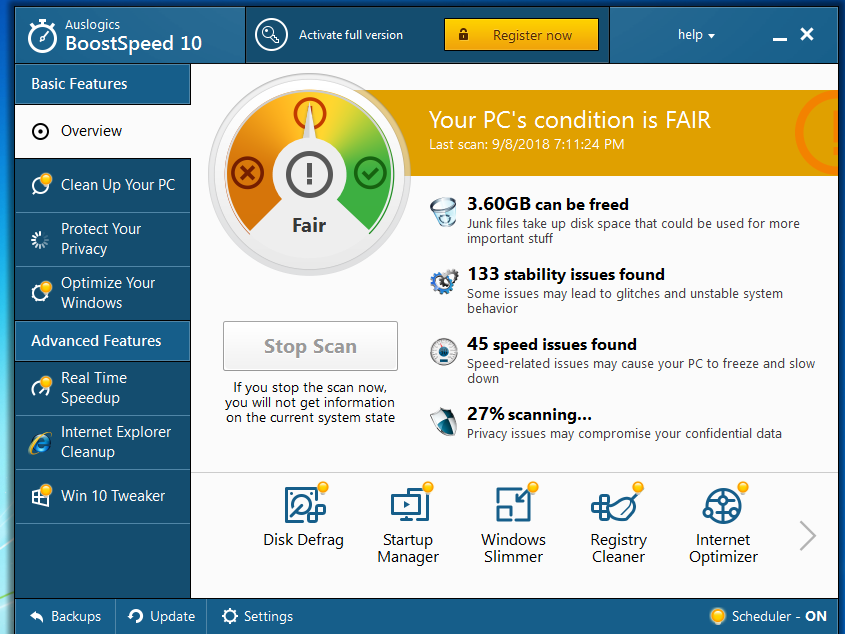 After a few minutes, the software said my PC's condition was fair and could be optimized for better performance. Specifically, it has 3.60GB of disk space that could be freed, 133 stability issues, and 45 speed issues. Those issues can make the system unstable and even freeze Windows. The trial version would just be able to remove junk files from my laptop, it couldn't solve system stability and speed issues. If you want to use those features, you will need to buy a license key.
The BoostSpeed 10 costs $59 but you can purchase with this link to apply a coupon code and receive a special 30% discount.
Once you activate the software, you will be able to use all the advanced features to speed up your Windows PC.
What the software is doing is not magic and you totally can do it manually. For instance, you can change power settings, disable startup programs, turn off search indexing, tweak settings, clean hard drives, clean Registry, defrag hard drives, disable visual effects, or use tools like Windows troubleshooter or Performance Monitor to examine your PC. However, the problem is that it would take a lot of efforts to optimize your PC manually. When you use a PC optimizer like the BoostSpeed, you can have a dashboard showing all problem and resolve them in 1 click. The whole process is automatic and takes just a few minutes.
When you delve into the program, you can see some more interesting features apart from cleaning hard drives and optimizing speed. It will protect your privacy by getting rid of traces of your online activities, and you can also use advanced features like a real-time cleanup tool, a Google Chrome/Internet Explorer cleanup tool and a Windows 10 tweaking tool.
An the result is a faster and more responsive computer. I can feel the difference when powering on my laptop and doing everyday's tasks like browsing web or watching videos. The laptop doesn't work like new but its performance is obviously improved without any hardware upgrade.
Disclosure: As an Amazon Associate, I earn from qualifying purchases. The commission help keep the rest of my content free, so thank you!