Robot vacuum cleaners have carved out a niche in the home gadget world with the promise of hassle-free cleaning. Among the plethora of choices available in the market, the OKP L1 robot vacuum cleaner differentiates itself with its LiDAR sensor system and powerful cleaning capability. Does it measure up in real-world testing? Here's our comprehensive review.
Disclosure: We received the robot from the manufacturer as a courtesy for review purposes. However, the review is intended to provide honest, unbiased insights about the product, based on personal experiences and observations.
Box Contents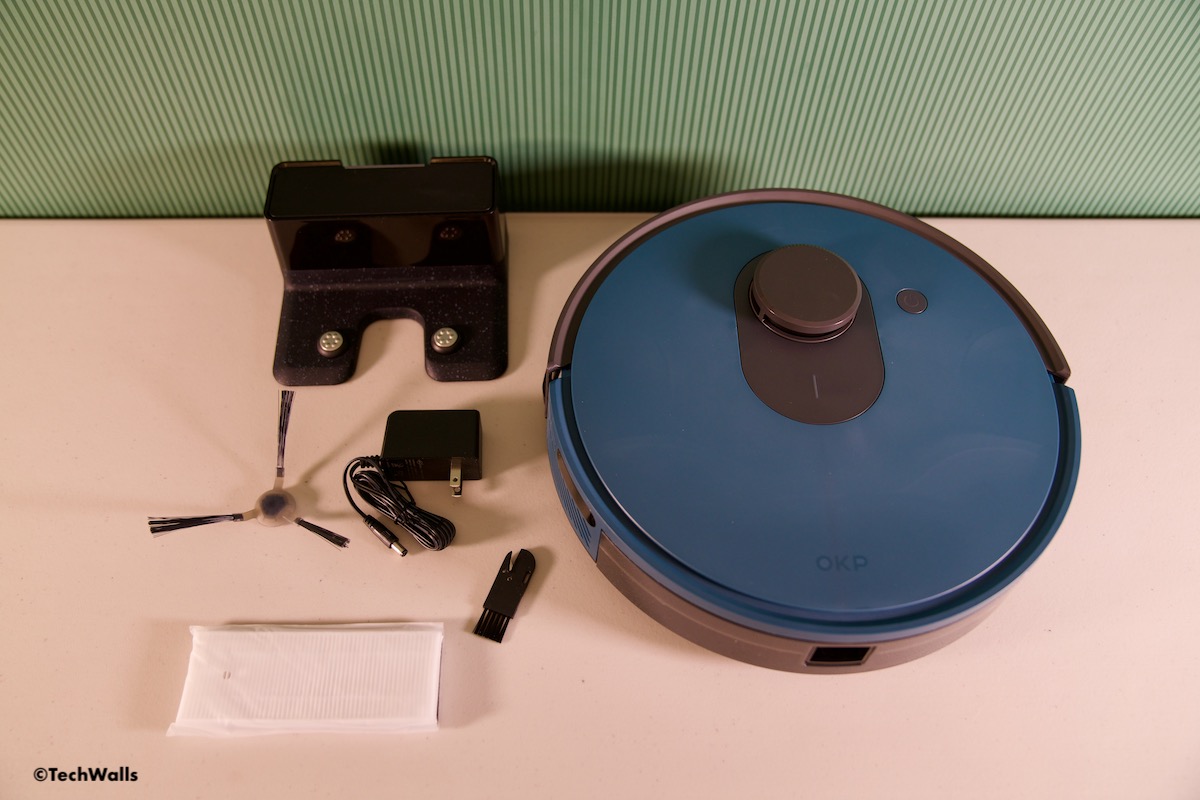 OKP L1 robot vacuum
Docking/charging station
A power adapter
2 side brushes
An extra HEPA filter
Design & Setup
From an aesthetics standpoint, the L1's matte blue finish and compact design make it a standout. Assembly is straightforward; after removing packing tapes, the side brush is easily attached. This brush targets edges and corners the main roller can't reach. The docking station features a standard design with cord management on the back, and the robot has a singular button to power it on/off. Users are alerted to a low battery by a blinking red light, which turns solid white when ready. To start charging and pairing the OKP L1 with your phone, you will first need to switch the power slider on the side. After that, just follow step-by-step instructions in the OKP app to set up the robot. Notice that it supports only 2.4GHz Wi-Fi network.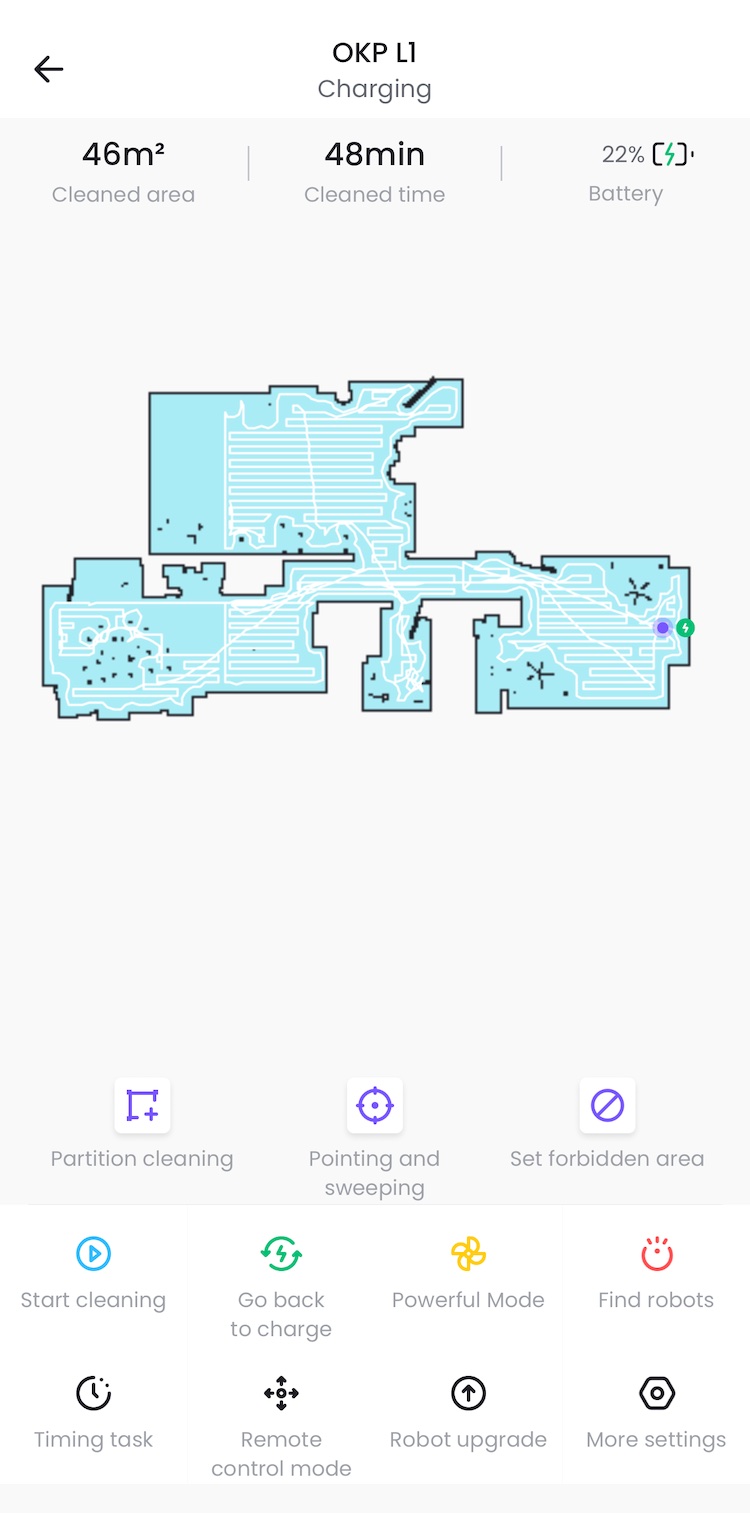 The main app screen displays the map, battery life, last cleaning data, and buttons for cleaning operations. Through the OKP App, users have the flexibility to modify the robot's suction levels by choosing a particular cleaning mode. Additionally, they can establish automated cleaning schedules, allowing the robot to initiate cleaning at the preset times. Furthermore, the app provides the option to designate No-Go Zones within the robot's mapped regions, ensuring it avoids certain areas of the home. You can also add it to your smart home system like Google Home or Amazon Alexa to make voice commands.
Cleaning Performance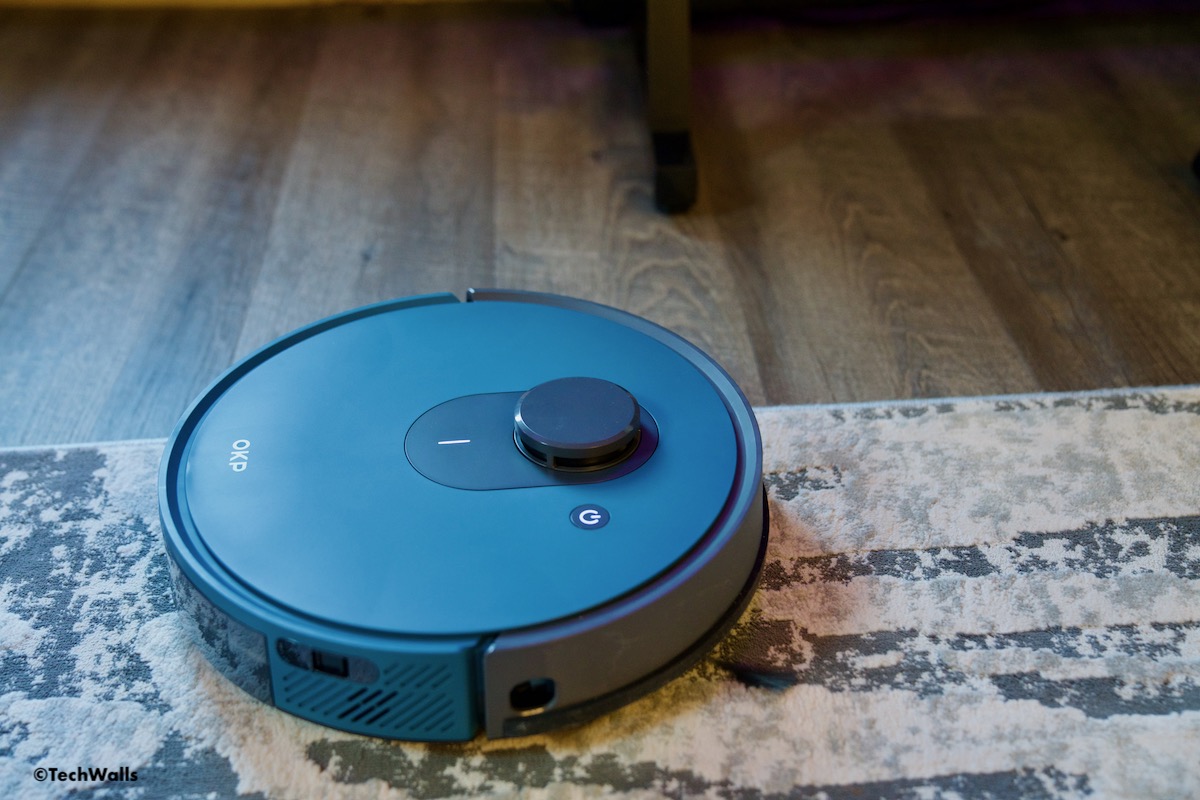 The L1's performance in routine cleaning scenarios surpassed many of its peers. Boasting up to 3,800Pa suction power, the robot vacuum left no stone unturned on hard flooring or carpets. I set it at standard mode (Powerful mode) in the app and I'm quite happy with the performance. Its spot-cleaning mode is a notable highlight, clearing targeted messes efficiently. In some specialized tests like cleaning finer dust or sand, the L1's performance wavered, but it still managed to demonstrate commendable proficiency, especially on pet hair and carpet tests. I couldn't clean my rugs with my Dyson vacuum, so the L1 really comes handy.
The 500ml dustbin is quite easy to remove and empty. It gets full after each cleaning session, so make sure to empty it to guarantee the best suction power.
Navigation and Obstacle Avoidance
Equipped with the FreeMove 3.0 LiDAR navigation, I'm quite impressed with the L1's prowess in mapping out spaces. The Map Saving feature is turned off by default, so make sure to go to the app to turn it on before your initial cleaning. The first cleaning session on my 600-sq-ft floor took more than 70 minutes but after successfully mapping out the floor, a cleaning session often takes about 60 minutes.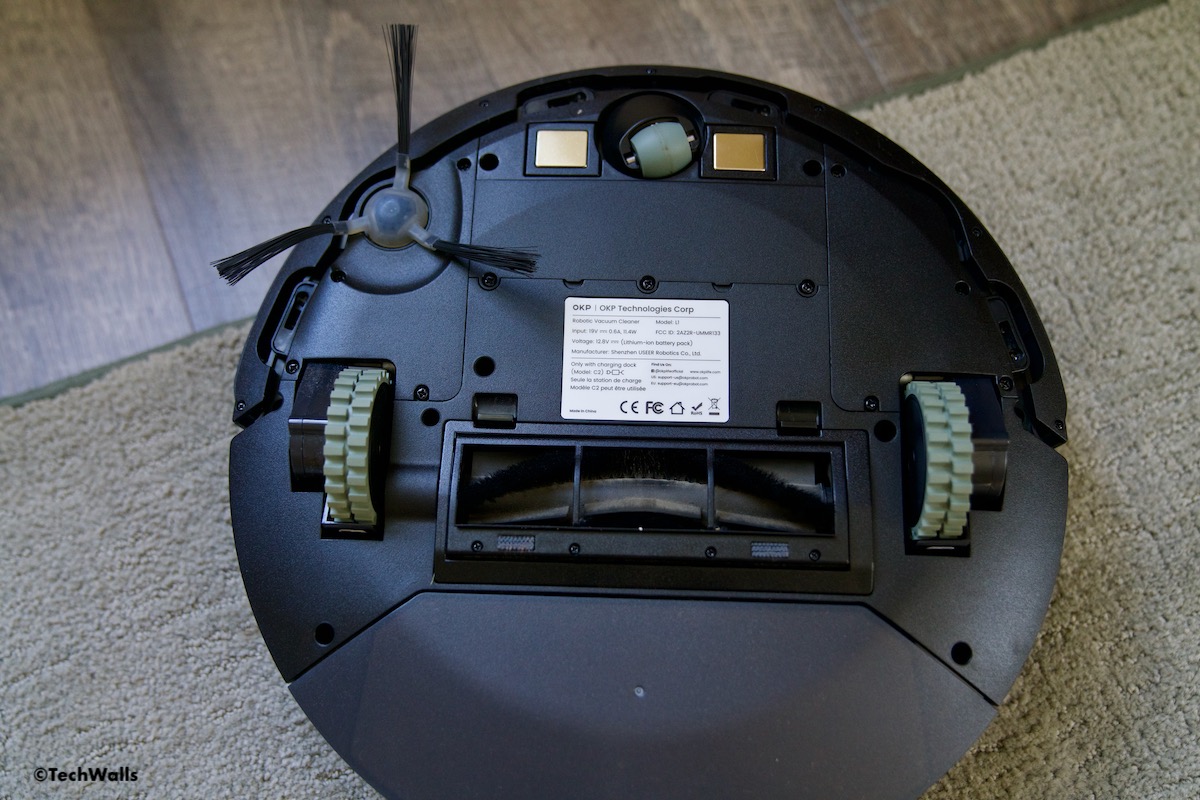 The L1 can easily yield large objects but doesn't have the same success with power cords and smaller objects. It will either push objects around or get tangled by wires. Therefore, it is a good idea to take them off the floor before turning on the robot. Another shortcoming is that the L1 sometimes get stuck when going over flooring transitions; I often have to intervene and push it a bit in these cases.
Battery Life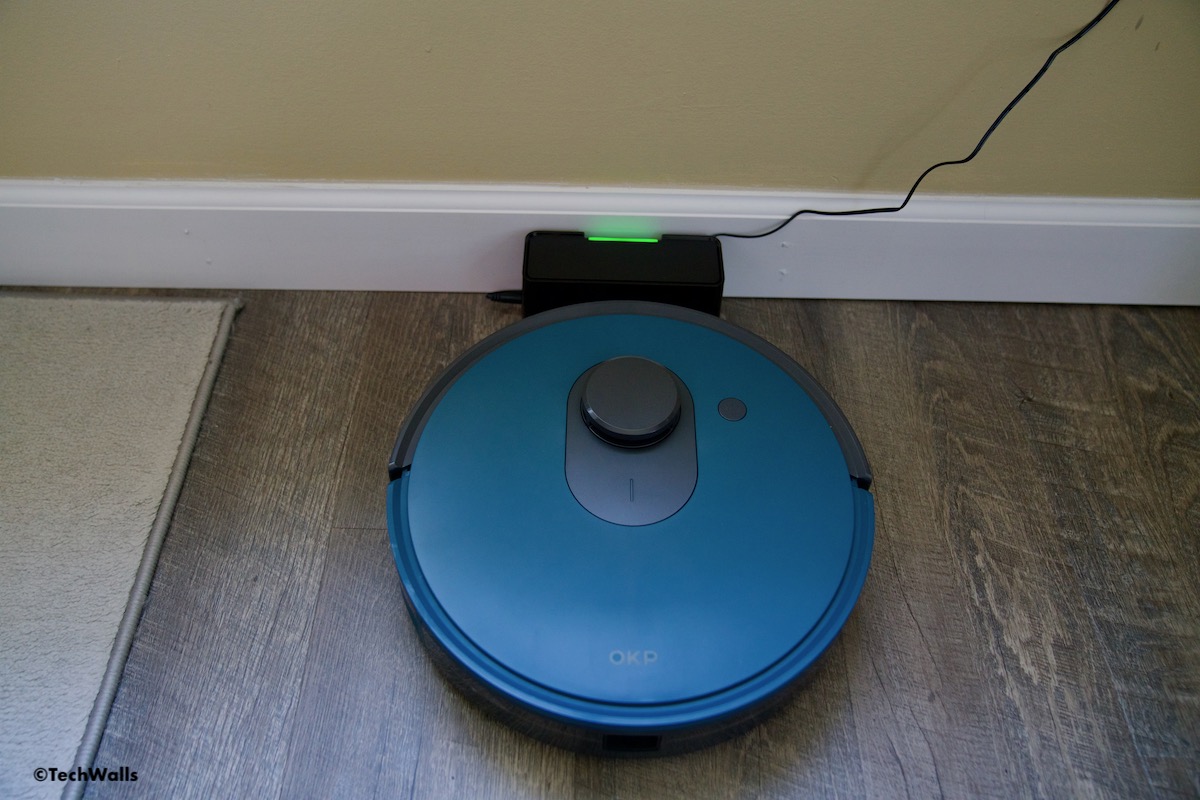 The OKP L1's battery life is good enough for my house. It manages to clean my whole floor in one turn and at the end, it still has nearly 50% of battery left. This seems to reflect the specs accurately as they say the battery life could reach 2 hours in standard mode. Notably, its ability to resume cleaning after a full charge can be helpful for cleaning larger homes.
Conclusion
The OKP L1, with its LiDAR navigation and decent performance, has carved a niche for itself in the competitive robot vacuum market. Though there are areas for improvement, the robot vacuum is a great steal if you buy it now on Amazon. It is currently available for less than $200 brand new and just over $160 for a used one.
Disclosure: We might earn commission from qualifying purchases. The commission help keep the rest of my content free, so thank you!