If you're a pool owner, you know how important it is to keep your pool clean and well-maintained. The Ofuzzi Cyber 1200 Pro Cordless Robotic Pool Cleaner is a powerful and efficient tool that can help make your pool maintenance a breeze. This robotic pool cleaner is designed to effectively remove dirt, debris, and algae from your pool without the need for manual labor or chemicals.
Ease of Use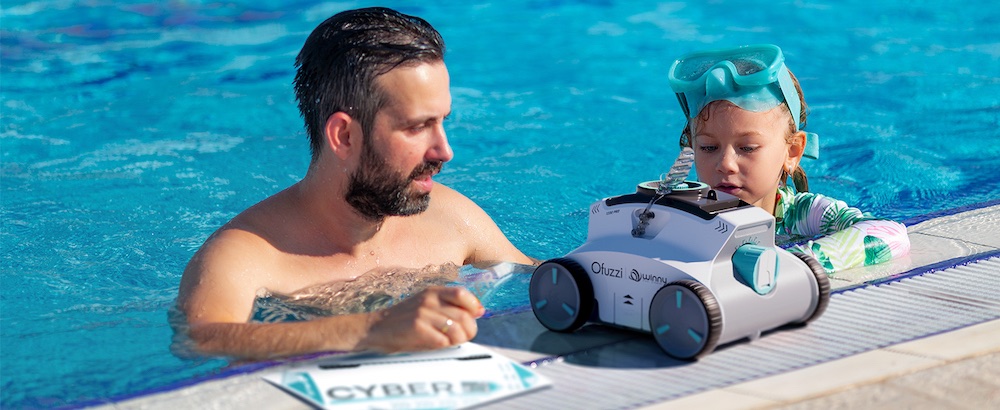 The Ofuzzi Cyber 1200 Pro Cordless Robotic Pool Cleaner is also very easy to use. Simply turn it on, place it in your pool, and turn a knob. The cleaner will do the rest, vacuuming the water as it moves through the pool. It's also very easy to clean and maintain. Simply remove the filter and rinse it off with a hose.
Besides, the Core Lighting Interaction utilizes a dynamic lighting scheme to intuitively communicate the machine's status to the user. When the robot is functioning normally, a green light will flash, indicating its proper operation. If the battery level is low, the light will flash quickly in green, alerting you to its low power. If there is a malfunction, a red light will flash, indicating that there is an issue that requires your attention.
Intelligent Navigation
The Ofuzzi Cyber 1200 Pro Cordless Robotic Pool Cleaner is equipped with advanced technology that makes it an effective and efficient cleaning tool. Its state-of-the-art sensors help it navigate through your pool, cleaning every inch of the surface. It is engineered to clean larger residential and ground pools than traditional models. It can handle pools with up to 1,076 sq ft of surface area and a maximum depth of 6.56 feet (2 meters). The double navigation path technology enables the cleaner to backtrack halfway down the pool when it comes into contact with the walls, ensuring complete and efficient coverage of the pool. This feature eliminates missing sweeps and transforms your pool floor into a crystal-clear oasis.
It is designed to keep both you and your pool clean and dry. Thanks to its auto-dock technology, the cleaner will return to the pool wall once it has finished cleaning or when it's running low on battery. This feature allows you to conveniently pull it up using its hook or floating handle, without having to get wet.
Cordless Design
One of the key features of the Ofuzzi Cyber 1200 Pro Cordless Robotic Pool Cleaner is its cordless design. Unlike other robotic pool cleaners that require a power cord to be plugged in, this cleaner operates on a rechargeable battery. This means that you can use it anywhere in your pool without being limited by the length of the cord.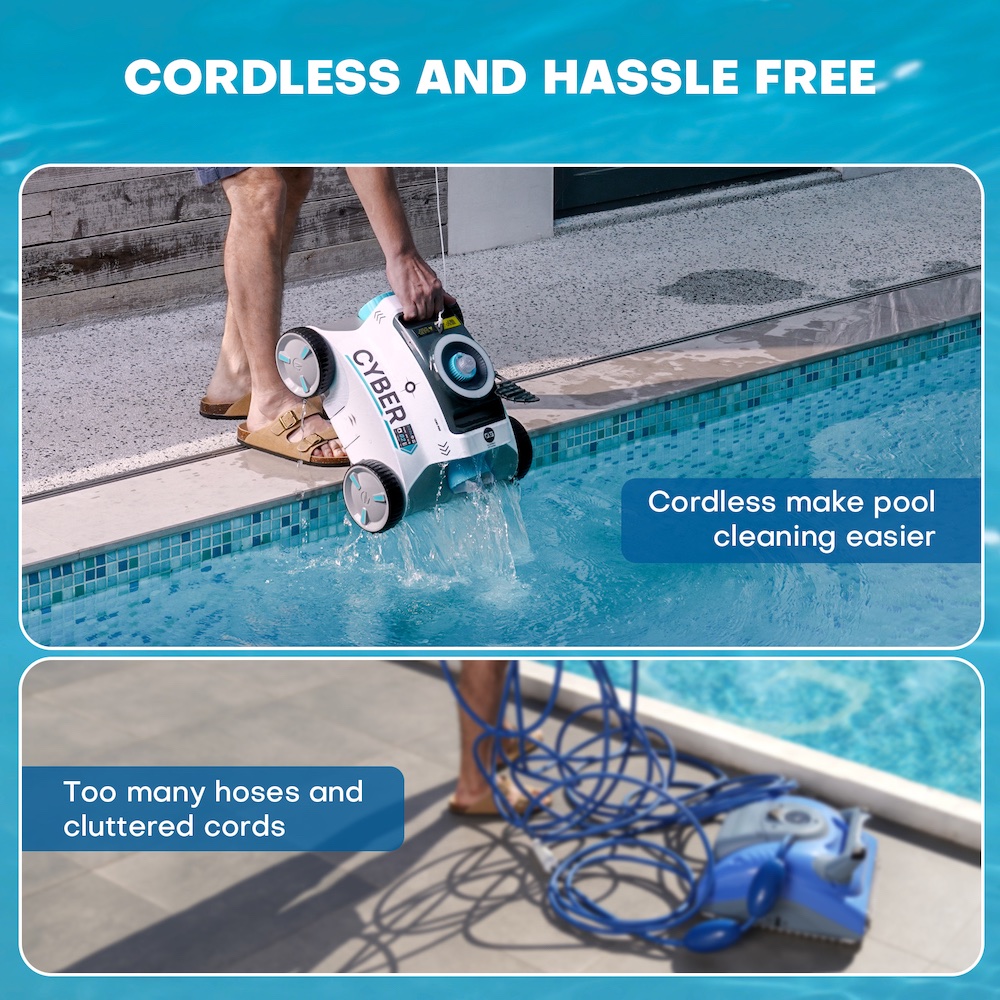 Long Battery Life
The Ofuzzi boasts a quick charging time of only three hours and can operate for up to 120 minutes on a single charge. It can clean a spotless pool up to three times before requiring a recharge, which means that even if you forget to charge it overnight, it will be fully charged and ready to clean your pool whenever you are.
Efficient Cleaning
With the Ofuzzi Cyber 1200 Pro Cordless Robotic Pool Cleaner, you can be sure that your pool will be thoroughly cleaned. Its powerful suction system is designed to remove even the toughest dirt and debris from your pool. It uses a high-powered suction system to remove debris from the water. Specifically, it is equipped with an upgraded dual suction adaptor and two 50W motors, providing it with tremendous suction power that is 1.5 times greater than previous generations. This powerful feature allows it to efficiently absorb and remove debris from your pool, leaving it spotless and clean.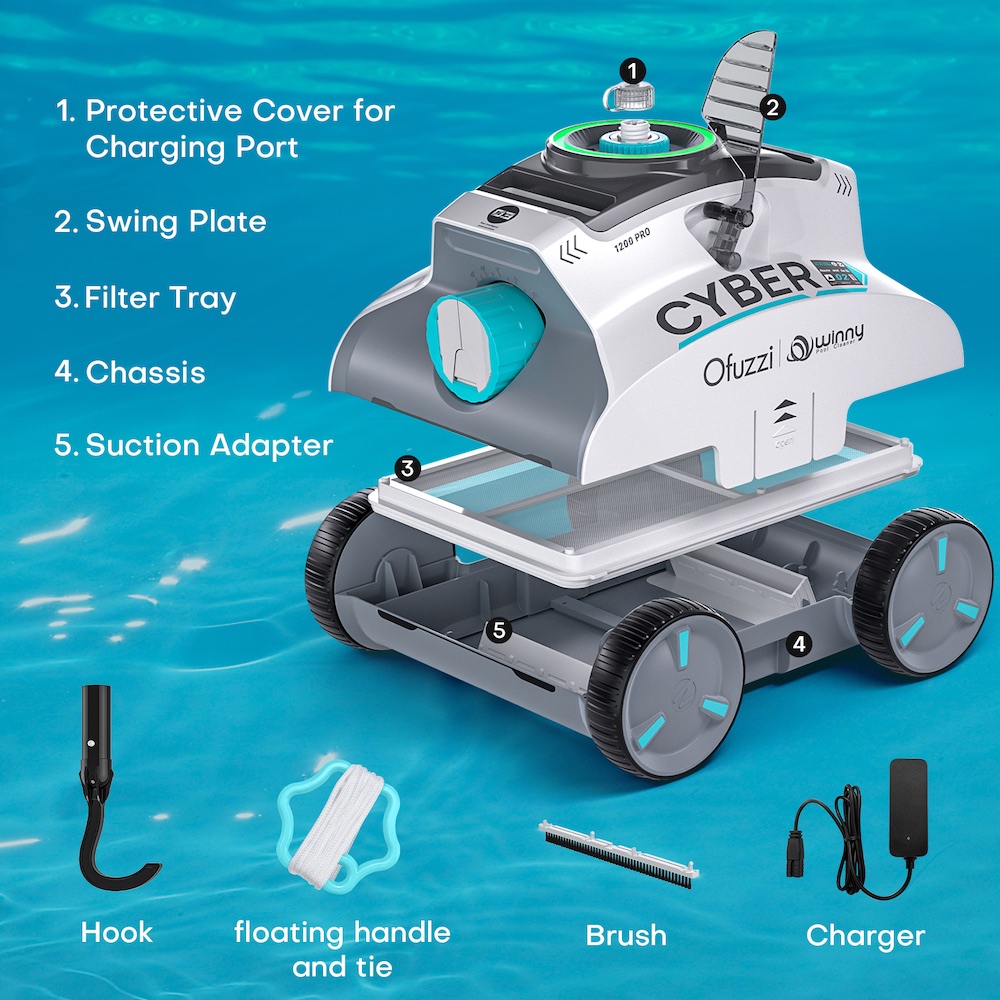 Quiet Operation
Another great feature of the Ofuzzi Cyber 1200 Pro Cordless Robotic Pool Cleaner is its quiet operation. You won't have to worry about disturbing your neighbors while using this cleaner. Its advanced motor is designed to operate quietly, so you can clean your pool at any time of the day or night without worrying about noise.
Conclusion
Despite its advanced features and technology, the Ofuzzi Cyber 1200 Pro Cordless Robotic Pool Cleaner is priced very affordably. It's a great investment for any pool owner who wants to keep their pool clean and well-maintained without breaking the bank.
Disclosure: We might earn commission from qualifying purchases. The commission help keep the rest of my content free, so thank you!