Nvidia just came out with their new chip named Nvidia Tegra k1 and what's amazing about it is that it's got 192-core Kepler GPU.
We know you guys would be surprised by the number of cores the chip have, because all we have  only seen octa and quad cores till now having 8 or 4 cores, but it's Nvidia and the number of cores mentioned in the Nvidia Tegra k1 are actually GPU cores. The Chip itself will be a Coretex A15 quad core CPU combined with the 192-core Kepler GPU.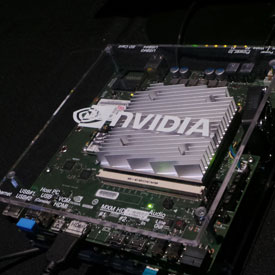 Now in the past we have seen other models of Nvidia chips like the Nvidia Tegra 1, Nvidia Tegra 2, Nvidia Tegra 3 and the Nvidia Tegra 4 but Nvidia Tegra k1 is nothing like that. Jen-Hsun Huang the CEO of Nvidia said "It's the most successful architecture we've created."Nvidia chips have CUDA (Compute Unified Device Architecture ) technology and what that means is that CUDA cores can take some load of the CPU by doing it by itself. The first batch of the Nvidia Tegra K1 will be based on 32-bit ARMv7architecturewhereas later on they are going to come up with a 64-bit as well. Nvidia has also increased the memory up to 40-bits and what that would do is that it would support more RAM than it used to up to 8GB.
Nvidia really amazed us by saying that their new Tegra k1 is so powerful that in terms of horsepower it can even beat a console like the PlayStation 3 with lower power consumption around 5 watts. A chip with that much horsepower would be amazing at running heavy graphic games that would come out in the future and one can really enjoy them on big screen like that on a tablet so we might see the Tegra k1 in tablets rather than a smartphone. After Qualcomm came up with their Snapdragon back in the days when Nvidia had newly released its Tegra 4 quad-core chip it didn't do quite well as dual-core Snapdragon processor were far better than them in processing power, but this time that might not be the case and hopefully Nvidia wont delay in the release of their new Tegra k1 chips as they did in the past.
Disclosure: As an Amazon Associate, I earn from qualifying purchases. The commission help keep the rest of my content free, so thank you!