Taking down notes has always been important to our lives. Whether we want to increase our productivity or optimize our workflow, it always comes in handy to have the right tools to help us with that.
And yes, we also suffer from the common short-term memory, and we mostly end up forgetting those amazing ideas that unpredictably pop to our minds. Thus, we must have in our smartphones an app that can fill this crater.
There is an extremely popular note-taking app out there; chances are that you have heard a lot about it. And yes, it is Evernote. You can enjoy a plethora of features that this app provides the user with. However, you shouldn't refrain yourself from trying other note-taking apps that are worth a download.
1. Catch Notes
Catch is another great note-taking app much like Evernote. It allows the users to take notes in forms of text and media files to organize them effortlessly. Its features make Catch an interesting note-taking app to give a go. For instance, in case you want to use this tool as your to-do list app, Catch's checklist system supports that. Another function that makes catch more exciting is their collaborative note-taking system. Basically the system provides the users with a commenting thread just below the notes. This allows and promotes discussion in your notes in a more organized and neat way.  Catch is surely a viable option for Evernote.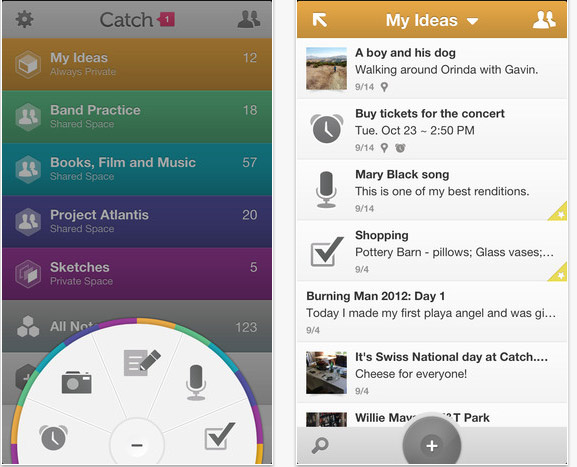 Platforms: iOS | Android
2. SpringPad
SpringPad is an app that helps you organize, manage and save all the ideas, notes, thoughts, discoveries, and recipes you want to remember in a understandable interface. One of the most interesting things about SprindPad is the fact that it can both work as personal assistant app. Not only it allows you to save your discoveries but it also gives you suggestions. For instance, if you want to remember a movie or a product that struck you, simply type in the search tool and it will give you a list of suggestions and descriptions of places where you can buy it following with the respective prices. There a lot of features that make Springpad even more interesting, you can explore more, it won't hurt to try.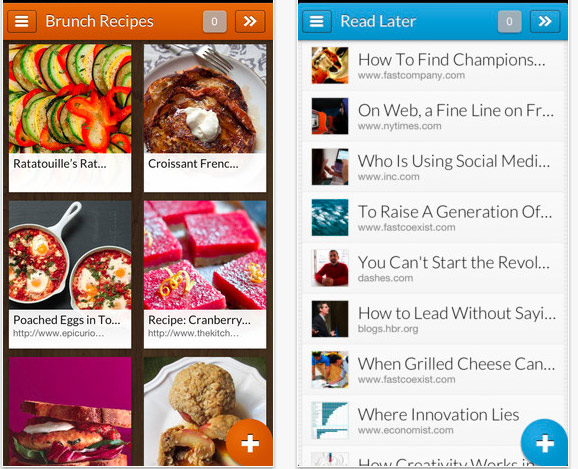 Platforms: iOS | Android
3. OneNote
OneNote allows the users to create and organize notes, and to-do lists. One of the most awesome things about OneNote is its simplicity. You simply push the "+" and it quickly gets you to create the note. And, if you are a type of person who often forgets to hit the save button of whatever you are doing, you don't need to worry when you are using OneNote because it saves automatically. Its integration with Microsoft allows you to sync with your Skydrive account.
There is no reason you would need to download an extra app to capture images to attach to your notes. Alongside OneNote, everything gets easier. On top of that, it features a functional tool that allows you to create notes embedded with contact information of your friends, such as, phone details, address and personal picture.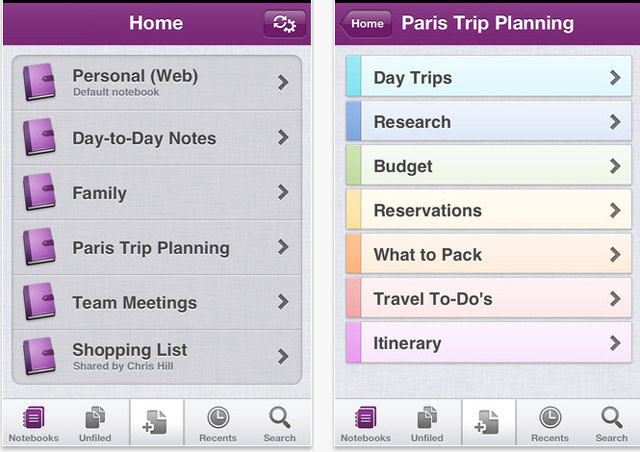 Platforms: iOS | Android | Windows Phone
These three apps are viable alternatives for Evernote. Your choice depends on what you want to use them for. If you want an app to simply save notes of text format, there is a better choice than Evernote. However, if you want to add some dimension to your experience with snazzy graphics, exciting features and additional functionalities then, there should be no choice more convenient than Evernote.
Disclosure: As an Amazon Associate, I earn from qualifying purchases. The commission help keep the rest of my content free, so thank you!