Nooka, the design company based in New York, has been quite well-known after they released some unique watches in the last few years.
I saw some celebrities like Kayne West, Penn Badgley, Snoop Dogg or Pussycat Dolls wear watches by Nooka. That's the reason why I was so excited as Nooka provided us some of their products for review.
The two Nooka watches reviewed in this post are Nooka Zub Zen-H 20 and Zub Zayu. Let's check them out.
Nooka Zub Zen-H 20
The blue Zub Zen-H 20 looks so beautiful and stylish. It impressed me right after I removed it from the box.
The case and strap are made of polyurethane – a material similar to rubber, and the dial is made of plastic but it will be a mistake to think this is a cheap product. In the first week trying the Zub Zen-H 20, I've received a lot of compliments about the design of this product. People keep asking me where I get this watch and who made it. They were even more amazed when they had a close look at the unique dial that they had never seen before.
The dial design uses digital squares to indicate the hours, minutes and seconds passing by. This design was patented as the timekeeping display using two top rows to indicate hours, third row to represent minutes and forth row to show seconds. Take a look at the unique design: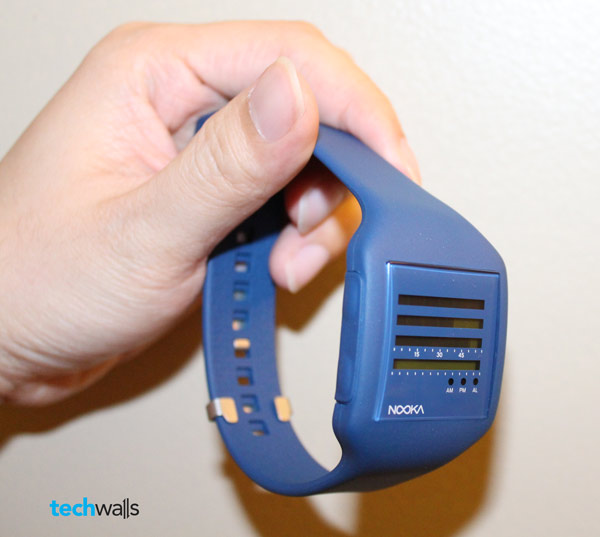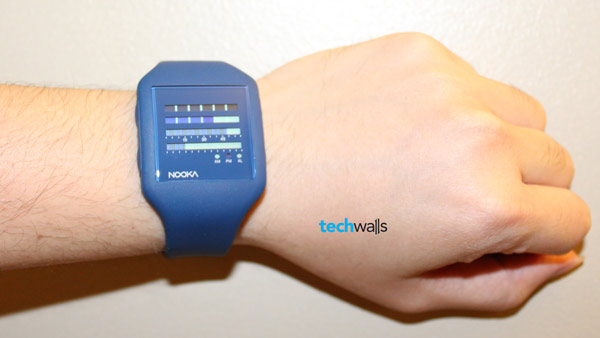 The movement of the watch is powered by Japanese-Quartz, which is well-known for accuracy, shock and water resistance. In fact, the watch is three ATM, so it could be taken down to 99-feet depth and it will still be water resistant.
There are 4 buttons on the sides of the Nooka watch, those are reset, start/stop to use as a stopwatch, light to see time in the dark, and mode to switch among the 4 modes Time, Date, Stopwatch and Alarm.
Nooka Zub Zayu
This is the second Nooka watch I review. Honestly, the Nooka Zub Zayu looks so unique and weird. Although I don't feel it is as comfortable and compact as the Nooka Zub Zen-H 20, I still love the black watch and I believe many geeks will love it too. If you want to make yourself stand out, this is a must-have gadget.
It has the similar dial design as the Zen-H but the dial is quite bigger because it uses 4 upper bars to display hours and 2 bottom bars to display minutes and seconds. The strap and case design is similar as it has fold-over clasp with double push-button safety. It is so easy to wear the watch and of course it will fit to most wrist sizes.
The unique feature of the Zub Zayu is that you can wear the watch on both left and right hands. Check out some of its images when I tried it: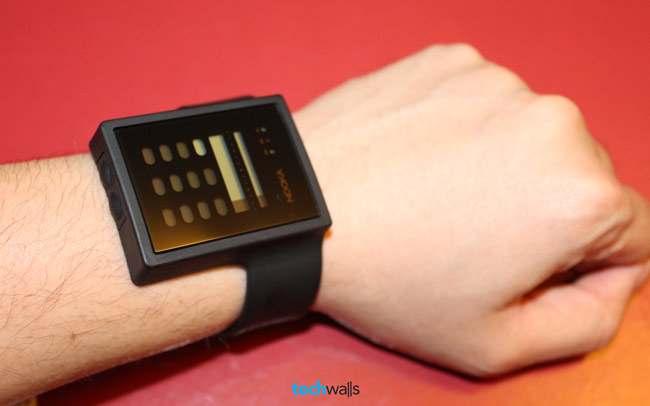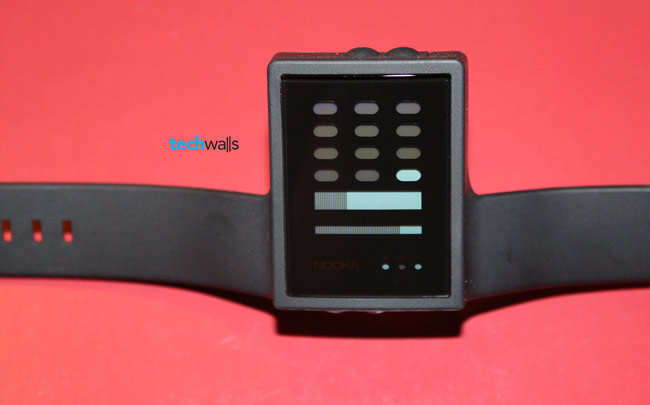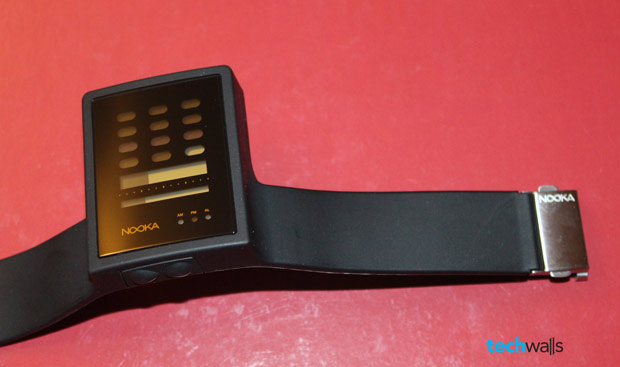 At the moment, I am wearing the two Nooka watches whenever I go out. It could not be suitable with suits but I find it perfect for weekends or parties.
The Nooka watches are available on Nooka's website. You also can purchase the Nooka Zub Zen-H 20 and Zub Zayu on Amazon for slightly lower prices.
Disclosure: We might earn commission from qualifying purchases. The commission help keep the rest of my content free, so thank you!