The much awaited Nokia Lumia 900 is finally here to put an end to speculations and rumors. This new addition to the Nokia family is something to reckon with. A combination of most desired and useful features, Nokia Lumia 900 is certainly worth the wait. Read on to find out all you should know about this amazing handset and decide whether it has successfully lived up to the expectations of those who were eagerly waiting for it.
Nokia Lumia 900 Design
The chassis consists of a top and bottom which are perfectly flat. The sides are round and the back is curved.  On the top you will find the large glossy screen of Nokia Lumia 900. The dimensions of the phone are 127.8mm x 68.5mm x 11.5mm while the weight is 5.6 ounces. Nokia Lumia 900 has a matte finish and is pretty solid.
The phone sports a 4.3 inches AMOLED screen which comes with ClearBlack display technology as well as Gorilla Glass. The unibody construction of Nokia Lumia 900 results in a smooth back which has no openings. However, the 8 MP camera lens as well as dual LED flash is present there. The handset certainly has an appealing display.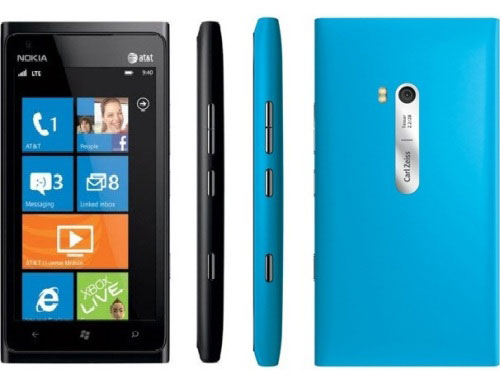 Nokia Lumia 900 Battery
The handset comes with a 1830mAh battery which is sealed and non removable. This proves that Nokia has given more attention to form than function.Nokia boasts of 7 hours talk time and a standby time of twelve days. These estimates also depend on the number of applications you use in the background.
Nokia Lumia 900 Camera
The camera of Nokia Lumia 900 is certainly one of the best things about this phone. It has an eight megapixels camera which comes with a f/2.2 Carl Zeiss lens. The camera key is the shortcut to the camera application. The sensor will adjust the white balance, exposure as well as ISO while you are about to take a picture. You may handle these settings manually as well.
The imaging software of Lumia 900 might not be as great as N9 but it is better than 800 for sure. The pictures taken consist of crisp replication of the detail as well as balanced color. The pictures may not appeal you on the display but once you look at them on your desktops and laptops, you will certainly fall in love with Lumia 900's camera. Nokia Lumia 900 records amazing videos at 720p.
Nokia Lumia 900 Pros and Cons
Like all other handsets, Nokia Lumia 900 also has certain great features but it will be incorrect to say that it has no weak points at all. Most of the Smartphone users expect their Smartphones to have great applications and this is one field where Nokia Lumia 900 will not fail you. This handset certainly comes with amazing apps. The hardware of the phone is nothing short of amazing. Another great feature of Nokia Lumia 900 is Windows Phone 7.5. When it comes to drawbacks of Nokia Lumia 900, we can certainly count the 16 GB storage as one of them. Also the phone has limited push email. The drawbacks can certainly be ignored keeping in mind the several amazing features Nokia Lumia 900 boasts of.
Price and Availability
Nokia Lumia 900 is available to you at the price of USD 729. Certainly not a very high price to pay for a phone loaded with some really amazing features. Nokia Lumia 900 is one of the best options available in the price range to which is belongs.
My verdict
Nokia Lumia 900 can really prove to be beneficial for Nokia as well as Microsoft. In case Nokia and Microsoft decide to do away with the drawbacks present in the phone, Nokia Lumia 900 can really give a tough competition to Apple and Android phones. However that is not going to happen anytime soon. Nokia Lumia 900 has a number of features which are useful and will be loved by Smartphone users. In case you are looking for a Smartphone which has amazing features as well as great looks, Nokia Lumia 900 can certainly be an option. The handset features almost everything you want your Smartphone to consist of.
So if you are planning to get the new Nokia Lumia 900 for yourself, there is no reason to delay or think twice.
Disclosure: As an Amazon Associate, I earn from qualifying purchases. The commission help keep the rest of my content free, so thank you!