Since the Andriod 4.4 KitKat is all the rave at the moment, there seems to be leaks coming every week about the new Andriod 4.4 KitKat. Today as the news say, KitKat has announced proposing the phone and the messaging app.
With the leaked information, there have been leaked images as well. The images clearly show that Google has changed the colour scheme of the Android software. The colour of the device now is greenish and bue-ish hue. Different users offered different opinions and perspectives of how they liked the new colour change, some being in its favour.
The status bar has changed its colour to green in conjunction of what application you have currently on. The blue colour looks better than the green as shown in the images.
There have also been different screenshot for a Google Keyboard update spotted by AndriodPolice. The images show nicely streamlined redesgins for the phone and the messaging app. The phone dialer looks clean and flatter with the light blue colour scheme.
There is also a semi transparent navigation and Statusbarliesten with partially customized icons in the status bar on the wallpaper.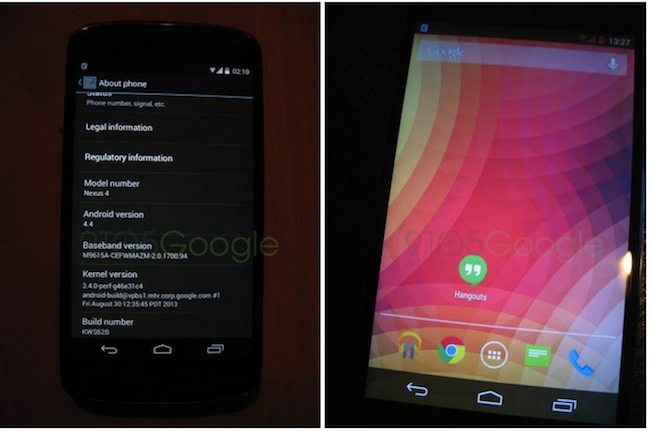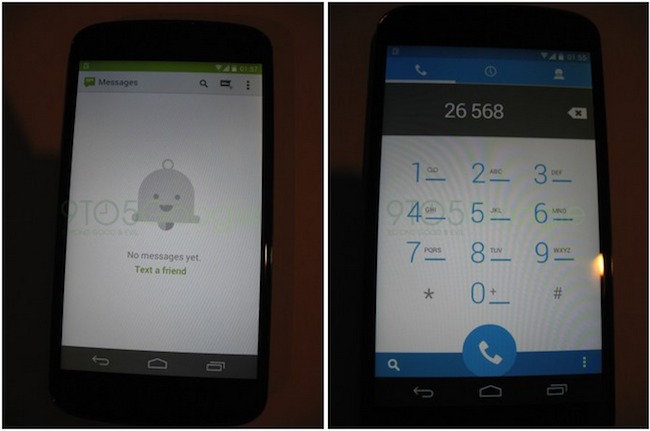 The biggest design change that is going to happen through the phone app is that it is much brighter than the phone app in Andriod 4.3 and the "Select" button is highlighted separated. This button is placed in a separate circle and Google makes this step away from the dark Holo background is within the possibility.
There has also been leaks about the "About" screens. According to this, runs on Andriod 4.4 Nexus and these images makes sense when they are not hard to fake.
The wi-fi icon is completely different from the previous version Andriod 4.3 and in Andriod 4.4 we can expect the wi-fi button to be on the top right. It is said that the next Android version codenamed Kitkat 4.4 could arrive as early as the next Nexus devices which we have already heard rumors of and a possible image of LG Nexus 5 showed the device in the hands of some people at the Google event held few days ago. What do you think about the Kitkat naming brand? Will be any better if Google had named Android 5.0 after Kitkat? Leave your comments down below and share your views with us. 
Disclosure: As an Amazon Associate, I earn from qualifying purchases. The commission help keep the rest of my content free, so thank you!