It is an amazing time to be alive. It's not just some clichéd catchphrase either; we live in a time where we literally carry the knowledge of the ages in our pockets. Our phones help us manage our entire lives. They might only have been around a short while (comparatively speaking) but they have become such an integral part of our lives many of us wonder how we ever got by without them.
The advent of smartphones and mobile apps has touched every part of our lives, and student life is no exception. It can be difficult making the necessary adjustments to assimilate to campus life, but there are ways to make things easier. Today, let's look at three key areas of student life along with a few mobile apps that can assist with the responsibilities and routines of each.
Apps For Study and Academics
What student wouldn't want an app to help them manage study time? Staying organized helps get work one faster, so there is little mystery why these types of apps would have a particular appeal to the average college student. These four are among the best:
StudyBlue
According to the company website, "StudyBlue is the largest crowdsourced study library, with over 400 million flashcards, notes and study guides…" The app allows students to, "make and share study materials, search for recommended study content from classmates, track progress, set reminders, and create custom quizzes."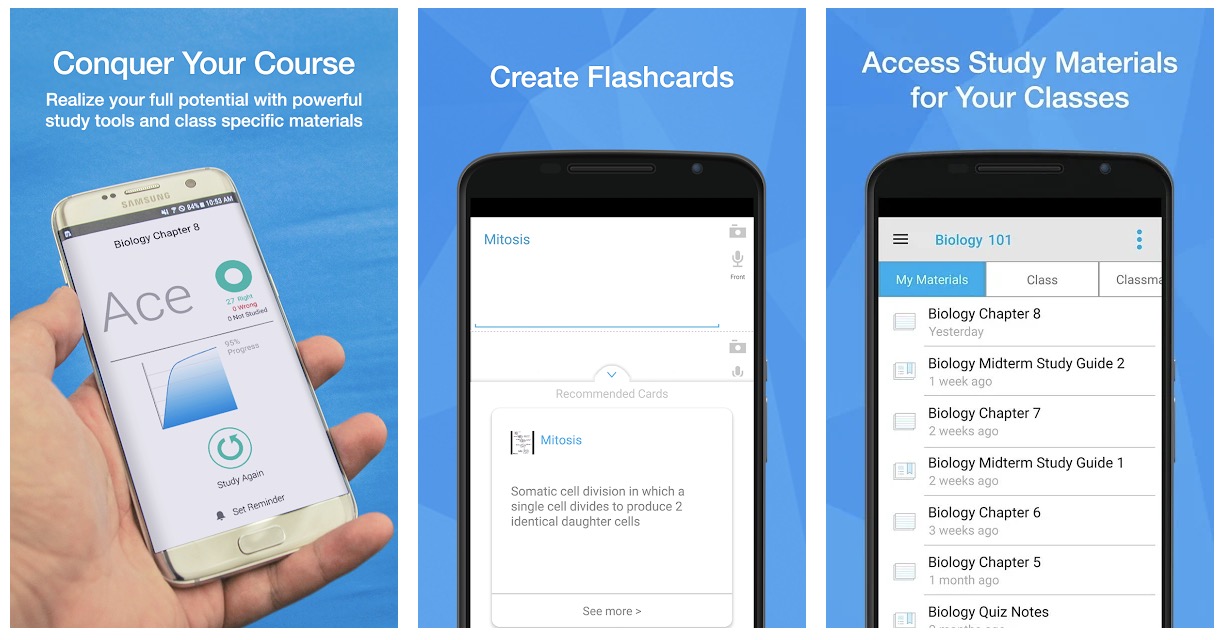 The company notes that, as of right now, 15 million students are using this app to help improve academic performance. StudyBlue is one of the largest collaborative student efforts on the entire Internet. It provides students with the opportunity to share valuable information on a range of subjects without the hassle of scheduled study groups or late-night cram sessions. You can access the information they need or simply create their own study materials using StudyBlue's simple UI.
You can learn more about the StudyBlue app and how students with diverse academic backgrounds use it here.
EasyBib
The ability to make proper citations in term papers or essays is a vital skill that all students need to learn. EasyBib helps you get there. This is a web-based app that you can use from either your phone or desktop. It works seamlessly with Google Docs and both generates and corrects MLA-style citations for free. There is also a premium version that generates citations in all popular formats and also does much more. Here are just a few of its features:
Suggestions for improving grammar, punctuation and overall writing style
Comprehensive plagiarism checker
Addition of proper citations within the body, works cited page, or bibliography
Organize all your notes and thoughts easily without having to lose your train of thought stopping to deal with citations. You can review the entire paper once you're done and make all the necessary changes and revisions at one time.
While studying in college, you may encounter issues with punctuation, grammar or locating relevant sources. Usually, students deal with issues when it comes to formatting papers, whether it be in MLA, APA, Chicago Style, etc. Sites like EasyBib and other educational services constantly help students with formatting. According to research, about 38% of students face deal with at least one of the above problems, and 35% of them seek help from these reliable academic sources.
GoConqr
Similar to StudyBlue, GoConqr takes the study management concept to the next level. Here is how the company describes their product:
"Our success is built on developing an active learning community that creates and shares quality learning content. The more you use GoConqr, the more we get to know your learning requirements and how we can best meet them.
That is why our tools and technologies continue to evolve – because we know that's what our users do. It means that your learning journey is our learning journey too."
The app has many of the same features as other popular study tools, but provides the added benefit of features that go beyond just the mechanics of study. The app provides tools that students can use to become better overall thinkers and accelerate the learning process. Here's just a sample:
Flashcards – Design and create your own and share them with the GoConqr community.
Mind Map App – Create comprehensive mind maps in just minutes. Tap to create nodes, then drag them where you want them.
Quiz Maker – Create quizzes that help you solidify key concepts from your courses or challenge yourself further with quizzes generated by other GoConqr users.
You can check out this article for more ideas on how to use GoConqr to your best advantage and get the most out of all its features.
myHomework
The first thing most people will see when visiting the myHomework home page is a bold promise that students can "get better grades" with it. The real question is how. The app integrates study assistance with organizational tools that can help even the busiest students eke out enough time for academics. The free version is loaded with useful features and the premium version is under five dollars per year.
According to the app website, "myHomework makes it easy to add your homework. It auto-detects the type based on the description, and auto selects the due date based on class times." Plus, "with pre-selected priority and reminder options, you can enter new assignments in seconds."
myHomework works on all mobile and desktop devices and can be synced with any device where you have an account. This app works best as a collaborative tool between students and professors and it is one with which any responsible student should be familiar. This is because the versatility and multi-platform comparability make it a preferred app for teachers and professors at every learning level.
Apps For Time Management
Who couldn't use a little help staying focused and organized, especially as a student? Here are three apps that can help you take control of your time both inside and outside the classroom:
MyLifeOrganized
This is a popular time management app with applications that go far beyond the classroom. According to the developers, "The main idea of MyLifeOrganized is to help you to plan and organize your time in such a way that you accomplish your most important goals as quickly as possible."
Students and busy professionals alike use this and similar apps to make sure their day-to-day schedule remains organized and manageable. Here are some of the app's key features:
Outlines – Helps wrangle large tasks and subdivide the responsibilities into smaller ones
Custom views – Sort and filter all your tasks in a way that is easy for you to manage
Project monitoring – view your progress on every task from class schedules to important due dates
Workspaces – can be used to divide tasks by course or by task priority. Use this feature in conjunction with your syllabi and subdivide tasks even further by assignment
Start by outlining your tasks so you know what your objective is with every assignment and the steps necessary to get them done. You can then group and reorder tasks by rank of importance. The app then generates ordered "to-do" lists that help you maintain the right priorities for each task.
Focus Booster
Today's student is faced with distractions with which generations prior to the advent of the Internet and cellphones never had to contend. This can be a major problem for busy students, especially college freshmen who are still learning to balance a full college schedule with social or work time.
Focus Booster uses key principles that are native to the world-famous Pomodoro Technique to help improve focus and manage distractions. For those unfamiliar, The Pomodoro technique utilizes timers to break work down into manageable intervals, usually 25 minutes with short breaks after the completion of each task. The intervals are called Pomodoros (Italian for "tomatoes") as an homage to the kitchen timer the developer of the technique, Francesco Cirillo, used during college while developing it.
The app boasts the ability to help students develop key time-management skills including:
Increased mental focus (less wasted time)
Automatic reporting and re-ordering of sessions for time-tracking and accountability
More efficient work habits
Work/life balancing
This is an outside-the-classroom app that carries small, scaled monthly fees starting at under $3. A full listing and explanation of subscription plans are available here.
There are many, many more useful features that you can peruse via the above link and we recommend getting to know this app intimately; it will help you far beyond your academic life and it can help manage literally every minute of your day if you want or need that kind of organization in your life.
We hope that the information presented here gives you access to and information about enough productivity tools to get your life organized and excel at all your pursuits both in and out of the classroom. We think that trying out just a couple of these apps and committing to using them to their fullest benefit will help you develop crucial life skills and habits that will set you up for success.
Disclosure: We might earn commission from qualifying purchases. The commission help keep the rest of my content free, so thank you!