Microsoft have always tried to come up with something that will defend its Windows OS against the open world of Android and the organized and simple world of iOS and the answer is the latest OS from the company Windows 8.1 for smartphones. It will bring a lot of functionality and customization which will indeed beat iOS but when it comes to Android it's only scratching its surface.
According to a new report on Cortana which is the new voice assistant present on Windows 8.1, is said to have both the personality of Siri and the intelligence and learning capabilities of Google Now.
From the videos of Cortana that we have seen till now the voice assistant seems to be a mere circular icon but according to the latest news Cortana will be animated means that you will see an actual female animation while talking to Cortana and she will behave according to the context like if you ask her something funny she might laugh or smile over something sweet depending on what you ask of her.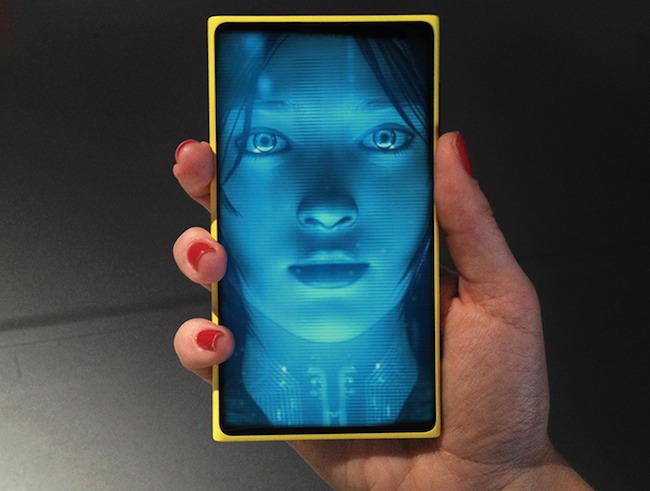 You will also have complete power over Cortana and can allow the information that you want to share. Cortana will also know your name, where you live, where you work etc. and all this information will be saved in the Notebook where you can edit the information or delete anything you want from the Notebook. You can also keep Cortana on limited access for your contacts, emails and location etc. but if you do allow her to check your location than she will automatically give your suggestions about different stuff regarding that location.
This all sounds really exciting but understanding human language can be very complex which in case of Microsoft shouldn't be a problems as they have already dealt with this kind of situation with their Xbox Kinect. Windows 8.1 is supposed to release this summer and if its everything that Microsoft promises it will be then we might be able to get  the same experience with Cortana as they showed in a movie named ''HER'' which is also based on a highly intelligent voice assistant OS.
Disclosure: As an Amazon Associate, I earn from qualifying purchases. The commission help keep the rest of my content free, so thank you!