Software giant Microsoft is finally beginning to appreciate the importance of adopting multiple platforms in an era where interoperability between devices is crucial to doing business.
The Redmond based company has launched the Android and iOS versions of its Outlook email app in a move that many expect would lead Microsoft in the right direction toward success in the mobile arena. And this banks on the noted success of Skype and other Office apps.
Bringing Outlook to the Android and iOS devices, which currently hold the bigger chunks of the mobile market, means Microsoft is seeking to reach out to a wider audience for its email messaging app, which is developed by Acompli, a company that Microsoft acquired.
For users of Outlook, it would be easier now to gain access to their email accounts from multiple devices. However, at present the Outlook version for Android devices is still in preview mode, which means users will have limited access to the full features of the app. Meanwhile Microsoft released a full operation type for iOS.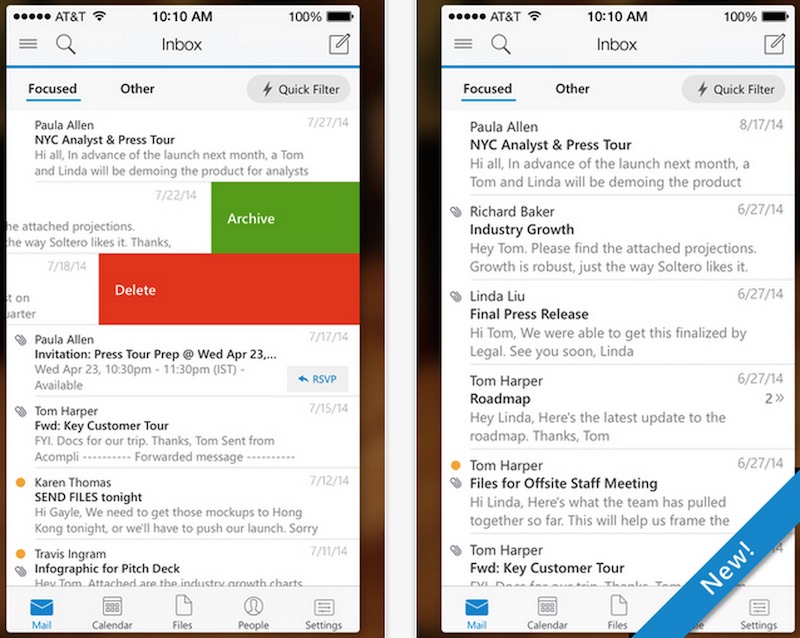 The diversity of the Android ecosystem could help explain the difference in the versions. Because not all Android devices have the same versions of the operating system, it would be quite difficult for Microsoft to roll out the update for Outlook in a uniform way. It needs to adapt to the variance of the versions of Android  that are installed on various mobile devices.
The Outlook app syncs calendar data from Gmail, iCloud, and Yahoo.
And since Outlook is the brainchild of Acompli, the app does not at present support all the functions required for Windows platform. In fact, Microsoft admitted to the scarcity of administrative tool support in both versions of the Outlook app.
For example, the Android and iOS versions do not support the feature of the app that allows users to wipe out all of the content of a device from a remote setting. The good thing is users can still remote-wipe the content of emails.
Although it is a version designed for mobile gadgets, Outlook for Android and iOS have retained the significant functions necessary to perform basic and some advanced email operations.
There's some noticeable hitch in the work, nonetheless, the app being in its early stages. Some users have experience trouble in getting access to hosted exchange accounts, especially for Android users who are using the preview version. Their only hope is that Microsoft release the full version anytime sooner than later.
Disclosure: As an Amazon Associate, I earn from qualifying purchases. The commission help keep the rest of my content free, so thank you!