Disclosure: This is a sponsored post, we were compensated to publish this article on our website.
For any business to run successfully, the key is to have a dedicated marketing strategy. It not only helps attract potential customers but also strengthens the trust and relationship with the existing ones. Good marketing goes beyond creating brand awareness or increasing sales efforts. It strives to create a memorable customer experience so your customers keep coming back to you.
If you're able to strike the right chords in your customers, they may even turn into advocates of your business. The best part about effective marketing techniques is that some of them don't cost you a fortune. You don't always need to spend millions just so you can tout about your product. Some simple, affordable and creative tactics can get your job done.
Here are a couple of ways you can effectively market your business and brave your way to the top.
1. Keep in touch with your existing customers
Often times, we take our recurring customers for granted. If you think about it, selling to existing customers is easier than attracting an entirely new target market. For this reason, it is important to let your current customers know that you value them and appreciate their repeat purchases. And you don't even have to do something elaborate!
Simple, thoughtful acts of appreciation are a great way to stay in touch with customers. Send hand-crafted thank you notes, or goodies such as pens, magnets or calendars as tokens of gratitude on a quarterly basis. You can even send exclusive promotional emails to your existing customers or discount 'bounce-back' offers for repurchases. Pro tip: It is even better if you send these during the off-peak season!
Apart from this, you can email and ask them why they haven't used your product/service lately. Such reminders translate into greater recall for your brand in the minds of your audience. However, you must be wary of not inundating your customers with email or they might even unsubscribe from your emails.
You can even ask your current customers for feedback to dig deep into areas of your business that need improvement. This shows that you value your customer's opinion and are willing to go the extra mile for them.
2. Increase your social media presence
Social media platforms were once thought to be an exclusively millennial domain but not anymore. With more and more businesses jumping on the social media marketing bandwagon, it is an important channel you must not miss out on. Did you know that Facebook was reported to have 2.2 billion active users per month by the end of March 2018? That's a pretty huge market to tap into right!
Social media is now an undisputed king when it comes to creating brand awareness. Therefore, it is crucial to make your business known on this avenue. Start off by maintaining a Facebook page for your business. You can then increase its following by sharing it among your friends or people who you want to target. Most social media channels have messaging and networking features so you can easily connect with your customers.
You can even upload your video advertisements on social media pages to gain more traffic. Visual content has always worked best so be creative with your videos. The right way to boost your social media marketing campaign is creating valuable and actionable content. Then, linking back from social media posts to your own business website so people who browse through your social channels get to know of your product. Since social media is people-centric, publishing testimonials from satisfied customers can greatly increase your network.
In addition to great content, you can offer discounts and deals exclusive to customers coming through social media channels to help promote your online presence. Furthermore, stay on the lookout for customer queries and feedback in the comments and inbox sections. You will be surprised to find some interesting consumer insights in there!
3. Create the best first impression you can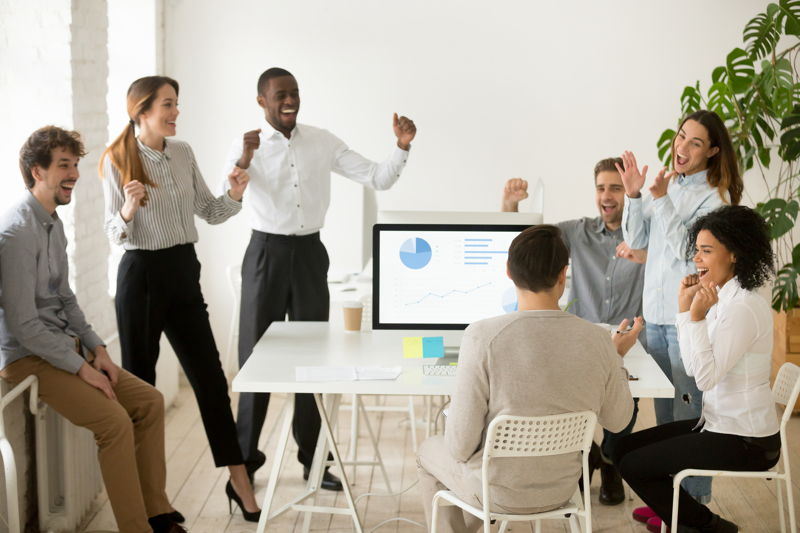 All it takes is a slim handful of seconds for your potential customers to form a long standing opinion about you. If the first impression of your business isn't good enough, you'll have to work twice as hard to change your customer's opinion of you. Therefore, remember to always put your best foot forward.
The product or service you offer is your most important asset. Make sure all your products are in good shape before you sell them off. Keep them in top-notch condition with regular maintenance and cleaning.
Your crew members should also be presentable enough to elicit a favorable customer response. They need to have a unified dress code and are well-informed about the product or service to assist your customers in the best manner. This specifically goes out for employees that deal with customers face-to-face. Additionally, conduct workshops and sessions to help your employees make the customer support experience even better – and not let them take the heat alone.
Apart from this, know how to turn things around when the situation gets unfavorable. Always have a backup plan and resources ready when there are delivery failures or technical issues. Operating smoothly when things get rough can have a huge impact on how your customers perceive you. Taking prompt action to customer issues greatly builds customer trust and loyalty in the long run.
4. Do not let go of frequent blogging
Many say that blogging is not an effective marketing tactic anymore. This is entirely a myth that needs to be debunked. In a world dominated by ever-evolving Google algorithms, constant blogging is your key to making big on search engines. Effective blogging can help establish your business as an industry expert. Frequent blogging makes you a top-placer on search engines so your customers can easily find you.
People do not always look you up on Instagram or Facebook. Sometimes, they want in-depth answers to their questions. For instance, how does your product actually benefit them? This is where informative blogs come handy. You should always write blog content while wearing your consumer's hat and keep the persona of your customer in mind. It's always a good idea to research their problems thoroughly so you know how to best help them.
You may even add your opinions and insights to make your content unique so your target audience does not find a similar blog elsewhere. Promoting your blogs on social media channels greatly helps drive more traffic to your website. According to Forbes, publishing a minimum of 16 blogs posts a month can get you 3.5 times more web traffic compared to posting four or less blogs a month.
5. Co-brand with other businesses
Another smart way to increase your brand awareness is to collaborate with other businesses and leverage on their target audience, popularity and brand image.
If you're an office coffee delivery service, you can partner with an established office that you offer coffee deliveries to. With this collaboration, you can gain access to your partner's employees or other workplaces in the area.
Cobranding with another business also helps establish your credibility and doubles your marketing budget as you team up with more people.
Creative marketing keeps you in for the long haul
With increasing competition and greater consumer awareness, marketing your business effectively can be demanding. Pushy sales tactics work no longer. In order to stay in the game for the long haul, you need to nurture relationships with your customers.
It all starts with targeting the right market and delivering them the right solutions. You can then increase your reach by tapping into more channels and collaborating with more businesses. Keeping your current customers satisfied adds a cherry on the top! If you invest good effort in marketing your business the right way, you can be a top-placer in your industry!
Author Bio
Ramiah Adeen is a technical writer and marketer at EZRentOut, which offers an online rental software for SMBs, enterprises and more. She is an IT and data-driven Marketing enthusiast. She is also a guest blogger who is passionate to write about emerging trends in the sphere of digital marketing.
Disclosure: We might earn commission from qualifying purchases. The commission help keep the rest of my content free, so thank you!