You might have heard about the recent story of stolen nude celebrity photos, it is so scary and concerns about cloud security are raised again. I've always been taught that cloud services should never been trusted and it is proved to be truth in this case. Therefore, I was looking for a completely cloud-free solution to store my photos and videos.
The LyveHome review unit comes just in time and when ex-employees from Apple, Netflix, Intel and Amazon team up, this should be an amazing product. Let's check it out.
Overview Video
Design and Features
The LyveHome has a very simple design. It looks like a fat Airport Time Capsule with the same rectangular tube design standing 5.40 inches. You can also spot a huge 5-inch screen on the front. The unit is very well-built and it can sit sturdily on the table.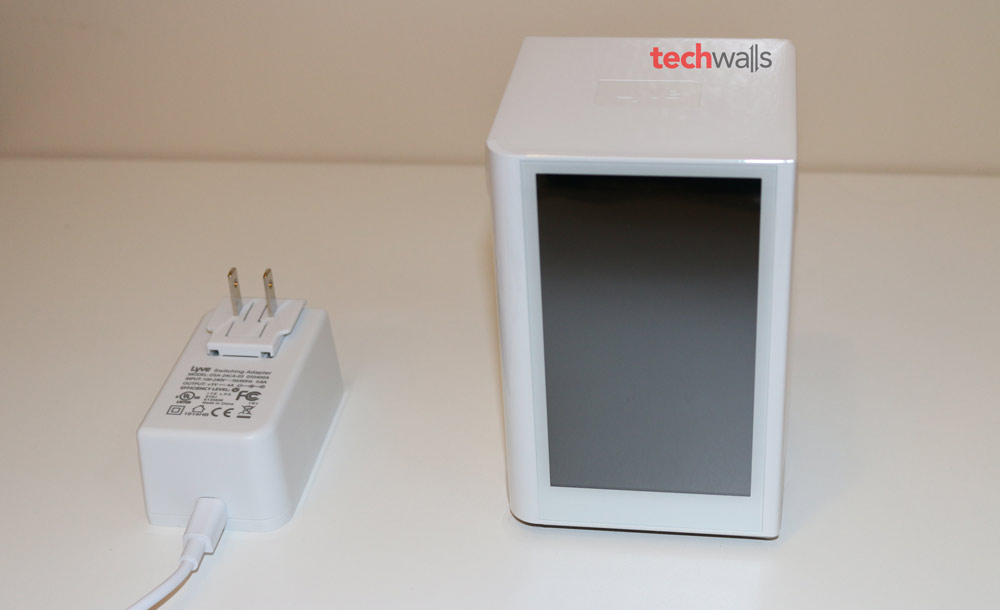 If you haven't known what the LyveHome can do to help your life easier, it is actually a networked 2TB hard drive with a user interface. Basically, it will pull images and videos from all of your connected devices such as computers, tablets or smartphones. After all of your files are synchronized between the devices, you will be able to access your photo and video collection anytime, anywhere with your mobile devices without worrying that they could run out of storage.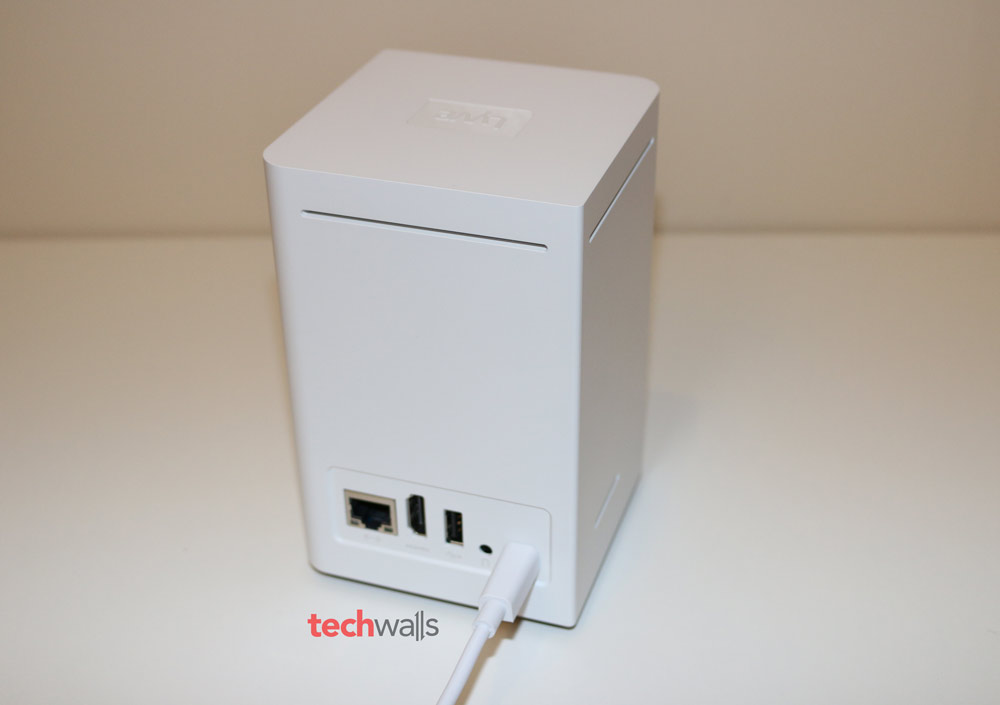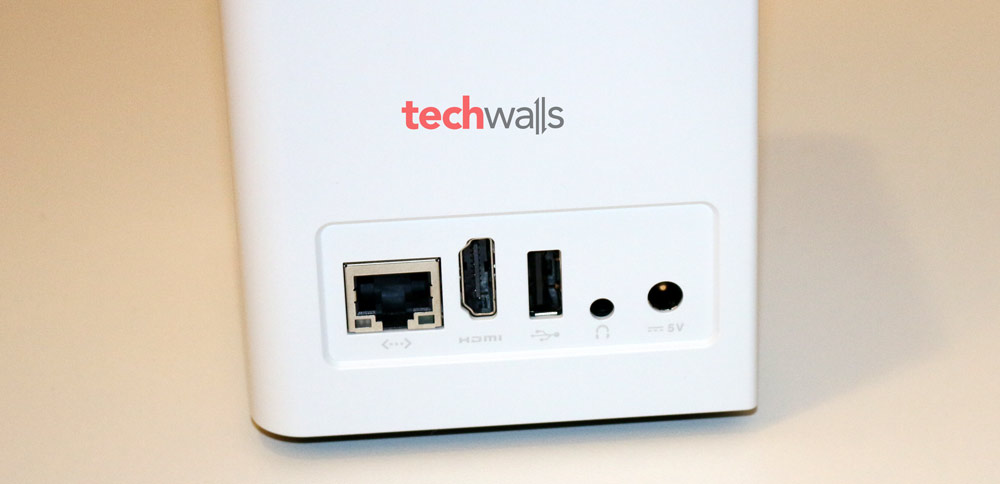 Setting up the LyveHome is pretty straightforward. It is required to plug in the charger to use it because there is no built-in battery. Then, you will just need to connect to your Wi-fi network, sign up a Lyve account and start using the device. On your PC, Mac, iOS or Android devices, you can install the Lyve app and log in to your Lyve account so that everything is synced. You can also import your photos and videos by plugging in your external hard drive, USB or SD card.
There are some other ports on the back, like the HDMI port to play a slideshow on your TV and an Audio out port. I'm not sure why the audio jack is included because I couldn't play videos on the device.
Performance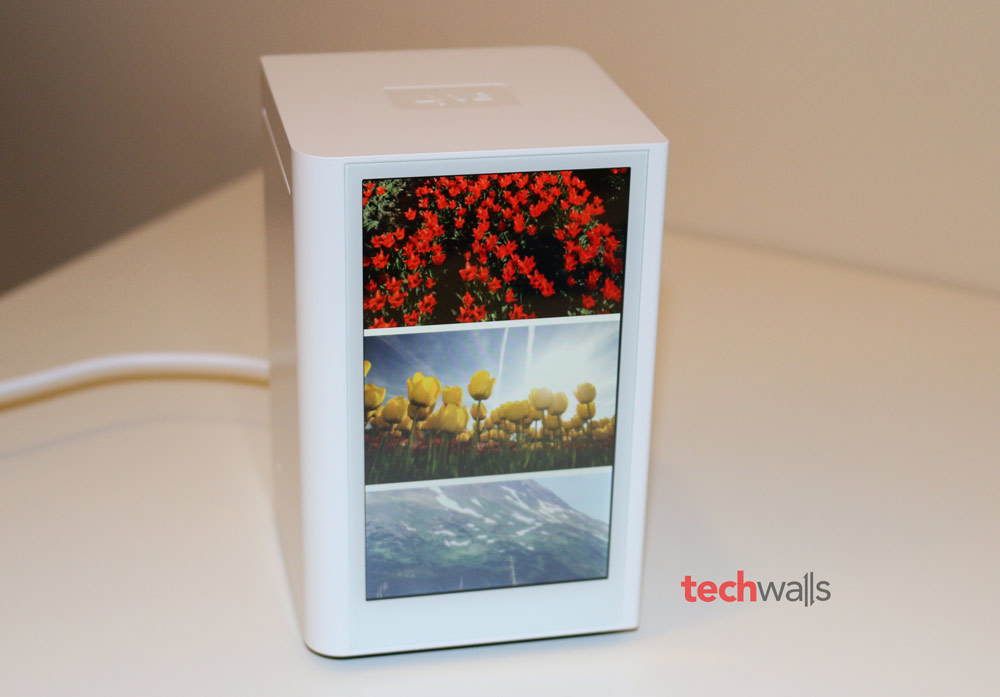 This product has a lot of potentials and actually I was quite excited to give it a try. Unfortunately, it couldn't meet my expectations and I'm quite disappointed with its performance. There is still plenty of room for improvement and I really hope it could be fixed in the near future.
The first issue is that it takes forever to import images and videos. I used it for more than 9 hours but it could import just about 500 images and 91 short videos. The size of my media collection is just about 250GB but I guess it will take no less than a full week to complete the process. This is a shame because I can copy the whole collection in an hour or two via the USB port.
Another issue is the horrible speed when I try to view images/videos that haven't been downloaded to my mobile devices. As the LyveHome stores all images on my MacBook, I can use my Android phone to view them but they need to be downloaded to my phone first. In my test, it takes around 3-4 seconds to download an image and 1-2 minutes to download a short video. This is really unacceptable because the LyveHome is just 1 feet away, I can even access to my photos much faster with cloud services like Dropbox or Google Drive.
I can sacrifice the speed for better protection, but are my photos safer?
The answer is no. My photos and videos won't be safer than when I store them on the cloud. The device doesn't save our photos on servers but it is not really cloud-free. As we still need to log in to Lyve's account, anyone with the login credentials can get access to the whole photo collection stored in your LyveHome unit as long as it is turned on. I really don't understand why Lyve doesn't implement an extra step to require authorization for a new device, we will be much safer then.
The user interface also has some problems. At the moment, it is very difficult to look for an image, I can't play videos, can't zoom in an image and it takes a few steps to turn off the screen. I like the double tap to turn the screen on and I think they should implement the same gesture to turn it off.
Conclusion
Pros
Solid build quality.
Nice and sensitive touch screen.
Store full-resolution images and videos.
Apps are available on most platforms.
Cons
Still not a safe solution to back up your photos.
Performance is disappointing.
Can't play videos directly on the device.
Always required to be plugged in.
Quite hot and loud.
The LyveHome is available for $299 on Amazon. I can't find a good reason to recommend this product at this moment but it can be improved significantly with a firmware update or a next generation in the future. I will keep you update when there is any change.
Disclosure: We might earn commission from qualifying purchases. The commission help keep the rest of my content free, so thank you!