A logo is more than just a fancy graphic, emblem, or symbol. It's a mark of identity, a picture that provides a snapshot of your brand's image sans a lot of description. As such, it is crucial that you select the right logo to promote your product. And a very handy tool that can be used to create this perfect logo is LogoMyWay's logo maker.
What exactly does LogoMyWay do? 
LogoMyWay allows you to create your own business logo. The task can be done quickly and easily. Fashioned by top-quality designers, every logo design can be customized to suit your specific needs (fonts, colors, size, text, etc.). You can also receive full commercial rights to your selected logo.
How do I start a contest on LogoMyWay?
Fill out a form that describes your company and what you are looking for in a logo. Set a prize amount and start your contest. You want your business to win, so why not have a winning logo? Enter to win!
How can the site make the logo-making process easier? 
The site has many options to speed along the process of logo creation. You can download high-resolution vector files that can be used on any application you choose with websites, t-shirts, hats, mugs, pens, business cards and more. Also, you can request a professional logo designer to aid you in your quest. There are over 30,000 designers on hand. They will submit potential logos in real-time for your approval. You can then rank them and provide feedback. They will send you high-resolution vector files and the master file.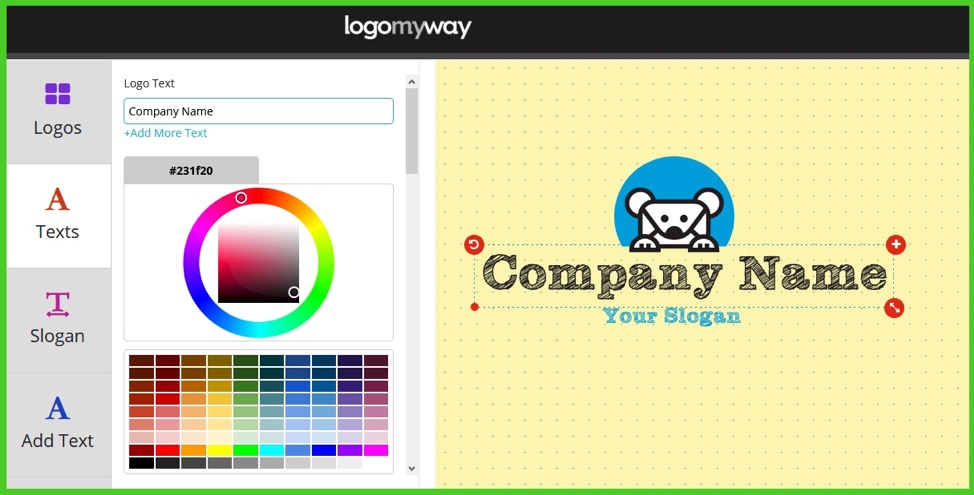 How should I create my logo?
There are many logo templates to choose from. In fact, there are over 600 choices! Try to avoid a complex design. It should be simple, conveying your intended message to potential customers immediately. However, make sure it is clear and precise. Your target is fast and easy communication! Also, the logo needs to look good no matter what size it is, whether it is stationed on a billboard, on an object, or on a website. Along with your company's name, invent a catchy phrase that sums up what your business offers or hopes to achieve as well as a compelling image relating to your product to put on the logo. Moreover, keep in mind that colors can communicate messages as well (e.g. red = anger, romance, green = nature, outdoors, purple = royalty, wealth, etc.). They should be eye-catching and attractive. Furthermore, font can help convey a particular mood you want to set for your company (e.g. cursive = elegance, squiggly = humor, straightforward = seriousness, etc.). Above all, ensure that your logo is original and memorable. Check out your competition before designing your own so that you can get a feel for what's out there. You want yours to stand out from the crowd. Write out an outline for your project. Try drawing your logo ideas on a sketchpad. Plan bit by bit. Don't be afraid to ask for a second opinion. And if all else fails, hire a professional. Remember, don't rush yourself! Creativity takes time.
In what order should I create my logo? 
Find the right template
Choose the correct color scheme
Select the proper font size 
Click on your logo to make edits 
How do I purchase my logo from LogoMyWay? 
Click Next >> Buy Logo after you are done making edits. You can choose the standard logo pack or the premium logo pack. You also have the option of selecting a professional logo designer.
Is it possible to print my logo? 
Yes. The vector files in each package allow for printing. This includes T-shirts, mugs, pens, and other promotional items.
 Will my logo belong to me? 
Yes. You will be granted full rights to your logo.
Is the logo maker itself free?
Yes. You will only have to pay for the logo file download. 
How much will my logo cost? 
Standard Package = $49.95 – This option includes high-resolution files (PNG and JPG), vector files (SVG, EPS, and PDF), and files with transparent backgrounds. 
Premium Package = $79.95 – This option includes all of the above plus unlimited edits with logo maker and multiple logo variations for Social Media. 
Optional Add-On = $99.00 – This option allows you to purchase the services of a professional logo designer. The logo's shapes, colors, fonts, backgrounds, and sizes can be altered. This process usually takes about 2-3 days to complete after the purchase is made. 

Optional = $129.95 – This option allows you exclusive rights to your logo. The logo will be removed from the logo maker and won't be available to anyone else.
Does LogoMyWay offer refunds?
Yes. If your logo contest doesn't receive at least 40 logo concepts, your payment will be refunded with no hassle.
What are the advantages of using LogoMyWay's logo maker?
It is simple to use.
Logos are unique and professional.
Logos have all the right files provided.
You will save time and money.
You can contact customer support anytime.
You will have access to professional logo designers.
What is the process for creating a logo online?
Type your company name and slogan into the box and click "Start Now".
Hundreds of logo options will pop up for you to choose from. Click the one you like best to select it.
You can now edit your logo by changing the fonts, colors, shapes, or words.
Click "Next" when you are done editing.
Now you can buy your logo and its accompanying high-resolution vector files.
Download your vector files and you're all done!
So, you see? It's all quite easy! On LogoMyWay, the logo making process is a piece of cake. You have all the options in the world for your logo at your fingertips: 600+ possible designs, 30,000+ expert designers, unlimited editing ability, copyright ownership, and contest entrance! Visit the site today and snag that awesome logo! You deserve to own the perfect advertising symbol for your amazing company, don't you think?
Disclosure: We might earn commission from qualifying purchases. The commission help keep the rest of my content free, so thank you!