Whether you're an e-bike enthusiast or a novice looking to explore the off-road terrains, the LANKELEISI MG740PLUS offers a stunning blend of power, durability, and innovative design. Its robust features and state-of-the-art technology ensure that it stands out as a powerful and versatile electric bike, best in its class. Here's a deep dive into what this off-road giant has to offer.
Specifications
Wheel Size
26 inch
Color
Black-grey/Black-blue
Frame
6061 aluminum alloy frame
Handlebar Sets
6061 aluminum alloy, 31.8x720mm
Fork
aluminum shoulder lockable oil spring suspension fork
Speed
Shimano 7 speed
Shifting Lever
Shimano TX50
Rear Derailleur
Shimano M310
Cranksets
Prowheel aluminum alloy crank square hole 46T
Freewheel
SUNSHINE 14-28T
Chain
KMC 7s
Brake
DYISLANDDe-energized Hydraulic Disc Brakes
Rim
Aluminum alloy wheels
Tires
CHAOYANG 26×4.0
Net Weight
34kg
Carrying weight
180kg
Applicable height
170-195cm
Electric configuration:
Mileage
Electric mode 60-70 km/auxiliary mode 120-150 km
(After being fully charged, the load is 60kg, the temperature is 25 ℃, and the test is conducted at 20km/h. The actual measurement is the average speed on a flat road surface)
PAS mode (5 Shifts) Range 120-150KM
Riding mode
Pure electric mode (5 Shifts) Range 60-70KM
Pure Human Riding
Maximum speed
45-51km/h
Front light
LED Powered by battery
Gradeability
40°
Battery
48V 20AH Samsung lithium battery
Charger
48v 3a charger
Charging time
6-7h
Motor
48v 1,000W front drive brushless motor and 1,000W rear drive brushless motor
Motor torque
Front wheel motor 95 Nm,Rear wheel motor 95 Nm
Meter
Color screen LCD meter, Integrated setting function, display speed, battery level, mileage, etc., waterproof level: IP54
Power assist Sensor
12-point Holzer-intensive speed sensor
Wire connector
All cables are Waterproof Integrated wires
Features
1. Powerhouse Dual Motors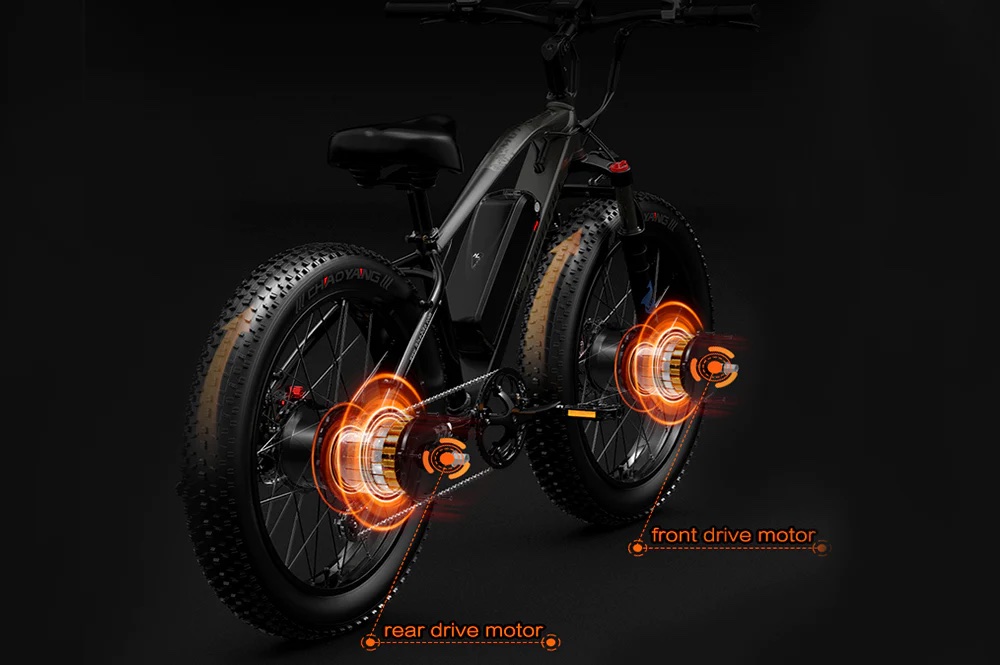 The MG740PLUS is powered by two 48V 1,000W high-speed brushless motors at the front and rear, ensuring a significant power output. The star gear design within amplifies torque and improves the energy efficiency conversion rate, which means more power, reduced energy consumption, and a silent but compelling ride. These qualities make it an unparalleled beast when it comes to acceleration performance, clocking in at a whopping 31.7 mph (51 km/hour).
2. Impressive Climbing Ability
With a maximum climbing capacity of 40°, this bike is designed to conquer almost any terrain. The internal use of a star gear design further boosts speed and climbing performances.
3. Superior Battery Performance
Housed within the frame is a 48V 20AH Samsung lithium battery that remains hidden and shielded from external elements, ensuring protection from both water and dust. This battery can cover about 37.3 miles (60km) in pure electric mode and up to 93.2 miles (150km) with power assistance.
4. Smart LCD Display
The MG740 PLUS boasts an intelligent LCD instrument, introducing a fresh interactive interface. It integrates gear switches, displays bike data, allows power output settings, and comes with an IP64 rating for waterproof and dustproof reliability.
5. Rugged Tires for Tough Terrains
The bike's 26*4.0-inch tires are designed to handle challenging conditions effortlessly. Whether you're crossing large potholes, navigating muddy roads, or overcoming speed bumps, these wide, anti-skid, and anti-vibration tires promise stability and ease.
6. Enhanced Comfort with Front Fork Suspension
For those who prioritize comfort even in rugged terrains, the bike's lockable front fork suspension ensures you have a smooth experience even during collisions.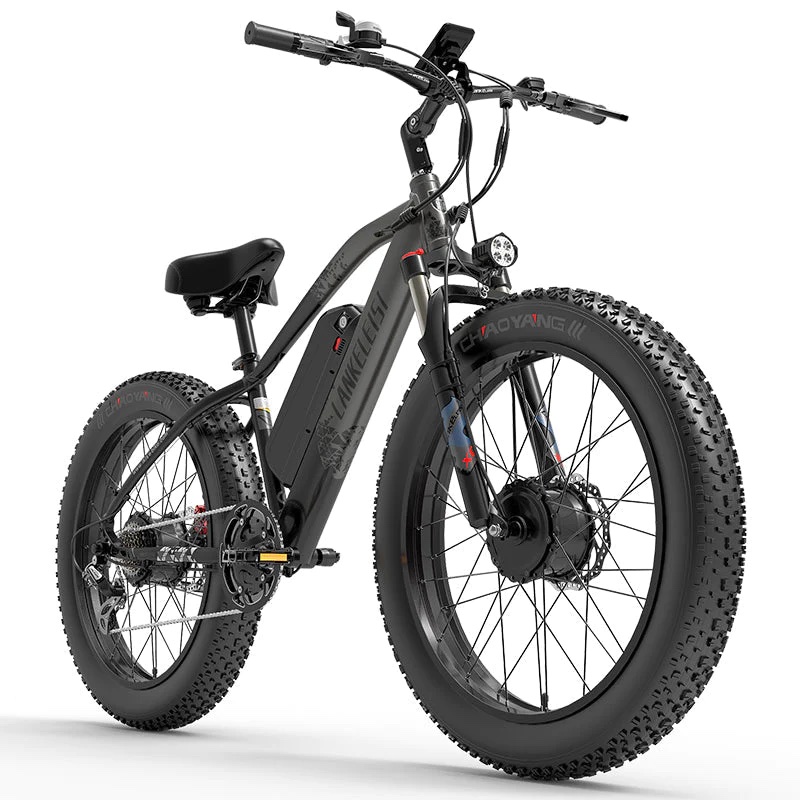 7. Shimano 7-speed Gears
This gear system is not just about speed; it's about control. Whether uphill or at high speeds downhill, the Shimano 7 gears freewheel allows you to shift effortlessly and combined with the pedal-assist system, guarantees a journey tailored to your preferences.
8. Efficient Braking System
Safety is paramount, and the MG740PLUS doesn't compromise. The hydraulic disc brake, featuring the DYISLAND power-off oil disc and dual front and rear systems, ensures swift heat dissipation. This means efficient and smooth braking even in emergencies.
9. HD LED Display
Get all your essential information at a glance. From speed, range, to battery level, the HD LED display keeps you updated and in control.
Conclusion
The LANKELEISI MG740PLUS dual-motor e-bike is more than just an e-bike; it's a testament to technological innovation, performance, and design. In the exhilarating world of biking, this e-bike is revolutionizing the way adventurers traverse rugged terrains. Marrying traditional mountain biking with advanced electronic technology, these bikes offer motorized assistance, ensuring riders can tackle steep inclines, challenging trails, and long distances with greater ease. Equipped with robust tires, enhanced suspension systems, and powerful batteries, the MG740PLUS delivers a unique blend of raw power and seamless integration with nature, granting enthusiasts the thrill of mountain biking combined with the added boost of an electric motor. Whether you're an experienced trail blazer or a novice eager to explore the wilderness, it opens the door to a new realm of adventure and exploration. A true game-changer in the world of e-bikes, the MG740PLUS ensures that you ride not just in style, but with unmatched power and precision. The bike is currently available on its official website for $1,799 or €1.899. You can use the promo code lankeleisitechwalls to save up to $/€100.
Regarding the LANKELEISI brand, their product quality control is highly stringent, and their after-sales service is a significant strength, demonstrating a strong focus on customer experience. The warranty period typically extends to one year for the battery and motor, and up to three years for the frame. Should any issues arise with the e-bike during the warranty period, LANKELEISI is committed to promptly addressing and resolving the problem for the customer.
Disclosure: We might earn commission from qualifying purchases. The commission help keep the rest of my content free, so thank you!