Despite a lot of efforts to switch to biometrics or other authentication methods, password is still very common these days and it won't go away in the near future. I am surprised that many Internet users are still managing their passwords manually by using short passwords that are easy to remember, duplicate passwords across all accounts, or writing them down to a notebook. Those poor practices make your online accounts more vulnerable than ever and give hackers easy access to important accounts including your bank, investment, social networks, work or phone accounts with a lot of confidential information.
If you haven't used a dedicated password manager, you should make the switch right away to prevent grave consequences. In this post, we're checking out the Passwarden app by KeepSolid.
The majority of users are happy with their web browser's password managers like the ones on Google Chrome or Safari; They are good enough and has been improved over time, however, they are still limited in functionalities. Let's see all features of the Passwarden app to see why it is better.
Data Migration
Since all your passwords are probably stored in your web browser, Passwarden makes it easy to import all of them to the app. You don't need to start from scratch, just follow the app's instructions to select the browser and passwords you want to import.
Password Generator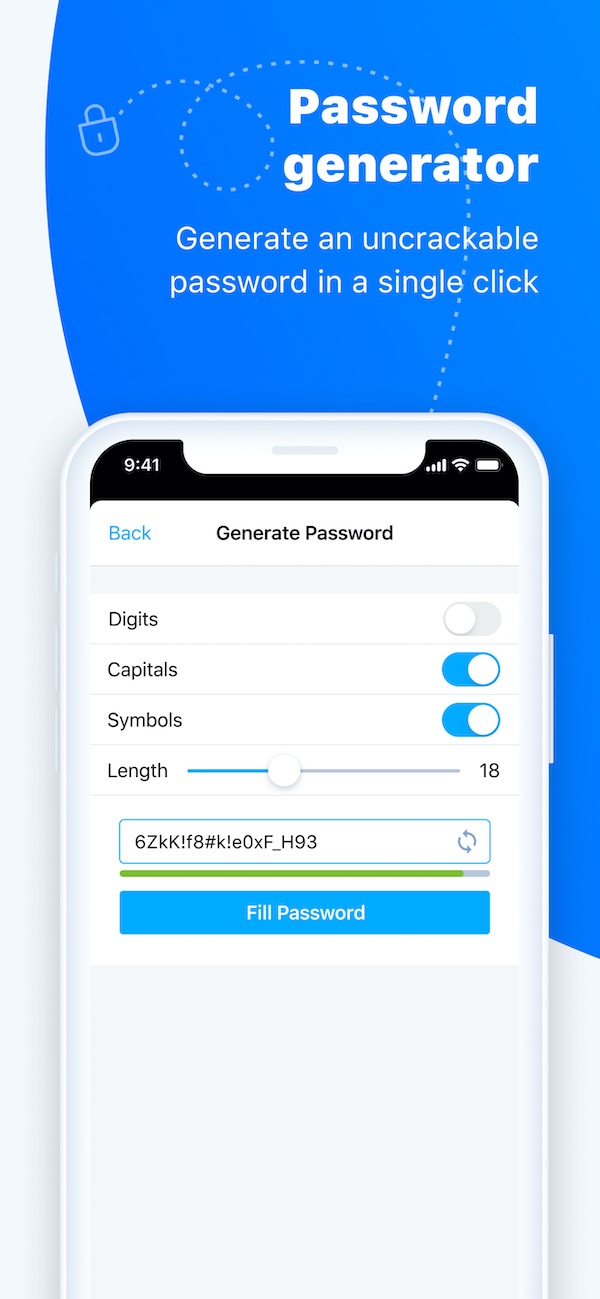 Instead of just creating a random password, the password generator allows you to specify the length, digits, capitals, and symbols to create a unique, long, and complex password.
Cross-Platform Synchronization
Multi-platform support is a huge advantage of 3rd-party password manager. You can install the app on multiple devices running different OS and everything is still synchronized. Particularly, the app supports Windows, MacOS, iOS, Android, and it has browser extensions for Chrome, Firefox, and Edge.
Save Any Data
The Passwarden's secure vault can save not only passwords but also other sensitive information like credit cards, notes, social security number, driver's license, etc.
Data Encryption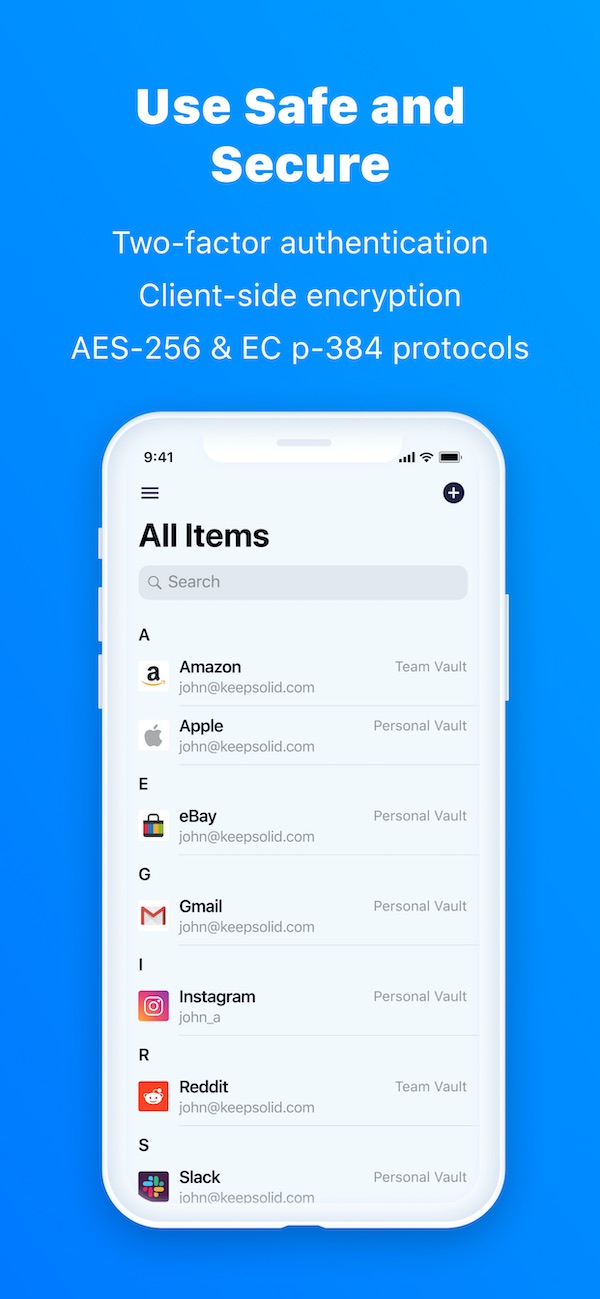 KeepSolid aims to make your data unreadable to any 3rd party. They use client-side encryption via AES-256 and ЕС р-384 algorithms for storing and syncing the data.
Password Sharing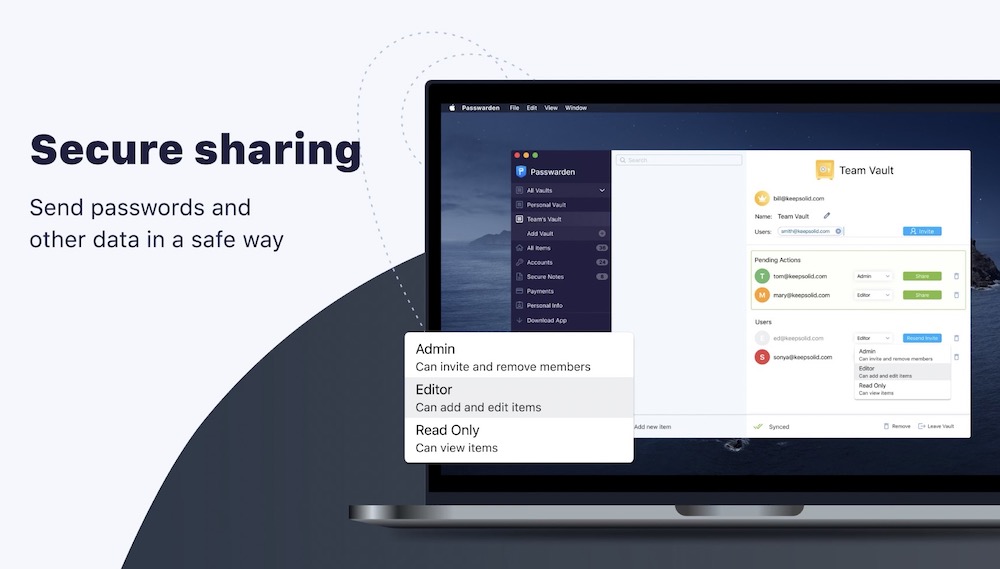 This is another premium feature that free password managers don't have. Sometimes you need to share login credentials with your family or friends. Rather than copying and pasting to emails or messages, Passwarden makes it much easier and safer. Besides, the passwords are always updated to the most current one, so you only need to share once. You can assign role with different permissions to each person whom you're sharing the passwords to.
Two-factor Authentication
By using the app, you no longer need to remember long and complex passwords. You need to remember only one password to log into the Passwarden app. Besides, the two-factor authentication adds another layer of security by sending a passcode to your email every time you log in.
Duress Mode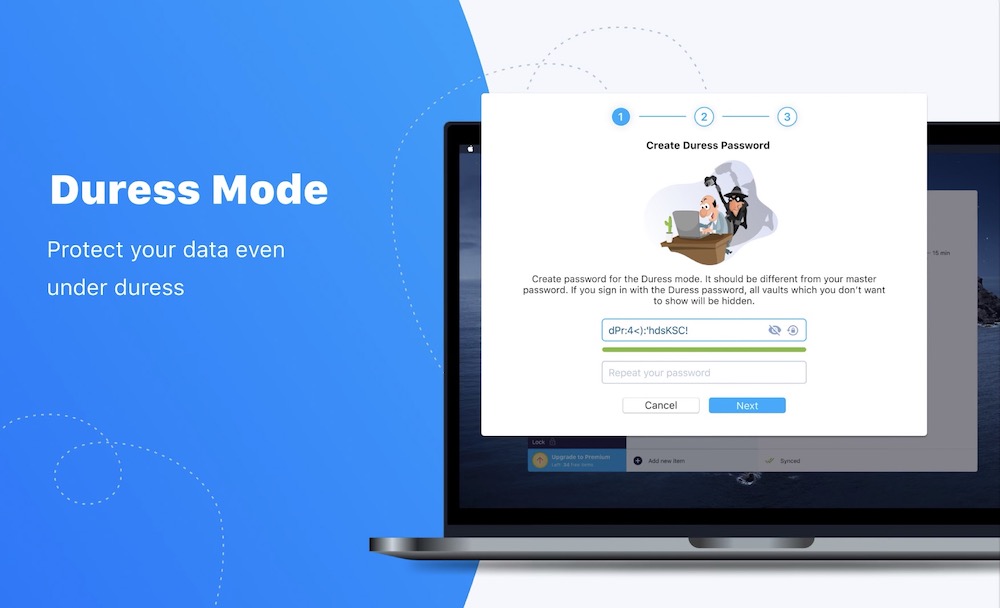 This is quite an interesting feature. Basically, you need to create a Duress password and select important data and passwords you want to hide. Then, in case someone forces you to open the Passwarden app and reveal all passwords and private information, you can just type in the Duress password instead of the correct password; You will log in successfully and the app will show everything except the hidden data.
A dedicated password manager offers convenience, creates better passwords, and keep them safe. Therefore, it makes our accounts less vulnerable to password-based attacks. We highly recommend you to use one like the Passwarden. It costs just $3.99/month, $39.96/year, or $199.99 for a lifetime license. You can use it for free but the number of entries you can create simultaneously are limited.
Disclosure: We were compensated to publish this article on TechWalls.
Disclosure: We might earn commission from qualifying purchases. The commission help keep the rest of my content free, so thank you!