A pioneer in the antivirus software industry and a highly influential figure in the field of computer security, John McAfee made a name for himself in the 1990s with a range of internet security utility programs bearing his name.
After stellar success, the company was eventually bought by Intel in 2010 for £4.75 billion and has since rebranded as Intel Security. But what became of John McAfee?
Here, Internet security and technology expert Mike James discusses the life and adventures of one of the most interesting characters to have emerged from the world of online safety.
McAfee did not have an easy childhood. It is well known that his father was an abusive alcoholic who committed suicide when his son was only 15 years old, which left a long shadow. A brilliant student with an uncanny knack for computer programming, McAfee also fell victim to alcohol and drugs. While he was tutoring and studying for a PhD in Mathematics in the late 1960s, he was thrown out of university for having sex with a student.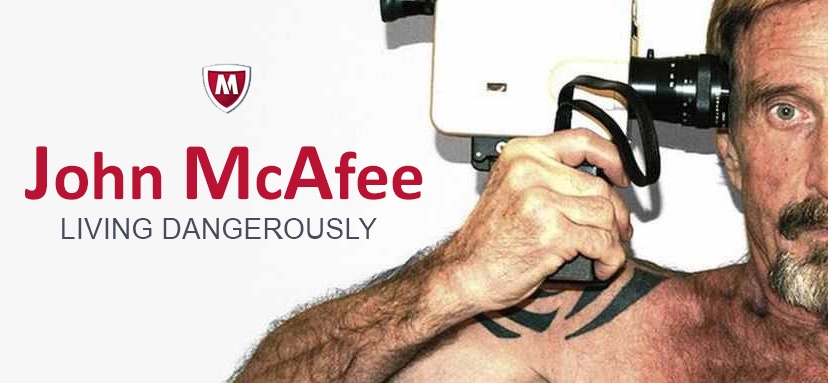 A wake-up call came in 1983, by which time his drug and alcohol dependency had cost him a marriage and was threatening to derail a promising career. He joined Alcoholics Anonymous and claims to have been sober ever since.
Despite McAfee's enormous commercial success in the information security business, the self-proclaimed 'eccentric millionaire' had several run-ins with the law, including an arrest for drug manufacturing and possession of an unlicensed weapon in April 2012.
A new documentary set to be released on 24th September 2016 could be shedding more light on one of the most colorful and controversial characters in the IT security industry.  Gringo – the dangerous life of John McAfee, directed by Oscar-nominated moviemaker Nanette Burstein, takes a look at the tech magnate's life while he resided on his island estate in Belize in Central America, a period which came to an abrupt end in 2012 when McAfee was officially accused of the brutal murder of his neighbour, American expat Greg Faull.
While evading the Belizean authorities over the still unsolved murder, McAfee is also implicated in the horrific murder of Dave Middleton, a Belizean man, according to the new film.
The documentary is heavily based on interviews with the many people who were close to McAfee during his time in Belize, including several bodyguards and girlfriends as well as local officials and media sources. In particular, an interview with research biologist Allison Adonizio alleges that she was drugged and raped by the man she worked with.
However, the most incriminating part of the documentary is a series of conversations and phone calls seeming to corroborate that McAfee had paid a hitman £5,000 to kill his former neighbor for poisoning the cyber security legend's dogs. The alleged hitman, a former McAfee bodyguard, is now in hiding following an attempt on his life.
The new documentary paints anything but an endearing portrait of the man whose antivirus software started the Internet security revolution. On the contrary, the image that emerges is that of a hardened criminal, steeped in the culture of drugs, guns and girls on demand. A still wealthy man who is able to buy himself a slice of life on his own uncompromising terms – a 'libidinous, perhaps insane, gun-wielding character', according to Stephen Rodrick of Men's Journal magazine. It's a far cry from Santa Clara, California, in the heart of Silicon Valley.
A world-renowned expert on Internet security, global hacking threats and online privacy, there's no doubt of John McAfee's academic brilliance and shrewd commercial acumen. As a libertarian and member of the newly founded Cyber Party, perhaps McAfee's interest in political activism may be a new outlet for his ambitions.
Not surprisingly, McAfee himself has sharply criticized the new film, labeling it a 'fabrication' based on paid-for, manufactured interviews to discredit him. While it will make for interesting viewing, the jury is out on what this means for the future of John McAfee.
Disclosure: As an Amazon Associate, I earn from qualifying purchases. The commission help keep the rest of my content free, so thank you!