If you are looking for a high-quality wireless portable speaker for less than $90, actually there are just a few choices I can recommend.
The AmazonBasics Bluetooth speaker is a good option but I really hate its bulky and cheap design. The other choice is JBL Flip, the low priced yet highest rated portable speaker on Amazon. This product has nearly 700 reviews on Amazon and you will be overwhelmed with compliments. I read some reviews there but I don't agree with many of them. Read on my review for what are good and bad things on the JBL Flip.
Unboxing and Sound Testing Video
Design and Features
The JBL Flip is a cylindrical speaker, which is similar to the UE Boom, so we can use it in both horizontal and vertical orientations. I myself prefer laying it down because its two drivers would be separated clearer then. The review unit is a black version, it doesn't look like a premium product because its shell is mostly made of plastic (except the metal grille), however, its build quality is very solid and sturdy. Take a look at some product images below: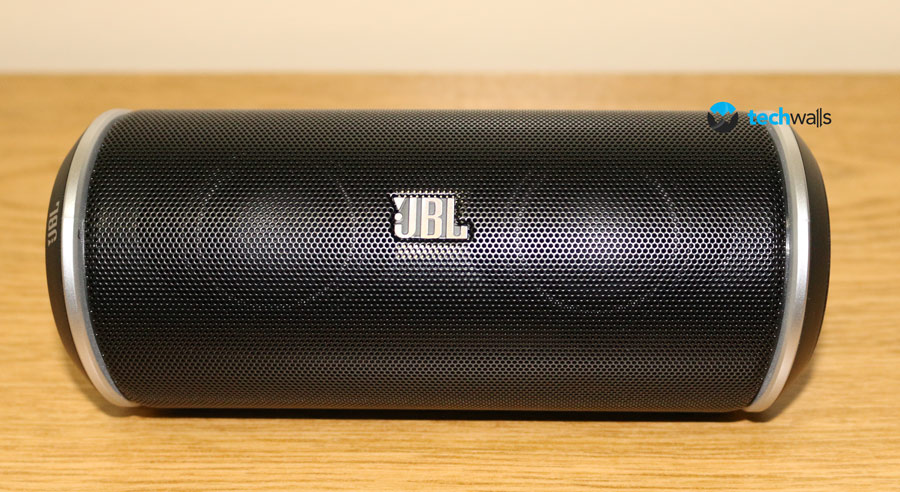 The Flip is very small and easy to hold, and as it comes with a Neoprene carrying pouch, you can put it in your bag and carry anywhere.
I had no problem pairing this speaker with my smartphone via Bluetooth. Control buttons are put on left side of the Flip, here you can find power, volume controls and speakerphone button. The speakerphone feature works well and you will absolutely need it to receive phone calls while listening to music.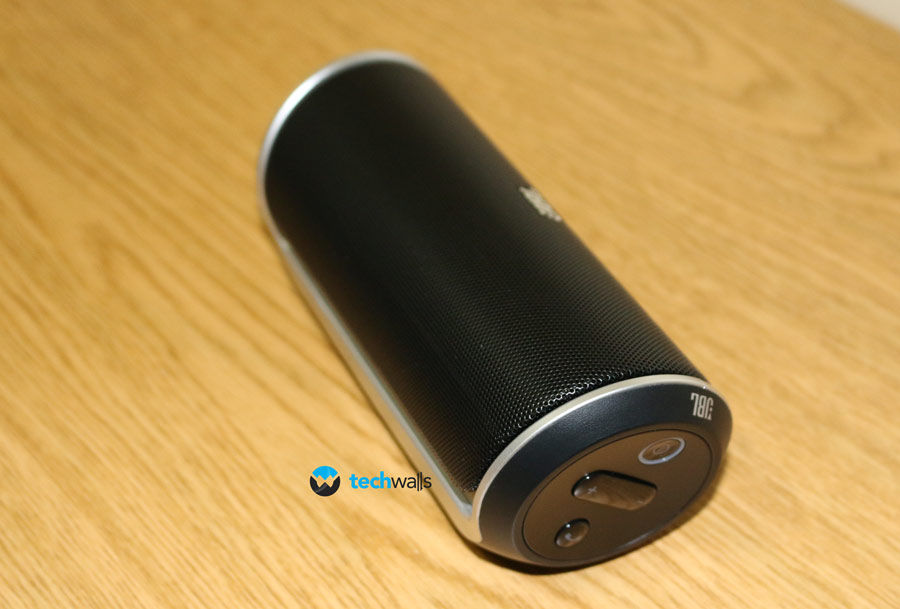 On the back, there are an AUX input for non-Bluetooth devices and a power port. Unfortunately there is no mini-USB port, therefore, you will always need to bring its bulky generic charger to charge the speaker.
Its built-in Li-ion rechargeable battery is said to power the speaker for up to 5 hours, but in my test, it could last just about 3.5 hours at nearly maximum volume. Probably the battery could reach that level when you play at lower volumes.
Audio Quality
I was very impressed when reading specs of the JBL Flip. It features two 40-mm drivers with amplifier power of 5W each. It is also packed with a built-in bass port that is promised to deliver a full-range sound with exceptional bass.
The speaker is powerful enough to fill up my small room, but the sound is not really extraordinary like I expected. I realize that JBL was trying to make the sound warmer, however, the bass sound is still too thin and not as sturdy as some $200 speakers. The treble sound is also quite weak and sometimes I felt uncomfortable listening to high notes. Another shortcoming of this speaker is distortion, you won't see the distortion until you crank up to nearly maximum volume. You can watch the sound testing video above and probably you will hear the distortion.
Although there are some limitations, the JBL Flip still has its own strength. Midrange is where the speaker shines. You will absolutely love this speaker if you mostly use it for watching movies, news or listening to light-bass music because the vocals are very smooth, loud and clear
Pros
Modern and portable design, it can be used vertically or horizontally.
Hands-free speakerphone.
Sound is loud and can easily fill a small room.
Carrying case is included in the box.
Impressive mid range.
Cons
Battery life is not long enough (just over 3 hours at high volume).
Realizable distortion at maximum volume.
Bass response is not exceptional like advertised.
No USB charger.
The JBL Flip is now priced at around $89 on Amazon. This is a low-budget speaker, so there are still some limitations but you can't expect more at this price range. In my opinion, this is a solid built and well-designed speaker with good sound quality for average consumers.
TechWalls Rating
Design & Features - 7.5
Audio Quality - 6.5
7
Good
JBL Flip is among the best low-budget speakers.
Disclosure: As an Amazon Associate, I earn from qualifying purchases. The commission help keep the rest of my content free, so thank you!