This post brought to you by Fellowes, Inc. . All opinions are 100% mine.
Paper shredders have always been a part of offices for a long time. Even though some might thing that they are not as useful as other products used in the offices but if there is a lot of paper work in the office and there is a need to dump it all, then it's better to use a paper shredder than trashing it manually by hand. I have known many companies who make paper shredders but there is one particular company that I came across a while ago and I want to share my experience.
The company that I am going to talk about is called Fellowes. Recently, I wanted a new paper shredder for my office as the previous one was not doing a good job at shredding multiple items together and was taking a lot of time that I could have spent doing useful stuff. So, I went to the market after doing some research and found out that Fellowes has an exceptional history of making paper shredders with latest technologies. Upon further research, I came to know that Fellowes provide a lot of exclusive features across their entire line of shredders compared to the other manufacturers in the market. Fellowes shredders are known for providing
100% Jam Proof System, which stops paper jamming in tough jobs.
SafeSense technology that automatically stops shredding when the hand touches the opening tray.
SilentShred technology delivers quietest performance under any circumstances
Energy Saving System
So I started looking for Fellowes paper shredder and stumbled upon their latest product series called Fellowes AutoMax shredders. Currently, Fellowes AutoMax shredders had two models available in the market; the 300C and 500C. What amazed me most about these new AutoMax shredders is that it does not need manual feeding of items to shred. Instead, you just dump in all the stuff you want to shred including staples, paper clips, CDs, crumpled paper, glossy paper, DVDs and even more items and let it do the rest of the job automatically. This was the feature that I was looking for in a paper shredder.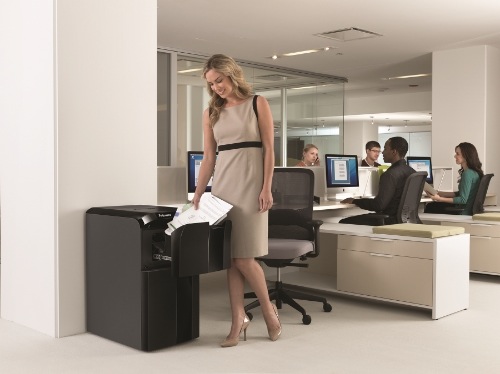 Fellowes AutoMax shredders are a product of company's years of search and development to provide the best possible shredding solution to the customers. Not only does it do the shredding job automatically, it also has:
Patented SureFeed Technology™ that features a rotating paddle system along with a specially designed ramp that ensures a consistent feed into a robust high capacity cutting block.
JamGuard Syste that prevents shredding interruptions for jam free operation.
SmartLock that engages with each shred cycle to prevent the drawer from opening and protect confidential information from prying eyes.
Now that I had gotten enough satisfactory result, I went for the Fellowes AutoMax 500C Cross-Cut Shredder. This model provides me with a larger number of sheets that I can shred at a time, a total of 500 sheets of paper shredded into 4 x 38mm cross-cut particles. There is even a 2 minute standby time after which the shredder goes to sleep mode automatically which is great and saves electricity as well.
In a nutshell, Fellowes AutoMax Shredder is a total WIN for me and I'd recommend it to anyone who is looking for a new shredder. Not only does it provides automation and saves your precious time, it also provides you with technologies that makes shredding safer, secure and energy efficient.
Disclosure: As an Amazon Associate, I earn from qualifying purchases. The commission help keep the rest of my content free, so thank you!