As recent months have shown, the need for successful remote collaboration is an issue that many companies face throughout the world. Luckily, there are simple ways to streamline internal communication, project collaboration, and information sharing thanks to a new simpleshow app within Microsoft Teams.
simpleshow video maker is a SaaS tool based out of Berlin that hit the market running with Fortune 500 companies and institutes of higher learning. Now, that same functionality is available within the MS Teams ecosystem–meaning collaboration has never been simpler.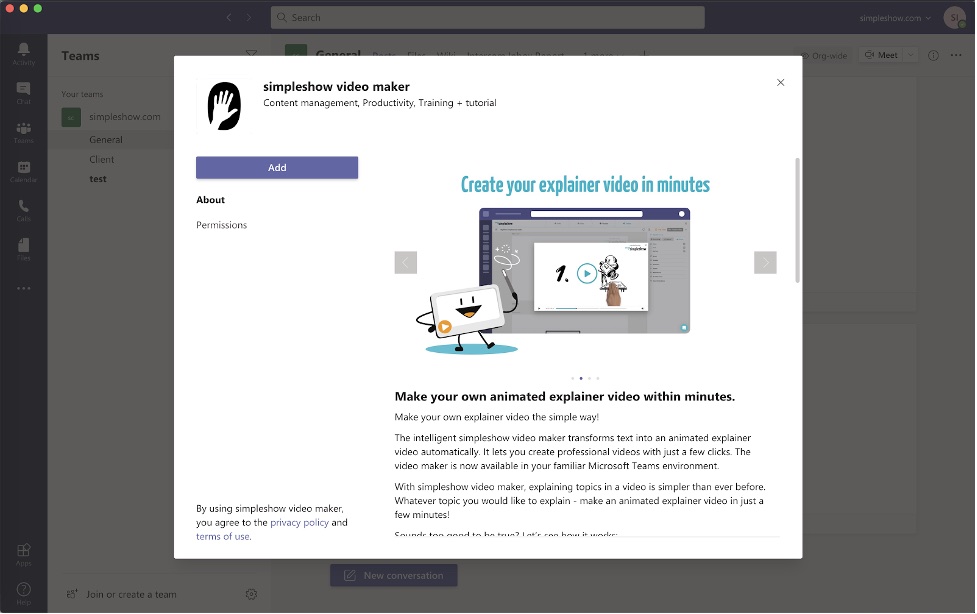 Create important internal announcements
Companies might think their use of video is limited, but in reality, typical updates, health & safety announcements, and other business changes can benefit from a quick and easy explainer video solution. Aside from the convenience of creating videos in this tool, the amount of time it takes from user investment to digest the information is a fraction of what it takes to read traditional statements, announcements, and material of the like. Choosing to offer information in text and video can increase information comprehension significantly.
Collaborate on projects
Rather than attaching presentations, multiple files to an email thread, or hopping on a video call to work through edits, file collaboration is a breeze with the video maker app in Teams. Now, without leaving the Microsoft window, users can work on video projects and transfer files seamlessly in the Teams native app.
Share information in an engaging way
New hires, change management, employee recognition, holiday party details–send these uplifting and positive bits of news in a short and sweet video. HR Teams, Internal Communications, Health & Safety departments, and operations professionals are just a few examples of who uses the video maker to effectively transform how their information is received by peers and colleagues.
Bottom line:
While the simpleshow video maker has long been adored by Fortune 500 companies throughout the world, the new Microsoft Teams integration makes using the tool easier and more efficient than ever before. Check with your network administrator to install simpleshow video maker, the only authoring tool available as an official Microsoft Teams app, today.
Disclosure: As an Amazon Associate, I earn from qualifying purchases. The commission help keep the rest of my content free, so thank you!