Inateck BP2001 is the second wireless speaker I received from Inateck. I was not impressed with the ultra-mini Inateck BP1001. How about the more high-end BP2001? Let's check it out.
Unboxing and Sound-Testing Video
Design and Features
The packaging of the Inateck BP2001 is quite simple, you can just find the speaker unit, charging cable and an audio cable. There is no charger but you can charge the speaker via a USB port on your computer or plug it to any USB charger, like the one of your Android smartphone.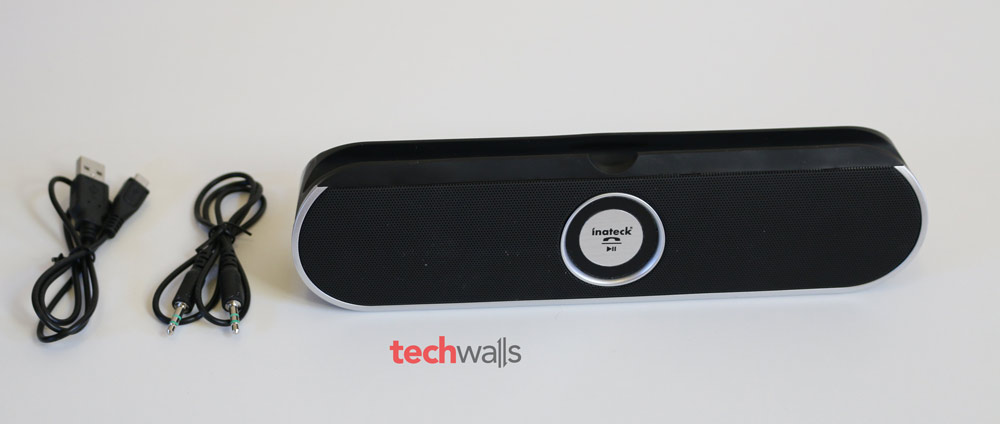 Unlike the cheap look of BP1001, the BP2001 has a much more premium design. The whole unit is still made of plastic but it has a shiny look and comes with a rubber cradle on top to hold your phone/tablet more sturdily. Besides, the front grille is made of metal and right at the center, you can spot the multi-function button which can be used to pair with your device via Bluetooth, receive/answer phone calls or Play/Pause. Yes, there is a built-in microphone, so that you can answer incoming calls without touching your phone.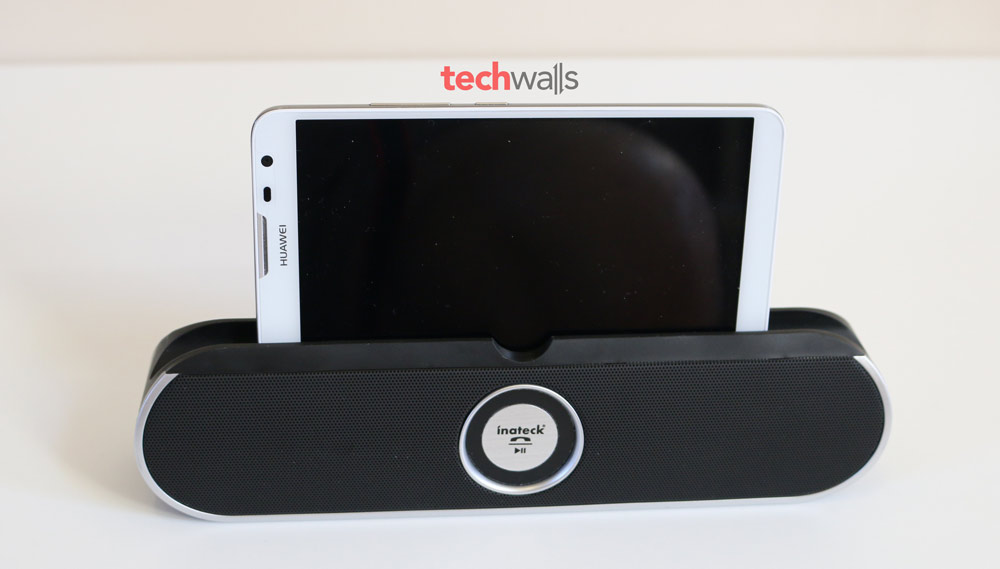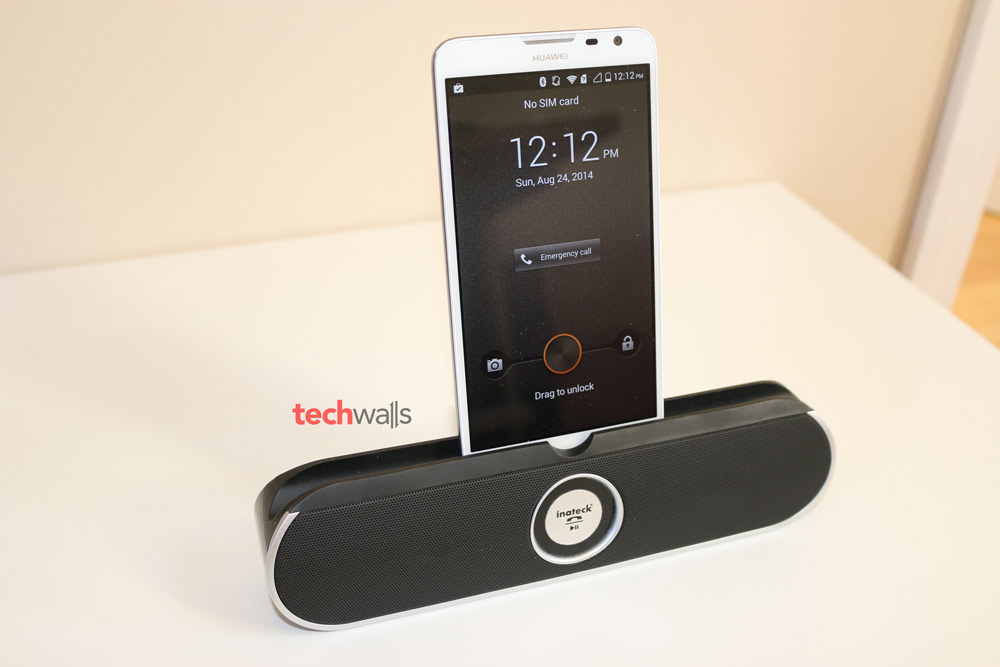 On the back of the speaker, there are a power button, a 3.5mm jack and a mini-USB port. I had no problem pairing this speaker to my phone at all. There is no volume control on the speaker, so you will need to use your phone/tablet to adjust the volume.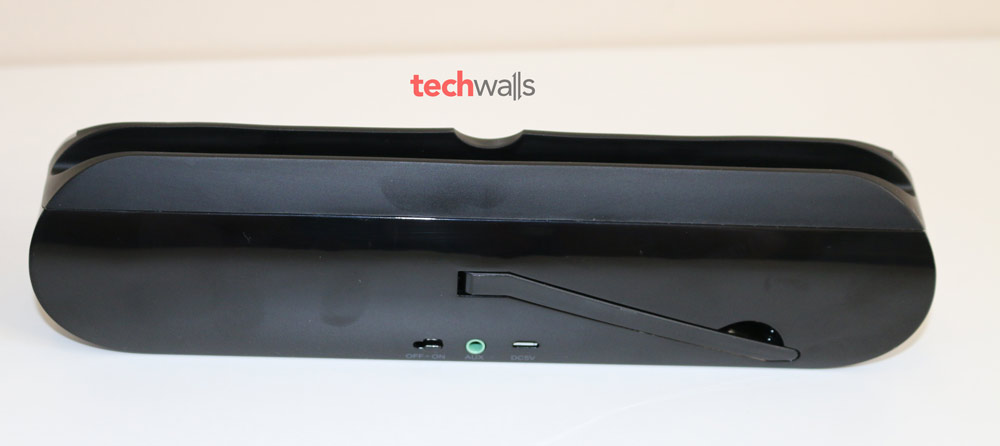 The speaker could sit on the table by itself, but it can fall down if you put a tablet on the cradle. That's why Inateck integrated a retractable stand, hidden on the back of the speaker. If you are using this speaker with your mobile device, you will need to open the stand so that it can stand firmly on top of the table.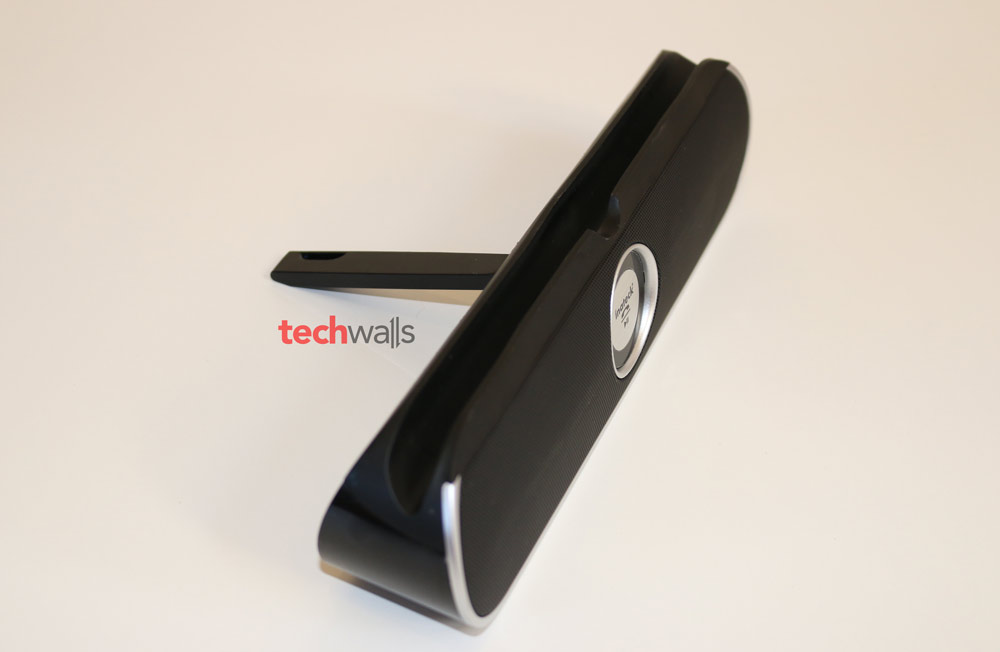 The battery life of the Inateck speaker is quite good. The 800 mAh battery takes about 4 hours for a full charge and it can power my speaker for about 6 hours at volume level of around 80-90%.
Audio Quality
When I start using the Inateck BP2001, I was quite fascinated by the sound coming from the two 5W drivers. The sound is warm, mids are very clear and there seems to be no distortion. I was playing some pop music and Youtube videos and everything seemed awesome.
However, I start seeing some limitation of the speaker when I crank up the volume. The sound distorted very often at peaks, even when I play pop, symphony or rock music tracks. Another issue is that the sound was quite silent when I was a few feet away from the speaker. The speaker can perform well only when I sit right on the front, with its drivers heading towards my face. The speaker can't produce a loud room-filling sound like I expected.
Therefore, a good way to enjoy this speaker is opening the stand, attaching your phone/tablet on top and adjusting volume at moderate level.
Conclusion
Pros
Simple and sleek design
Good companion for mobile devices
Good bass response
Very low price
Cons
Sound is silent and can't spread out in the room.
Frequent distortions.
The Inateck BP2001 wireless speaker is on sale for $29 on Amazon. Although there are some limitations in producing good sounds, it is still acceptable when you use it at moderate volume. Considering a good-looking design and its low price, the product is totally worth your spending.
TechWalls Rating
Design & Features - 8
Audio Quality - 6
7
Average
A low-cost solution to improve sound from your mobile devices.
Disclosure: As an Amazon Associate, I earn from qualifying purchases. The commission help keep the rest of my content free, so thank you!