Caring for your lawn can feel like a daunting task, even for seasoned gardeners. Thankfully, modern technology has come to the rescue, providing tools that make lawn care more manageable and efficient. Standing out among these innovations is the ImoLaza Smart Sprinkler Controller. It's not just an irrigation controller; it's your personal assistant, using ultra-precise real-time weather data and Evapotranspiration (ET) irrigation technology for intelligent water conservation. ImoLaza is set to revolutionize traditional irrigation methods and overall experiences, bringing the joy of living with advanced smart tech within your reach.
ImoLaza Intelligent Watering Decision Model™ integrates the power of three cutting-edge core technologies: Watering Duration Expert™, Smart Weather Genius™, and Intelligent ET Master™, creating the world's most advanced smart irrigation system. It allows you to effortlessly and flexibly create watering schedules that meet any irrigation requirements, and with the precise smart weather system, it ensures automatic skipping of watering during adverse weather conditions, protecting lawn health while maximizing water conservation.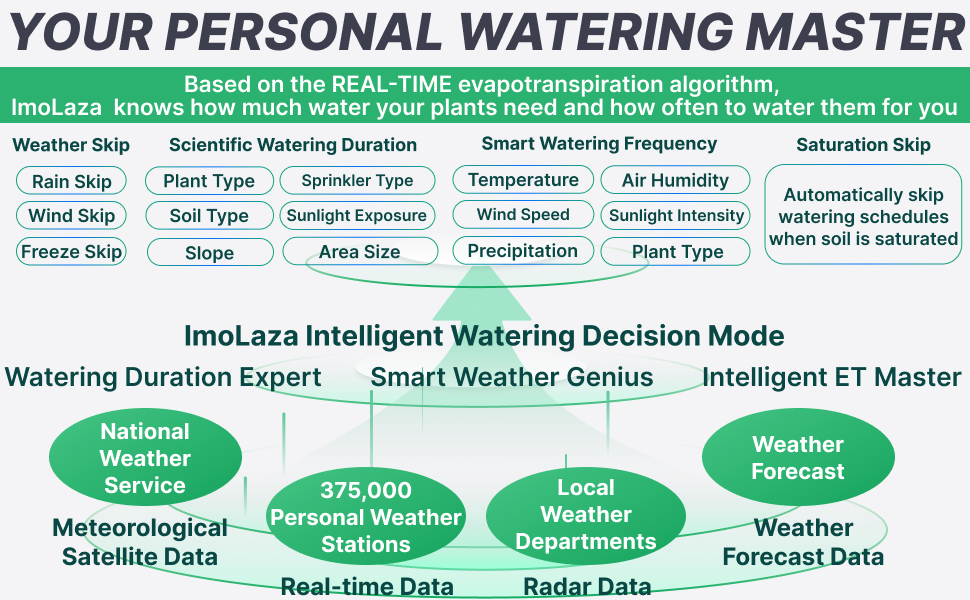 Anyone Can Effortlessly Become an Irrigation Expert
Proper irrigation is a challenging task for beginners, and even experienced gardeners may not be able to accurately determine how much water to apply each time.

To solve this problem, ImoLaza's Technology Department worked closely with irrigation experts to develop a technology that automatically generates watering durations and passed rigorous tests by professional gardeners and irrigation experts.

You can use ImoLaza's app to easily set up basic parameters for your garden's different areas, such as plant types, sprinkler types, soil types, sunlight exposure, slope, and area size. Imolaza will then automatically create scientific and precise irrigation durations that can easily meet the water needs of different plants in different seasons. Regardless of your experience, ImoLaza's smart irrigation controller makes everyone an irrigation expert.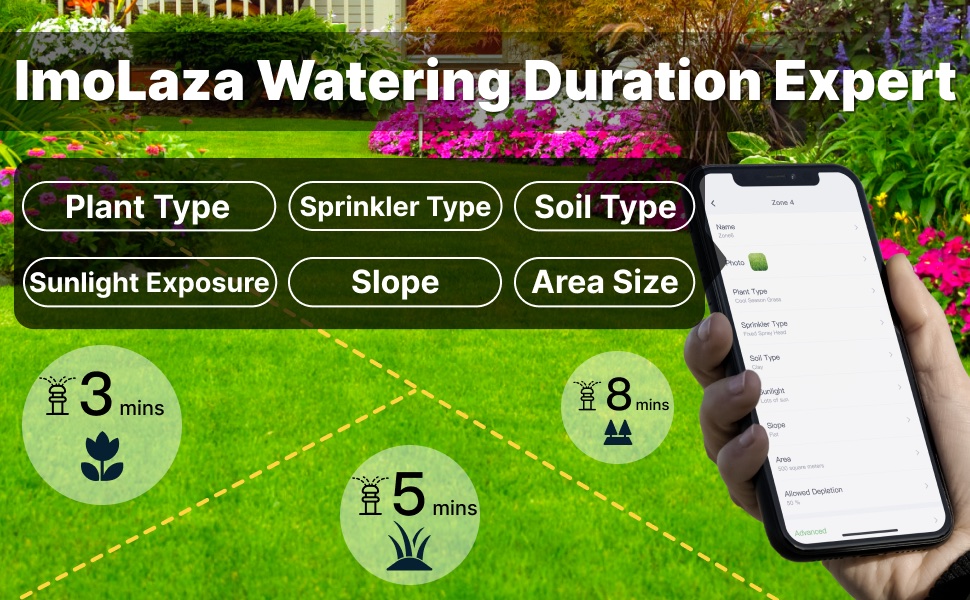 Your Personal Weather Monitoring Wizard
ImoLaza boasts the world's most advanced smart weather forecasting and monitoring system. This intelligent weather system seamlessly integrates meteorological satellite data from National Weather Service, radar data from Local Meteorological Departments, and real-time data from 375,000 Personal Weather Stations. It continuously monitors and forecasts various weather indicators in your area, including temperature, wind speed, sunlight intensity, and precipitation. With ultra-precise meteorological data, it avoids watering during rain, wind, frost, or any unfavorable conditions, enhancing water efficiency. No other controller can match the precision of this intelligent weather system, and with ImoLaza, you'll never face the embarrassment of watering during a downpour.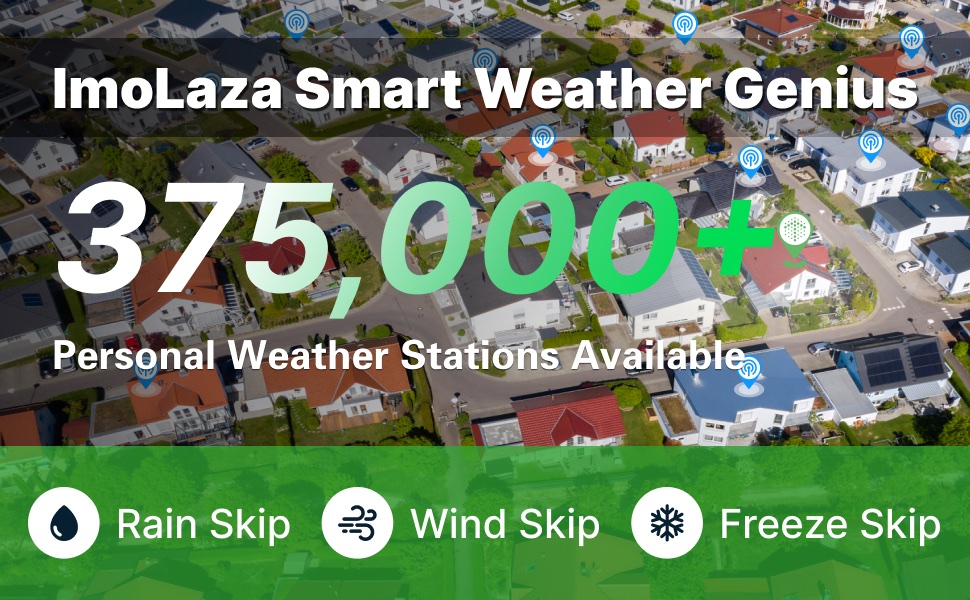 Precision Watering and Zero Waste
As meteorological factors such as air temperature, air humidity, wind speed, sunlight intensity, and precipitation change every day, the watering needs of your lawn are not always the same. Calculating the daily water requirements and making adjustments are complex and tedious tasks, and even professional gardeners cannot always get it right.

Other sprinkler controllers typically use fixed schedules based on timer technology or outdated static ET data to water, which usually remain unchanged for months. They do not fully consider the impact of different growth stages and weather changes on the water requirements of the lawn, which is not conducive to lawn growth and results in a waste of water and money.

To provide smart irrigation solutions for home lawns and make it easier for homeowners, ImoLaza pioneers the development of Intelligent ET Master with real-time evapotranspiration (ET) algorithm.

Intelligent ET Master constantly analyzes and records the natural evaporation and plant transpiration in your lawn by monitoring the actual weather data 24 hours a day, including temperature, air humidity, wind speed, Sunlight intensity, and precipitation, powered by the Smart Weather Genius. With this information, it calculates the soil moisture level and actual water needs of your lawn.

Every day, it automatically adjusts the watering duration and frequency based on the calculated results, ensuring that your lawn receives the precise amount of water required at the right time and truly achieves "No Watering in Rain, No wilting in Summer"! ImoLaza is currently the only intelligent irrigation controller based on real-time evapotranspiration in the world, and it is also the most advanced intelligent controller.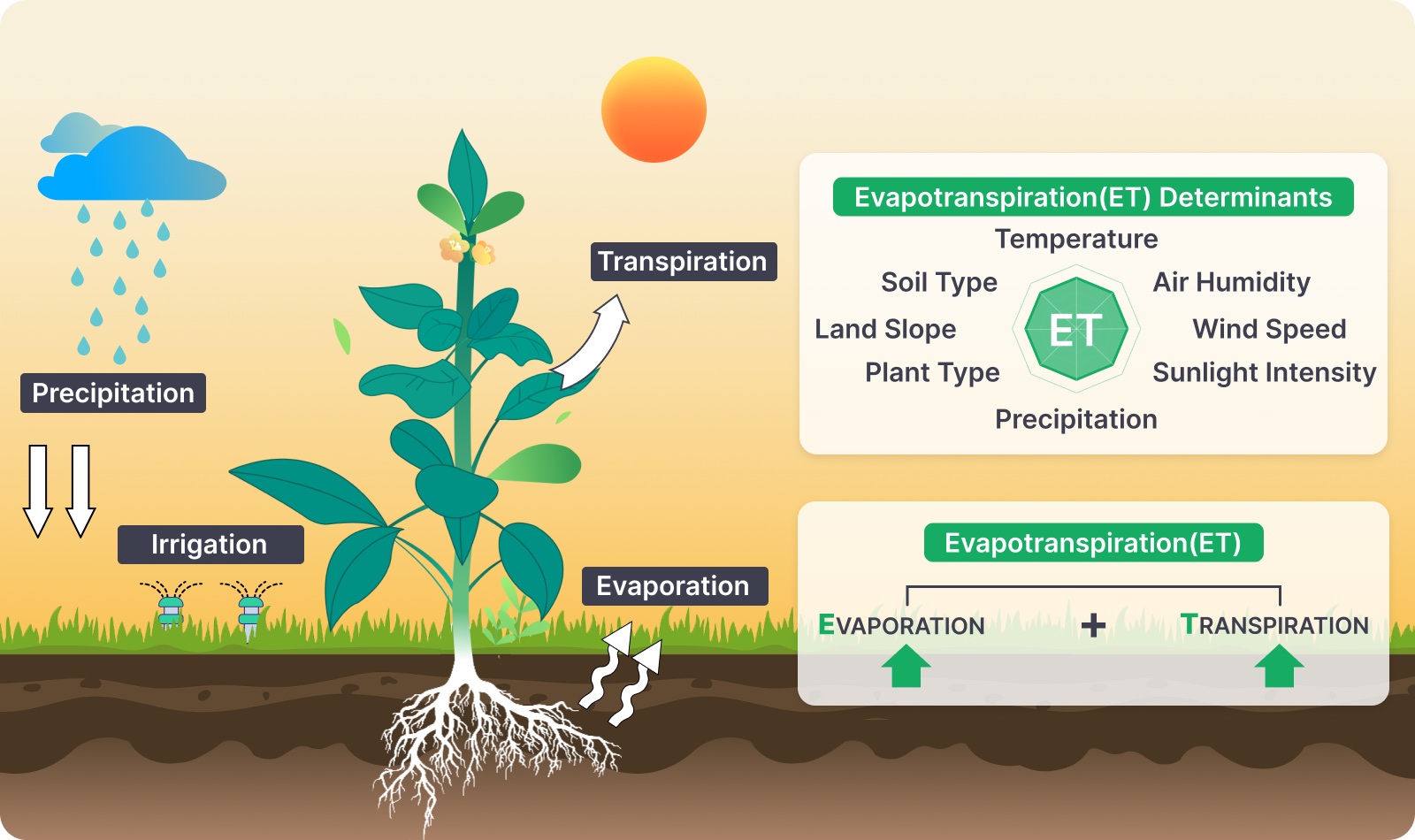 Three Flexible Watering Modes to Accommodate All Your Irrigation Needs
New Grass Schedule
Unlike traditional controllers that limit you to just four start times, the ImoLaza is the only smart sprinkler controller that comes with a New Grass Schedule feature, providing up to 24 start times to meet the high-frequency watering needs of a new lawn in its early growth stages, keeping your lawn surface consistently moist.
Fixed Schedule
Ultra-flexible start times and watering intervals; effortlessly meeting various watering scenario needs.
Good for all kinds of gardens, lawns, or areas with strict watering restrictions.
ET Smart Schedule
ImoLaza's unique super water-saving mode; Automatically generates watering duration and intelligently adjusts watering frequency with weather, season, and climate changes; Ensure healthy lawn growth while maximizing water conservation.
Remote Control From Anywhere, Anytime
In the fast-paced modern world, convenience is key. Catering to this need, ImoLaza offers a user-friendly app, providing the ability to control your sprinkler system remotely. This means you can monitor and adjust your watering schedule whether you're on a vacation or at your workplace, without the inconvenience of rushing back home. This level of control right from your smartphone negates the need for manual adjustments and provides peace of mind. Never worry about your lawn wilting while you're away on business trips or vacations again.
Seamlessly Upgrade 99.99% of Existing Traditional Sprinkler Systems
If you already have a traditional irrigation system in place, don't worry. The ImoLaza smart sprinkler controller can seamlessly upgrade 99% of existing irrigation control systems to intelligent irrigation systems. The installation is simple and convenient; even a novice can complete the quick installation in 15-30 minutes following the prompts. With this simple upgrade, you can enjoy the myriad benefits of a smart watering system, even if you are new to the world of technologically advanced lawn care.
Save Up to 60% on Water Bills
Aside from its impressive feature set and environmental benefits, the ImoLaza Smart Sprinkler Controller offers another critical advantage – it helps save on water bills. The precision watering and zero waste approach of the system ensure that every drop counts. The intelligent weather technology and advanced evapotranspiration algorithm help prevent overwatering by adjusting watering schedules based on real-time weather conditions. Furthermore, the ability to tailor watering schedules according to the specific needs of your lawn or garden avoids wasteful watering, which is often a primary cause of high water bills. By delivering only the necessary amount of water to each zone, ImoLaza significantly reduces water usage, leading to substantial savings on your monthly water bill. It's an investment that pays for itself over time, making it not only an environmentally responsible choice but also a financially wise one.
Join us in the watering revolution with the ImoLaza Smart Sprinkler Controller. Embrace the future of lawn care that's not just good for your green spaces, but good for our planet.
Disclosure: We might earn commission from qualifying purchases. The commission help keep the rest of my content free, so thank you!