With Apple's developer program allowing individuals to make application magic, Apple is hoping to do the same in the publishing realm with iBooks Author. At the educational event on Thursday, Apple opened the doors on their textbook project known as iBooks 2. This application, apart of the existing iBooks app, allows students to take advantage of education eTextbooks at very low prices. Along with iBooks 2, Apple unveiled the program allowing individuals to publish to iBooks. iBooks Author is the free mac program that is creating future textbook authors. Along with a revived iTunes U, Apple is putting education back on the front burner. Today, we'll take a first look at iBooks Author.
The Interface
If you are familiar with Keynote by Apple, it'll bring back memories when opening iBooks Author. When opening the application, you are presented with your current book projects. The start up window conjures up memories of Garage Band. The window where you see all your current songs and have the ability to open existing and create new ones at the bottom half of the window. You can do the same thing with iBooks Author. You have the ability to choose from templates, allowing for easy creations. The top bar allows you to add customizations and text boxes. You can also publish by clicking the button at the top as well.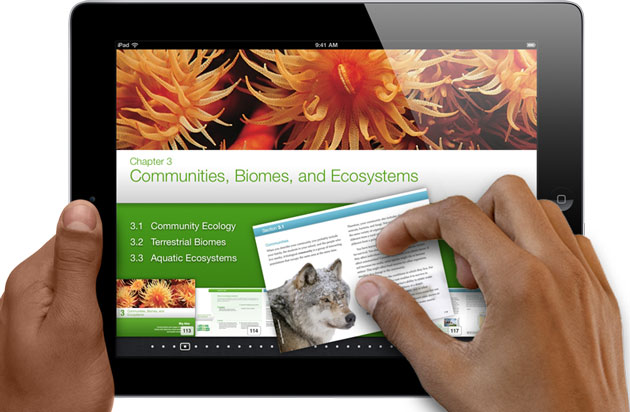 The Features
Everything in iBooks Author seems to fit well in making it an easy experience for making an eBook. There is a lot of dragging and dropping, but also with the option to add manual additions. This means that the creative masters of iBooks Author can stretch their possibilities while the amateurs won't feel lost. You can drag and drop multimedia, including audio, photos, and video. iBooks Author has widgets already available, however, if you can master code, you can add your own widgets. Once you are done, you can preview the finished product on an iPad, allowing you to add those small finishing touches. Just connect your iPad, go to iBooks, and go to "Preview".
The Purpose and Possibilities
When looking at iBooks Author, it's not something that you'll make eScrapbooks out of, leave that for iPhoto. It's something that I can see only in the educating world. It doesn't have to just benefit the physical world, iBooks Author allows you to download it as a PDF without it even having to be seen in iBookstore. This means that if you want to create great tutorial eBooks for website visitors for example, iBooks Author allows you to do this. The possibilities of iBooks Author are endless. Aspiring authors now have a stable platform, and educators wanting to create great eStudy Guides will add some flavor to an average class.
The Final Product
When you're finally done, iBooks Author allows you to either have it go straight to iBookstore or have it available as a PDF for your own keepings. If you do have it as a book for the iBookstore, there are some added considerations to take care of. For example, you must make sure that you choose a price for your eBook. Apple has capped all eBooks for $14.99, and Apple will take a portion of earnings, so keep this in mind. Other than those two points, this is a great start for Apple and authors alike. As long as Apple keeps things regulated, like with the App Store in terms of developers, we feel that this will be a strong move for the company.
Download: iBooks and iBooks Author.
Disclosure: We might earn commission from qualifying purchases. The commission help keep the rest of my content free, so thank you!