If you look for precision and cutting edge features in your phone, then HTC Desire C will comfortably fit your bill. Although HTC reserves its top Smartphones for the One series, but on this occasion, Desire flagship series' C model has hit the market with just as much glamor and promise.
The Look: Design
It is the first Desire Smartphone of this year and on the first look, it's not easy to trace its origin to the Desire series because it looks more like a compromised replica of one of the HTC One phones. The 60 x 170 x 12.5-mm body, weighing 100 grams, makes it perfect to snugly fit in the palm of your hand. The slightly rounded edges, dimension of a credit card makes it look a little chunky, but it has certain sophistication to it, that you barely notice in Smartphones in its price range. However, there is a faux metal trim that goes all around the edge of the phone which substantially diminishes the sophisticated look- not only does it look a tad tacky, it is also prone to scratches. Inside the bottom cover, there is a nice shade of red; while this definitely adds to its display quotient, but is also quite meaningless.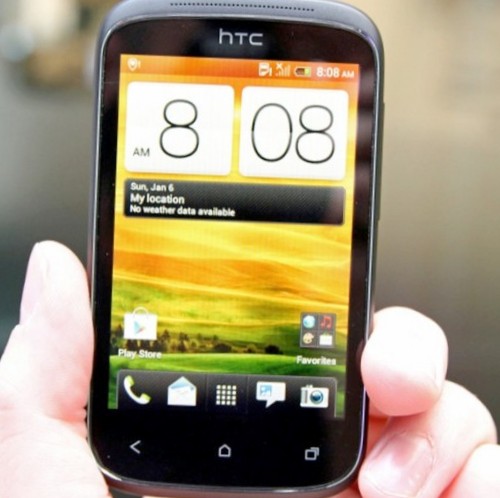 HTC Desire C Display
HTC Desire C has a 480 x 320 display, which is a lot lower than regular Apple phones, and a meager 165 PPI pixel density. While this does not necessarily distort images, reading small text, especially in internet browsers, becomes difficult because the edges are indistinct. But, with a price tag just over $100, which is nowhere near the money you have to dole out for an Apple phone, this can very well be pardoned.
Software & Hardware
If you have been expecting specs that will rock your world, then you will be disappointed with HTC Desire C. But it manages well on a basic, but trusty 600MHz single-core processor, 512MB RAM and in-built storage 4GB. There is a slot for microSD cards for accommodating expendable memory. You can even store up to 25GB with Dropbox cloud storage for two years. In the handset, you get the customary 3.5mm headphone jack, Micro-USB port, 11n WiFi and Bluetooth 4.0. There is also a near-field communication (NFC) chip, which is synonymous with high-end Apple or Windows phones, but usually not seen in budget Smartphones such as this one.
Although it is by no means one of the high-end Smartphones in the market, it does run on Google Android 4.0.3, the Ice Cream Sandwich, and HTC Sense 4.0. The two have morphed smoothly into one seamless interface, which is neither too puzzling nor too basic. But performance is not a swift as one would have liked and going through web pages often seem too much of a challenge, and some users have experienced lags in some menial tasks too. Instead of going with the One models' template and keeping the apps multi-tasking of Android in a separate window, HTC has fit it in the top of the app or menu that is open, which is the original Google layout. A few Android apps and a few third-party essentials like SoundHound come preloaded with the Smartphones.
HTC Desire C Camera
HTC Desire C is not a very good phone camera-wise, with only a rear-facing 5MP camera, sans sensor and LED flash, trying to get the job done. Close-ups are not rendered well at all and low-light condition does something very unflattering to the images, although outdoor shots look a little less drab. It comes with all the photo editing features of HTC One X, but the photo quality of this Smartphone does not justify these extras. The camera is capable of shooting 640 x 480 VGA video, but it is a little jumpy and noisy in terms of the output.
HTC Desire C Battery
Smartphones are not known for their battery life – in fact, giving a good battery life is one of the pressure points of the industry. HTC Desire C has fared surprisingly well in this respect so far, with a 4.6Wh battery that comfortably lasts for two days before it drops below the 10% mark and requires charging up.
The pros are good battery life, design and Android Ice Cream Sandwich, while the cons are mediocre performance and poor camera. That being being said, the final verdict balances finely between a good phone and an ordinary phone.
Disclosure: We might earn commission from qualifying purchases. The commission help keep the rest of my content free, so thank you!