A printer acts as a lifeline for your home office. The market is flooded with options. This is why we feel that we should make the quest easier for you. HP Officejet 3830 Wireless, all in one photo printer, may be the perfect solution for your home printing jobs.
It is affordable, and this is why you can opt for it without any hesitance whatsoever. Read this review to get the relevant insight you need.
Features
Offers a variety of functions
What you will love about this printer is that you can get hold of a variety of functions when you opt for this device. You can scan, copy and manage the wireless printing with this device. Additionally, you also get the mobile printing feature with OfficeJet 3830.
This means that you can print from anywhere using your mobile or Smartphone. You can also install the ePrint app on your iPhone, and this allows you to manage the printing with your iPhone with ease.
OfficeJet 3830 has got the AirPrint feature also. This means you can manage the printing even without a network using the Wireless Direct printing.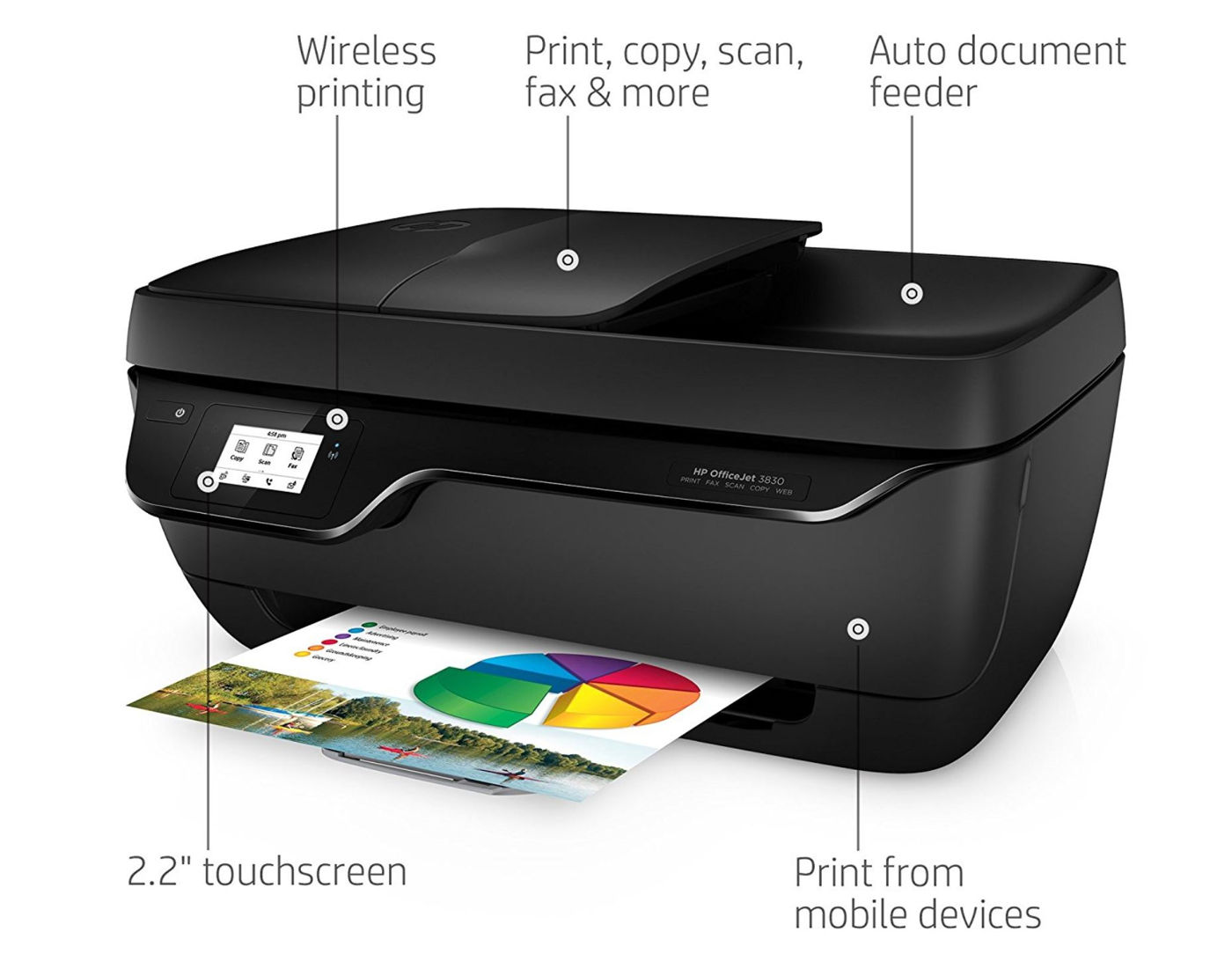 When you make use of 3830 for scanning your documents, then it shows you all the details that you need to know when you zoom in. This printer has a flat-bed type scanner and has a scan area of about 8.5"*11.69". This is why these technical devices can easily accommodate the standard letter size that is commonly used for the scanning jobs.
It is quite a hassle to save your scanned documents to your computer first and send it to the recipients, but this is not going to be the case when you opt for OfficeJet 3830. It allows you to directly send the scanned files to the email recipients through your printer.
Copying the documents is also not a problem when you make use of 3830.  It allows you to copy about seven pages per minute in the black color. You can print about 3.5 pages per minute in the colored form.
When you make the copies, you can even change the size of the output as per your ease.
You can even use this device for sending and receiving your fax. This printer sends and receives the fax at a speed of about 33.6 kbps transfer rate. This device has a fax resolution of about 300*300 dpi for black color so you will not have to worry about poor quality fax issues.
For colored fax, this printer offers a resolution of about 203*196 dpi.
Provides the instant ink ready feature
You can get hold of ink ready feature with this printer. This is why you will never run out of ink. The HP ink subscription can reduce your costs by 50%.
Facilitates the users with a quiet mode
The OfficeJet 3830 has a quiet mode as well. This means that you can print your documents with ease without the need to worry about any noise at all.
Offers borderless printing
The exciting part is that you can even print your favorite photos when you make use of 3830. Most printers fail to print to the edge of the image, but this is not the case with 3830. When you are finished with the printing job, you can easily cut your photos. You will not need to indulge in the extensive trimming of the images.
Perfect Resolution
You can look forward to clear and sharp prints with OfficeJet 3830. This is because of the high scan resolution offered by this printer. It has a resolution of 4800*1200 dpi for the even color prints.
The speed of printing
When you need to print many pages, then the speed of your printer matters a lot. The reason is that you need to complete your tasks on time. This printer has a super-fast speed, and it can easily print about 8.5 pages every minute for the black prints.
You can print about six pages per minute for the color prints.
Exclusive display feature
This printer has an LCD which has a paper-white background. This is why it will not be a problem for you to read the display even when your device is placed in a well-lit area. The display measures about 2.2 inches, so it is ideal for your use.
Convenient Automatic document feeder
There are times when you have to print, fax, scan or copy a lot of pages. This is why if you manually insert the pages it will take you a long time to print them. You can avoid this practice because 3830 offers an automatic document feeder. It allows you to feed about 35 sheets in one go.
Compact Design
The design of this printer will not disappoint you at all. It is quite compact, and this is why it will be able to fit into your space with ease. The best thing about this device is that it looks quite stylish and it has got rounded edges.
Supports various paper sizes
The best thing about this printer is that it supports various paper sizes. s. You can also print the letter and the legal sizes using this device.
Pros
You can look forward to a limited one year warranty when you buy this printer.
It will not be a problem for you to replace the ink because the cartridges are placed on the motorized tray that moves out with ease.
Cons
This printer does not offer the duplex printing feature.
Verdict
The OfficeJet 3830 is a simple to use the printer so even a novice can use it with ease and you will be able to install this printer in a matter of minutes. The truth is that it is hard to find a printing device that has got so many features.
This is why you should not miss out on this device, and you should get your hands on it at the earliest.
Disclosure: As an Amazon Associate, I earn from qualifying purchases. The commission help keep the rest of my content free, so thank you!