Most of us were excited when Siri came out, but were wishing and hoping for the ability to post to social media using the artificial intelligence technology.
We got that wish in iOS 6, however with iOS 7, not only do we find a more advanced Siri, it makes our wishes back before iOS 6 seem futile now. Siri can do so much that some have even called it Siri's adolescence. There is a lot that Siri can do in iOS 7 and today we will review what she can do, how she (or he) can say it, and when you can see these improvements.
Choose Siri's Gender!
Siri for iOS 7 now allows users to change Siri's system voice to either a male or female. In addition, the new voice for female (as well as male) that is available is more personable and natural, not as distant and robotic as before. Siri's new metamorphosis also includes a more globally aware Siri. New languages are added and those already available, including French and other European languages, are expected to be more advanced than before.
Improved Knowledge Presentation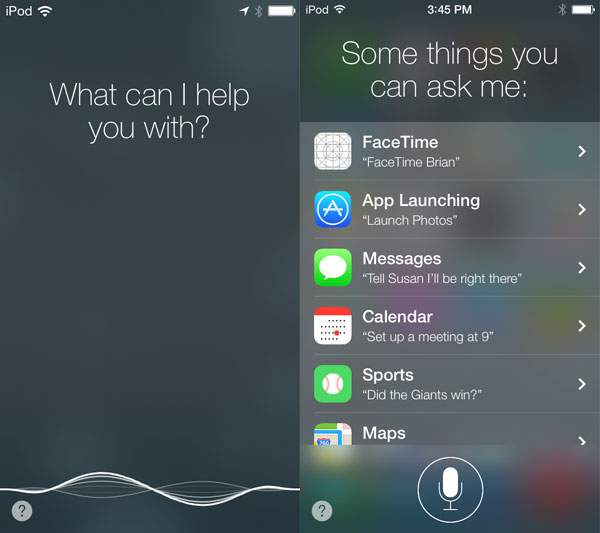 The way in which information and requests are presented is completely renovated. Not only in a UI sense, with the completely full screen mode even when launched, but also in terms of how information can be requested and presented. For example, Siri now taps into Wikipedia and other knowledge centers like Bing when users make requests like, "Tell Me About the Solar System", or "Wiki The Solar System".
In terms of social networking, requests about posting or updating websites like Facebook and Twitter are only a small part of what Siri is capable of now. You can also tap into various Twitter profiles, with the simple request of "Tell me what [Twitter Name] is saying". This feature, however is only available at the moment on Twitter. Facebook isn't launched or interacted with when you do this feature.
Many times, since Siri in iOS 7 does this by searching rather than going to a specific profile, it may be wise to say the Twitter profile owner's full name, rather than their "@" name. More popular Twitter profiles, like Mashable, Huffington Post, or FoxNews, for example are much easier to search on Twitter. Simply saying, "Tell me what CNN is saying", gives you their specific profile.
Siri in iOS 7: More System Aware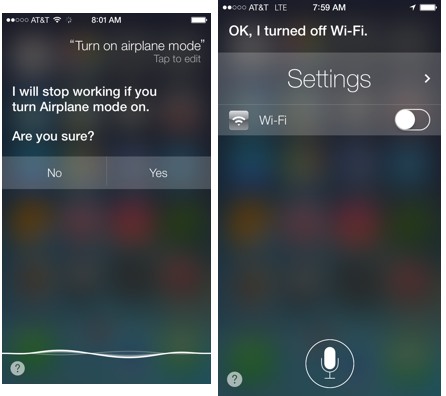 The most surprising aspect of Siri iOS 7 is the ability for the system to manipulate settings within your iOS device. For example, just to name a few, I have been able to turn on and off settings like Bluetooth, WIFI, Airplane Mode, etc. However, when the former, Airplane Mode, is turned off, Siri will warn you that she isn't able to work when it is off, Siri even offers a funny send off if you do turn it off or change your mind and keep it on. You can even adjust screen brightness or check voicemail.
The new capabilities of Siri, at the moment at least, are a bit minimal because we are still in beta testing. However, what Siri can already do now in it's latest iOS 7 beta version is phenomenal. Siri is not only more socially aware, with social networking features, Siri is also more knowledgable about the system that holds it, the iPhone. Let us know in the comments below which new Siri feature is your favorite. The improved searching is my favorite change to Siri in iOS 7.
It's important to mention that none of Siri's features from iOS 6 were removed. That is why they weren't mentioned in this article. Below, we have a short overview of what else Siri can do:
Call Contacts and other numbers that aren't in your contact.

Assign yourself with an alternative name to be called by Siri.
Launch apps. You can use words like "Open", "Play", or "Launch" among others.
FaceTime
Reply and Send Messages ("Tell", "Send", "Text", or "iMessage") and Emails ("New Mail", "Email".
Check Emails ("Any new emails", "Check Email", "Any new emails from…")
Calendar ("Set up a meeting", "Set up appointment", etc)
Game scores and results ("Did [team] win", "When does [team] play next game" etc)
Mapping ("Give me directions to", "What is the ETA", "Go to…", "Take me to…")
Social Media (Twitter and Facebook – "Tweet…" or "Post to Facebook…")
Eating Out ("Any good [cuisine] restaurants in…", "Reserve Table for [#] at…" etc)
Alarm and Time (Set alarms, get local times, adjust timers and alarms)
Random facts
Search the web (Google, Wikipedia, or Bing)
Note taking
and much much more!
Disclosure: We might earn commission from qualifying purchases. The commission help keep the rest of my content free, so thank you!