In Silicon Valley, the technology hub of the United States, being able to work from home is a luxury not all companies offer.
However, with Yahoo's latest decision to not allow employees to work from home after June causing so much tension, some have called for those employees to find employment elsewhere. This all occurs while individuals who are working in a different sector look on in confusion due to how working from home is a rarity in most other sectors. However, regardless of if you are finding yourself newly acquainted with working in an office or looking for tips on survive its perils, this article is for you.
Making the Transition
Regardless of if you were presented with the news of having to work in a office, this is your first time around, or if you have been working in the office for years, all of these individuals can benefit from making their new office as much like their home as possible. To successfully make the transition, one should bring in aspects that will make their workspace reflect as much of their personality as possible. This can be as little as adding photos of family members to something as grand as using furniture and even hardware that you are comfortable with using. The more comfortable you feel, the better you are able to get your work done in the office.
Dealing with People
The title of this section of the article may seem a bit humorous, but this is the largest problem that individuals making the transition have. If you were a freelancer for years, for example, and didn't have to make as much interaction with coworkers until now, having to work in person with others can present its own opportunities and stresses. This leads to the two main aspects of working in an office with others that is presented, working with others to get the job done and building a great relationship with coworkers.
Coworker Relationship
Team building is a huge aspect of working in any environment that you may need to work on. Yes, it may seem like the only thing that may matter is getting the work done (we will get into that later), but you must have a great company culture and relationship to effectively work with your coworkers.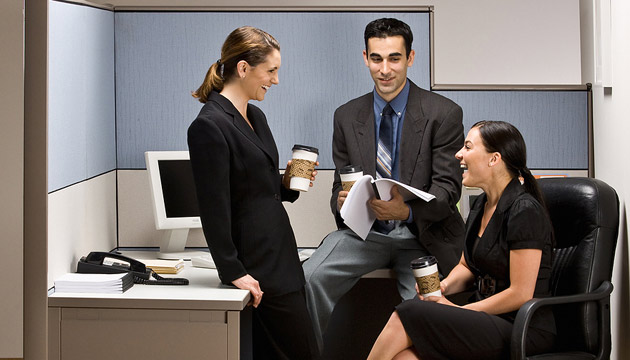 A small step you can do on your first day is by introducing yourself to your fellow coworkers. Depending on the size of your office, bringing in breakfast or snacks can also leave a memorable impression. For the long run, ensuring that out-of-office events are planned can ensure that the company culture is kept strong.
Getting the Work Done
Ensuring that you company has a strong communication system at hand is important. In the traditional sense, this can be in the form of an in-office messaging plan. In other ways, ensuring that a central task system is enacted is important as well. One new consideration that comes up when working in an office instead of with telecommuting is the accountability factor.
Not only are you even more responsible for the projects you are working on, but other individuals will have responsibilities as well. Deadlines become more carved in stone, however finding a way to effectively separate work assignments from home is important in ensuring your sanity!
Making Compromises
As with any new situation, working on a compromise is important. This doesn't mean having to focus on the drawbacks. There is an opportunity to work with your coworkers or boss on a schedule that will allow you to ease into this new situation. Additionally, if you are a mother who is now working away from home, you should mention to coworkers (before you boss) what the company has in terms of child care. You could be surprised in what you company has that can be the transition pleasant.
While the transition from working at home to working in an office can come with its stresses, the chances are that you had no choice in the matter. As you just learned from this article, that doesn't mean that you can't alleviate the transition. Let us know in the comments below some of the stresses you have encountered when making the transition.
Disclosure: We might earn commission from qualifying purchases. The commission help keep the rest of my content free, so thank you!