There are several ways you can customize your Mac desktop. Getting new icons for your apps and folders is one way to do so.
There are two ways to do this. One option is to buy a shareware program called CandyBar from MacUpdate. This is a program that allows you to drag and drop icons into the program to replace your existing default icons. It even lets you change system icons, like the one for Trash, Volumes, and more. CandyBar has other functions, too – you can change your Dock by dragging in images.
There is also a free way to change the icons. We'll show you how to use CandyBar, first, since it's the easiest.
You can get new icons from several places online, but interfacelift.com is one of the best. There are thousands of desktop icon sets from which to choose. Click on the "Icons" tab and select "Mac OS X" to sort out icons specific to Mac. Download the icons you want to use.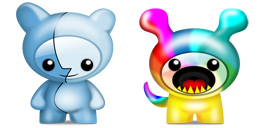 Go into Finder>Downloads and find the icons you chose.
Open CandyBar and click and drag each of the new icons into the bottom pane ("My Icons") in CandyBar. The top pane shows all of the icons currently being used.
To change an icon, say – the one for Safari, drag and drop the replacement icon onto the old Safari icon. Click on "Apply Icons" and enter your password when prompted. You'll need to re-launch your Dock in order to show the changes.
If you want to return to the default Safari icon, click and drag the current icon back to the "My Icons" pane and click on "Apply Icons" and re-launch your Dock.
To change your icons without paying for a program, here's what you do:
Go to interfacelift.com and download your icons.
Go to Finder>Downloads and open the folder with your downloaded icons. Say you choose "Safari of Colors," the one that lets you change the color of your Safari icon.
Right-click on the icon you want and choose "Get Info."
A new window will open with the info. Click on the colored icon at the top of that window and you will see it is highlighted.
Press Command + C to copy it.
Close that window.
Go to Applications>Safari. Right-click and choose "Get Info."
The info window will open again. Click on the default/current icon at the top of the window to highlight it.
Press Command + V to paste the new icon in place.
Restart your computer (or re-launch the Dock using Terminal) to see the changes.
To return to your default icons using this method:
Go to Finder>Applications>Safari.
Right-click, click on "Get Info."
When the new window opens, click on the new icon to highlight it.
Press Delete.
Your icon should revert back to the default appearance.
Enjoy your new icons!
Disclosure: As an Amazon Associate, I earn from qualifying purchases. The commission help keep the rest of my content free, so thank you!