Although the Industrial Internet of Things (IoT) is an important development in the manufacturing world, it has also created a lot of confusion. This starts with the name itself.
Instead of industrial IoT, some people call it Smart Manufacturing, Industry 4.0, or just IoT without the industrial classification. To clarify, different industries have different IoT systems, including the industrial and manufacturing fields. Further, the information contained on IoT is not limited to only what can be found on the Internet.
Buildings, devices, and machines with data stored on the Industrial Internet of Things typically meet the following criteria:
The ability to sense and take measurements of surrounding materials
Can instantly compute numbers due to software embedded somewhere in the system
Can exchange commands and data with other buildings, devices, and machines they are connected to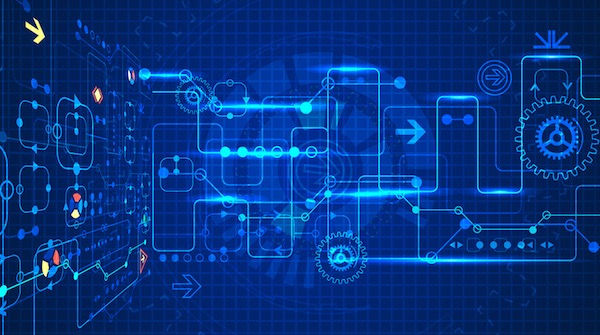 How to Get Started with the Industrial IoT
Although machines have possessed the ability to communicate with each other for several decades, the degree of interconnectedness present today has only been available for the past few years. Many industrial organizations now recognize that getting everyone on board with IoT can save a significant amount of time and money. However, the process isn't completely straightforward. At a recent design seminar hosted by Belden IEI, the company's Vice President of Global Industrial Marketing suggested starting with an assessment process. This involves taking stock of the connected machinery the company already has and determining whether it is connected to the larger infrastructure.
After taking careful inventory of current production equipment, the next step is to determine what needs to be updated or replaced. If Ethernet does not power a company's infrastructure, this is a good time to make the switch. When implementing changes and bringing in new equipment, those in charge need to consider proper segmentation. This includes conduits and zones. It's also important to use the right combination of wireless technology if the situation calls for it.
Since a connected IoT presents a bigger security risk than separate production lines, companies must be willing to invest in added security. Managers should identify the most important physical assets and take steps to ensure they remain safe from internal and external threats. Lastly, it's essential to establish a plan for ongoing maintenance in addition to monitoring technology to determine when upgrades are available.
How Implementing the Industrial IoT Improved One Company's Bottom Line
Before Kalida Manufacturing in Ohio invested in the Industrial IoT, the company was fixing or replacing brakes, motors, and switches every two to three months. Even its newly purchased cranes needed parts replaced far too often. Since each new crane is connected to the industrial IoT, operational data was automatically transmitted to a central database where operators quickly determined the problem. It came down to something as simple as operator error. Workers turned cranes on and off so much during an hour that the heavy-duty machines couldn't keep up with the demand.
When managers at Kalida Manufacturing re-trained staff on how to operate the cranes correctly, it all but eliminated the frequent maintenance issues. This is just one example of how the technology available with the Industrial IoT has made a huge impact in the industry.
How do you expect the Industrial IoT to shake up manufacturing? What examples of it are you already seeing today? Sound off in the comments with your thoughts…
Disclosure: We might earn commission from qualifying purchases. The commission help keep the rest of my content free, so thank you!