Digital signage keeps gaining serious traction as years go. Many businesses and industries are embracing digital signage as an advertisement and communication technique. Accordingly, digital signage market is expected to be worth more than $30 billion by 2023.
Offline businesses using digital displays benefit from high profit margins and increased levels of consumer and visitor engagement.
Even though digital signage has numerous benefits to offline businesses, the following advantages stand out since they are impactful, driving results, and transforming businesses.
1. Enhanced Engagement
Digital signage attracts up to 5 times more views compared to static displays. Studies show that 8 out of 10 customers admit entering a store simply because the digital signage captured their attention. Now, how does this advertisement strategy affect an offline business? Well, gaining more views transforms to more opportunities that positively influence sales, as more customers entering your store would present more opportunities for high sales.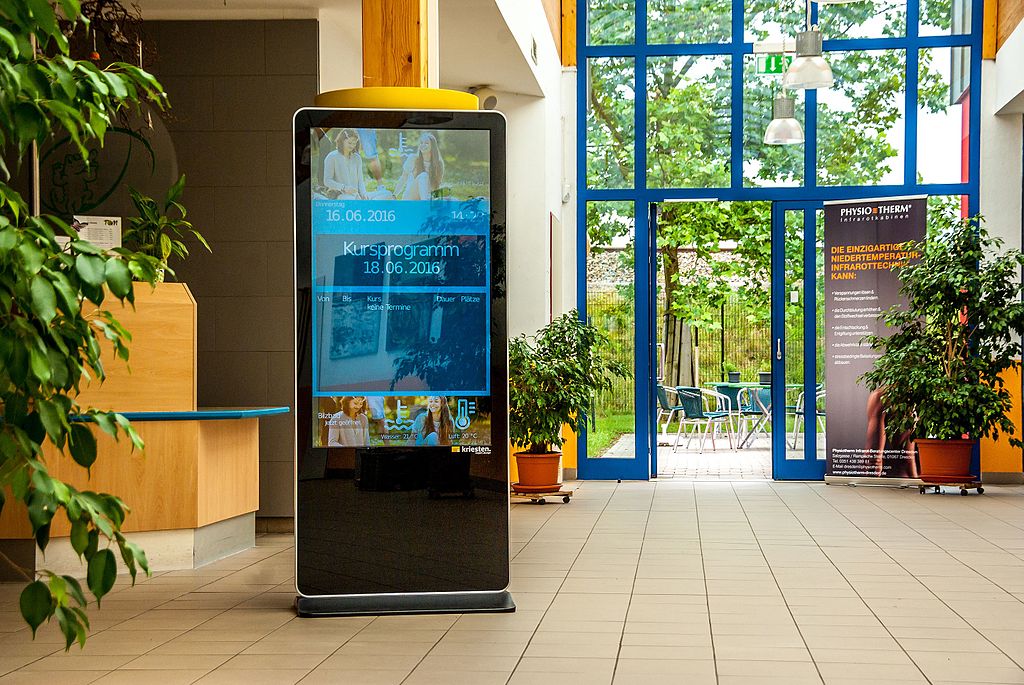 2. Greater Satisfaction
Studies reveal that digital signage can have a significant effect on your consumers' overall experiences. In fact, customers who interact with digital signage report almost 50 percent higher satisfaction than their counterparts who do not interact with digital signage. The latter is partly because digital signage helps decrease the wait time by 35 percent. As a result, good customer experience leads to better customer retention.
Besides, digital displays are associated with interactive content, which in turn enhances customer experience. It is worth noting that interactive content is ideal for significantly reducing perceived wait times. It also helps links a positive message with the brand.
3. More Impulse Purchases
Studies also reveal that about 20 percent of customers make unplanned purchase decisions due to digital signage. Combining these unplanned purchases with digital signage's influence on the amount of purchase makes it easy to determine how crucial digital signage is to an offline business.
4. Higher Growth
Consumer reports show that brands which implement digital signage experience a huge increase (as much as 33%) in sales. Digital signage also frequently results in more in-store traffic, and buyers spend significantly more time inside the store. As a result, these trends improve the business' bottom lines, opening doors for more opportunities in the future.
5. Additional Opportunities
Digital signage presents additional opportunities to offline businesses as it helps mitigate numerous time-consuming tasks that have traditionally been the responsibility of store workers. For example, in a retail business environment, digital signage displays a variety of sales information that store workers no longer have to take their time informing customers. Accordingly, digital signage frees up much time, allowing the employees to engage in more meaningful conversations with the customers. This leads to high customer satisfaction as it offers more opportunities for store employees to develop genuine connections that result in a loyal customer base.
6. Free Customers
Digital signage solution allows customers to be free to help themselves as it provides shoppers with information that they need to feel comfortable to buy an item or subscribe to a service. As the say goes, engaged consumers are likely to become actual customers.
Studies concerning customer feedback reveal that most buyers prefer self-service over contacting a support agent. In addition, 9 out of 10 customers use a knowledge base if it meets their needs. For this reason, digital signage is also beneficial to businesses since self-service is the fastest and most cost-effective approach to customer support.
7. Unmatched Versatility
Speaking of time-sensitive advertising, digital displays have opened up new techniques of advertising any item or service that is only available for a short period. For instance, if an item is on offer for a limited time, say a day, you can effectively advertise to your customers by scheduling the message for the appropriate time right in your digital signage software.
8. Reduced Waste and Operating Costs
Digital signage has significantly reduced waste and operating costs. While print displays are quickly made obsolete and discarded when no longer relevant, digital signage involves working on soft copies that only require uploading a new file. When using digital signage software, there is no paper waste and extra purchases, saving on running costs.
On the Bottom line
These are just but a few benefits. Digital signage system is impressively versatile and powerful, and offline businesses must embrace it to improve sales, increase profit margins and enhance customer experience.
Disclosure: We might earn commission from qualifying purchases. The commission help keep the rest of my content free, so thank you!