We live in an age of mobility, some may not notice it, but to put it basically, you're able to take most electronic products where you go. However, portability comes with the factor of charging the device that you're taking with you. Charging has become a daily part of our lives, whether you only charge your smartphone before sleeping, or if you have multiple devices that you can charge throughout the day, if you're reading this then there's a high chance that you've placed something on recharge in the last 24 hours.
Even though recharging our portable devices is something that we practically do each day, we don't consider how it's changed and what the future of charging holds. In recent years, smartphones have seen an exponential increase in specs. Phones now feature lots more power, with them now using faster processors, better cameras that are nearing the professional level, and screens that look simply look amazing.
With all these new features on a small form factor, there's one quite major but small problem to account for and that would be the consumption of power. There are two main solutions for this powering problem, and that would be either the use of new battery tech or using larger batteries.
Well, the latter is the solution as the new battery tech is a bit ways off as current Lithium batteries are the most tried and tested type of battery. The use of another battery tech can be a leap of faith to use and even the larger brands such as Samsung or Apple aren't ready to take that chance.
Along with the use of large batteries that are now nearing the 4,000mAh range as "Normal", another problem arises and that would be the recharging time for these phones. That's where fast charging tech comes in. The most well known fast charging tech on the market is made by Qualcomm, a tech company that is most well-known for its use of Snapdragon processors that are used with nearly all Android smartphones.
Qualcomm's fast charging tech is known as Quick Charge, and because they're the creators of the most used Android processors, most Android phones on the market are compatible with Quick Charge.
What about other devices that require fast charging though? That's where USB-C Power Delivery comes into play. Quick Charge is not a universal charging technology, but with the USB-C standard port and the use of Power Delivery, the charging gap between devices is now being bridged.
Power Delivery is compatible with most Android smartphones as nearly all of them use a USB-C port now, and something that's not too well known is that newer iPhones models are also Power Delivery compatible. Even though the iPhone still uses a Lightning port, you're able to fast charge an iPhone X, iPhone 8 and newer iPhones models with a Lightning to USB-C cable from a USB-C Power Delivery port.
It's a shame that Apple doesn't make it apparent that you can fast-charge an iPhone, as the $1,000 phone still comes with a slow 5W charger.
It doesn't stop there though, Power Delivery is also widely used for tablets and laptops, too. Even now, if you a USB-C smartphone, and a USB-C Power Delivery compatible laptop, with a powerful enough PD charger, you're able to charge both of those devices with the same charger. The era where you'd have to rely on a charging brick to charge your laptop is coming to an end, thankfully.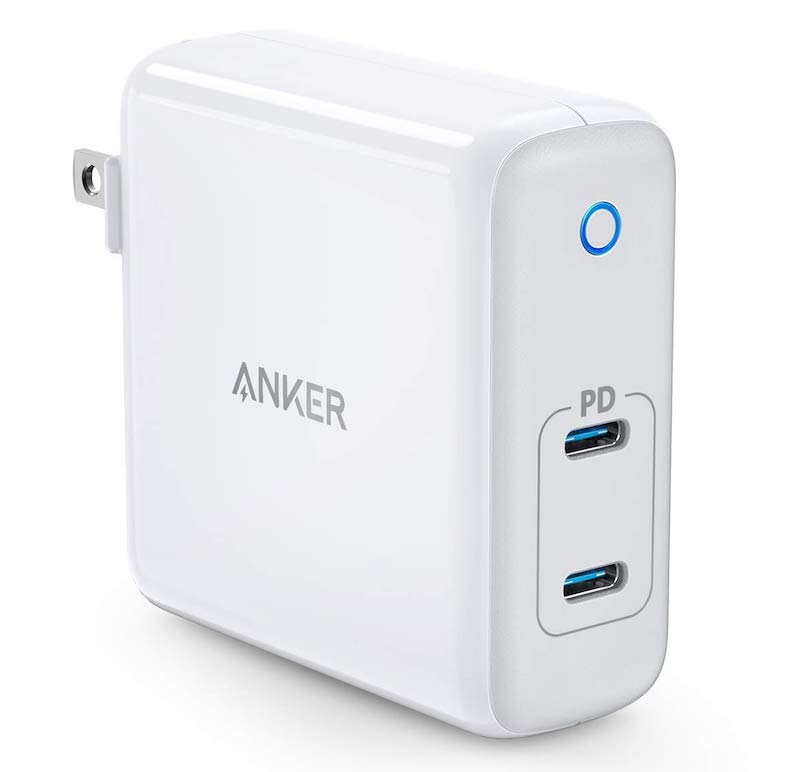 Just to give an example of how Power Delivery charging is so useful, take a look at Anker's Atom PD 2 wall charger. The charger features two Power Delivery ports, whereas most PD chargers just feature one and call it a day.
The reason that there are two PD ports on this Anker wall charger is that it has a dynamic charging system. If you're charging two devices at once, then each of the two ports will be able to output a 30W charging speed.
However, if you're only charging a single device with the Atom PD 2, then the potential charging power that you can use is 60W. So you can have access to more charging power if you want to stop charging your smartphone and charge your laptop at a faster-charging speed. Oh, and with the use of 30W of charging power from two Power Delivery ports at the same time means that you can also charge two laptops at once, too. Were you able to do with a single charging brick charger with a DC cord? Nope.
Another factor that makes PD charging the future is an innovation known as Gallium Nitride chips. Whereas most chargers on the market make use of Silicone components, with a GaN chip it's able to deliver more charging power while still maintaining a small form factor. So this allows brands such as Anker to release chargers that have lots of charging power but be the size of a peanut.
Don't believe me? Well, just go ahead and take a look Anker's Atom PD 1. The charger has dimensions of 1.4 x 1.5 inches. Sure it has a single Power Delivery port, but this small charger can output 30W of charging from its single port. This is enough charging power to charge most Power Delivery compatible laptops on the market, you can, of course, use it to fast charge your smartphone, too. The only thing that's missing is the use of a retractable AC adapter.
This universal charging method doesn't just stop at smartphones, tablets or laptops, the USB-C standard port is what matters here. Wireless chargers, earbuds, portable chargers and a bunch of other devices are using the USB-C standard. Even gaming consoles, too, such as the Nintendo Switch. You can now use Power Delivery chargers for the Switch, and since it's a portable console, you can also use a power bank for the Nintendo Switch.
This ensures that you're able to game on the go and have your console charged up for a while.
The use of USB-C Power Delivery charging and connectivity has been on the rise for a while, and there are a plethora of devices that are compatible with the tech. Sure, it's not like every modern portable device will have a USB-C port, but it'll be common the more time goes on as it's a universal, and powerful way of charging multiple types of devices.
Disclosure: As an Amazon Associate, I earn from qualifying purchases. The commission help keep the rest of my content free, so thank you!