We have all had that moment when you want to give someone a ride but you cringe when you think of the state of your car. Since we spend so much time in traffic or driving around, you can find that you tend to accumulate a lot of clutter in your car. Here are some tips on how to organize your car like a pro.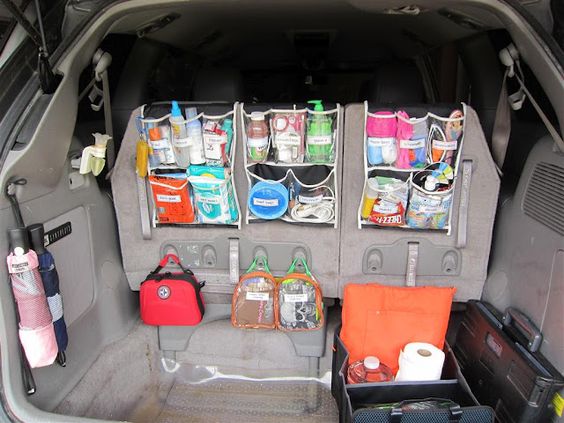 1. Car Trash
One thing that we can all agree is that deciding where to keep your trash is your car is a headache. A plastic portable container can be used as a trash or bin, it is important to line it with a polythene bag.
Having a trash bin in your car is great because it ensures all the trash goes to where it belongs and not the back seat of your car. This is in case you need to throw away foods stuff or liquid materials. Remember to empty this trash bin regularly.
2. Trunk Organizer
This refers to an item such as a cargo bag which has been subdivided into various sections. It should be big and sturdy enough. This is kept in your trunk to avoid cluttering of items. It forms what is known as a trunk organizer.
For it to work properly, the trunk organizer needs to have subdivisions. This will help you become more organizer as you store items. The separate components of the trunk organize
3. Travel Bags
Whenever you are traveling, or if you spend a lot of you spend a lot of time traveling you need to have a travel bag. This is a small bag that you can keep some necessities. You can keep a hairbrush, a change of clothes, a pair of shoes and others.
A travel bag will definitely help a lot in keeping all your other necessities in order. If you were to just have these items, placed in your back seat, then it would look very unappealing. People might think you live in your car! Especially when you do not have a car cover, the privacy and neatness of a travel bag make it a great item to have in your car.
4. Car Seat Cover
As a car cover protects your car from external dirt, a car seat cover would protect your car seats from internal dirt. If you have young children, you know the mess they can make.
Having this car seat cover on your back seat, for example, will keep your car seats clean and free from smudge. You no longer have to worry about food particles or crayon marks or dirty fingerprint marks on your car seats.
If you have pets, pet hairs can be a bother. The car seat cover will collect all these stray hairs and you can simply remove this car cover occasionally to wipe it off. Make sure you purchase an easy o clean car seat cover.
5. Book Storage
A lot of times we find that we have a bunch of magazines, newspapers, and books in our car. These are a great way to pass time especially if you are stuck in traffic. The book storage should be easy to hang behind the passenger seat or on the back seat.
6. Car Hooks and Hangers
Car hooks are a must have for any person obsessed with organization. All you have to do is to fix it on the back of the driver's seat and on the back of the passenger's seat.
A car hook or anger helps when you need to hang your handbag, an umbrella, shopping bags, a coat and other items. If you have a car seat cover, be careful not to poke this car cover as you are trying to pin the hook or hanger.
7. Zipper Bags
These are plastic bags with zip. They are great for storing small items such as sweets, keys, pens, makeup items among others. What is great is that they are lockable and you don't have to worry about anything falling out or getting lost. Having two or three of these in your car will help you stay organized.
8. Flip Trunk Shelf
Since the trunk is just one big open space, fitting in a shelf is a great idea. This way you get to subdivide the space into two and store more items. Your shopping bags will have more space and you won't have to pile one bag on top of another.
9. Side Seat Holder
These were originally designed to hold remote controls. However, you can take advantage of the extra storage space to store your drinks, pens and arts and crafts items if you have kids.
10. Empty Pill Container
Instead of throwing away that empty pill container, put it in your car's dashboard and use it to store coins. You can also keep small items like earrings, paper clips and buttons. A great thing about it is how firmly it closes so you won't lose your small items.
11. Snack bag/ Shower Caddy
A shower caddy is a great multi-purpose tool to help you stay organized. It can store both your drinks and your food items. Alternatively, you can have a snack bag where you can keep all your snacks and lock them away for later when you need to.
12. Lockable Plastic Container
Lockable plastic containers are great for organization. This is especially if you have many different items in your car. Rectangular containers are best since they can be placed on top of each other and they occupy minimal space. For better organization label the containers or purchase clear ones so that you can be able to tell what goes where.
13. Back Seat Shoe Organizer
A shoe organizer is great for a variety of uses not just shoes. You can easily hang it behind the driver's or the passenger seat and store different items in its pocket. This can range from keys, pens phones, coloring pencils and other crafts items for your kids.
14. Back Seat Tray
Aback seat tray comes in handy when you are looking for somewhere to place your food as you eat. You can also use it to place your laptop or tablet as you work. This will help you stay organized other than placing everything in the back seat.
15. Basket
A simple basket in the car can help you store a wide array of items. You can store coats, books, a blanket, shopping among other things. It's a great option because it does not limit you to which items can be stored in it and it easily fits in the trunk of your car.
16. Visor Tissue Holder
Instead of having a tissue box out in the open, why not hide it away? A great idea is to have a tissue box attached to your visor. This is great because it will be easy to reach.
17. Dashboard Phone Holder
Investing in a phone holder is one of those things you will never regret. The phone will be easily displayed in front of you and you won't miss a call or a text. You also will not be distracted when you are driving and trying to find your phone at the same time.
Final Words
Once you make use of all these tips you find that you are neater and more organized. Some of these hacks are quite easy to do and affordable. The trick is to multi-purpose some of the storage items so that they do not occupy too much space. Having everything tucked away also helps avoid clutter.
Disclosure: As an Amazon Associate, I earn from qualifying purchases. The commission help keep the rest of my content free, so thank you!