As the name suggests, you can indeed 'Go pro' with the GoPro HERO3 Black Edition waterproof HD camera. The promotional video by the company shows how accurately the device can capture motion, color, lines and light.
It has several cutting edge features like Wi-Fi connectivity and 4K Ultra HD capability that catapult it way ahead of competition. For adventurous video shooting enthusiasts who like the tough terrains, it is an ideal device. Read on to find out whether it ticks all the boxes left blank by its two predecessors.
GoPro HERO3 Black Edition Design
GoPro HERO3 Black Edition is a very small camera; almost 30% thinner than the previous model and it is also 20% lighter and weighs only 2.6 ounces. With portability problems out of the equation, it immediately becomes more appealing for outdoor shooting. The waterproof cover lets it be fixed to all imaginable surfaces, although the mount could have been more versatile. The camera comes with a tiny clip-on LCD screen which has live preview and playback option. The touch controls on the screen helps overcome the fiddly menu system on the camera body. The touchscreen is however, less sensitive around the edges and does not work well with gloves.
Image quality
The Hero3 Black edition camera claims to be twice as efficient in light conditions as Hero2, or White and Silver editions of the same camera. But the claim seems a bit of stretch because the improvement is certainly not double. Black color is stable in the images but in low light the noise level increases. However, it is hardly fair to expect the camera to double as a night vision recorder and adding a light source whenever possible is customary. But on the upside, Hero3 Black works excellently in very bright conditions; there is no glare even when exposed to direct sunlight. In moderate light too, the camera captures vibrant images. The 1080p resolution is great at 50-60fps, 720p works best at 100-120fps and 1440p yields good results at 48fps. It can almost pull off 2.7K at 25fps, but 4K works ideally only at an unimpressive 15fps or so.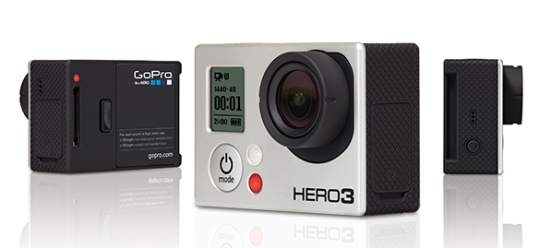 Editing features
There is a Pro Tune feature for grading the videos after shooting. You can do a white balance control, add raw WB and adjust Kelvin temperature. Along with ultra wide angle lens, narrow and medium crops are available in 1080p without compromising resolution. The output is in mp4 format, which makes the H.264 codec compulsory. Flexibility of formats would have been a nice addition but most current devices are capable of handling mp4, so it is not a major concern.
Battery of GoPro HERO3 Black Edition
Fitting a battery in such a small space is bound to compromise battery life. The camera can shoot 50 minutes of footage, which is reduced at higher resolution and frame rates, further so (only about 30 minutes) if Wi-Fi is active.
Accessories
Larger battery packs are available for purchase, which is a wise buy because the inherent battery life is inadequate for prolonged shooting. A LCD Touch BacPac and second generation Battery BacPac are available at reasonable price. It supports 3.5mm stereo mic adapter and memory can be extended up to 64GB with microSD cards or class 10 or above.
Wi-Fi
The built-in Wi-Fi is a very handy addition because we live in an age when we feel driven to be connected everywhere at all times. If you download the GoPro app on your Smartphone, the seamless continuity between the two devices will enhance your video sharing experience. When Wi-Fi is on, a blue light blinks on the front of the camcorder. With the GoPro app you can control settings like resolution, frame rate, video crop etc. It is a much easier substitute of the camcorder's own menu system. The camera can even be fired off using the app. The GoPro app lets you handle up to fifty camcorder models.
My Verdict
While GoPro Hero3 Black edition is smaller and lighter than its predessors, the menu system is still not ideal for use. 4K resolution is only feasible for 15fps, which is not nearly good enough for action photography. However, it offers excellent ultra high and standard HD resolution (1080p and 720p) at reasonably high frame rates. The Wi-Fi connectivity is another bonus feature. Overall, it is a great camera and well worth the standard market price, $399.95.
Disclosure: As an Amazon Associate, I earn from qualifying purchases. The commission help keep the rest of my content free, so thank you!