Let us rewind half a year back (first half of 2012) and take a peek at the list of the most sought after Android devices that had been released then.
If people were asked to pick the best among that lot, I can assure you that most of the people would've anchored their choice to Samsung S III. But if i ask the same bunch (techy based) of people the same question on today's time scale, the answer will obviously be Google's brand new android flagship device – Nexus 4. We all were eagerly waiting for the launch of LG made Nexus 4 since July last year. Only a handful of Nexus 4 has been launched in US. In UK and European countries, it is launched but yet to be shipped. So before its grand release, I decided to pen down a simple analysis on whether this new Nexus will fulfill your technological needs or not.
Nexus 4 – What is it all about?
Hardware:
The LG manufactured Nexus 4 is almost an iteration of the much hyped Galaxy Nexus when it comes to design. Only a closer look can spot many significant differences between them. For layman's, this device is mainly made out of glass coated smoothly from edge to edge for better touch experience. The back of the phone has a flat glass covering with a holographic pattern on it. But the only con is the brittleness of the back glass- even a slight pressure can cause a crack in it. So be careful!
Orientation of the buttons is same as of its predecessor- Galaxy Nexus. Headphone jack is on the top and the micro USB sits in the centre of the bottom edge. The speaker is housed in a small dent on the back of the phone and above it lies the camera and flash.  Personally, I think the central positioning of the flash in Galaxy Nexus was better.
Design: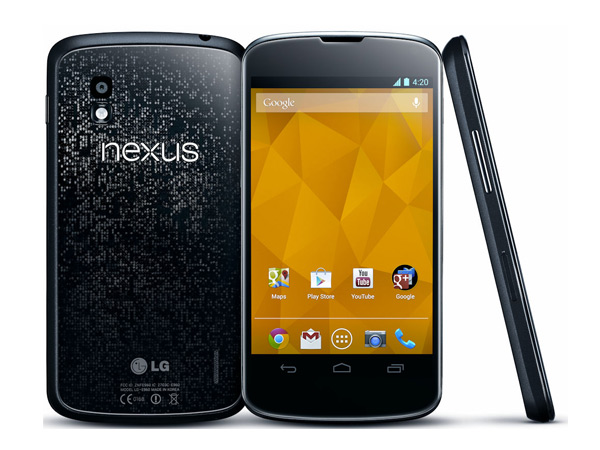 To me, this new brainchild of Google is quite handsome but comparatively (with its competitors) demotivated. Though most of its design is inspired by Galaxy Nexus, this trendy device has its own USP and cool sturdy look. It has taken fewer risks than HTC's regarding hardware and design than its arch market rival HTC One X. So all in all, it's a great gadget to start with in 2013!
Specifications: Inspiringly Impressive
From here on if you read me saying a thousand times that this is the best Android phone till date, then you may not believe me until i depict you the anatomy of this impressive device. The heart of Nexus 4 is made up of Qualcomm's superfast Snapdragon S4 Pro clocked to 1.5Ghz. Google admits that this is the fastest phone on this planet(an empirical fact).This device has two versions- an 8GB and a 16GB  loaded with a healthy 2GB RAM. One of it's major drawback is there is no SD slot and thus we are stuck with limited storage.
Complying with latest technological developments, Google has put it right in place. Nexus 4 is loaded with a wireless charging dock that looks almost like the Palm Touchstone. The good news is it works fine with almost all carriers all throughout the world.
Camera and Display: The bigger, The better
The phone has two cameras altogether – an 8 megapixel on its back panel and another 1.3 megapixel up front for video calling. I would say, in short that the primary camera is much better than Galaxy Nexus. Excellent colour clarity of the pictures is topped with very low amount of noise- the perfect combination to offer within this mid-range. Focusing on a particular object with the camera is very easy, though there is a chance of improvement in its macro-capability. Low-light performance is much better than Galaxy Nexus though no significant change in hardware is noticed.
When it comes to improvements, the display of Nexus 4 is simply spot on. LG has replaced Galaxy Nexus's Super AMOLED screen with a slightly wider 4.7 inch, 1280×768 LCD display which produces clear cut and crisp images. But in low-light (auto-brightness mode) the visibility problem of the display persists.
Performance and Software: The best on the business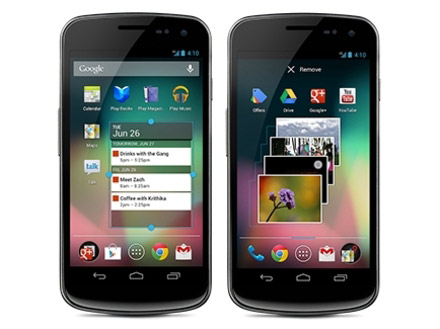 Performance
As claimed by Google, Nexus 4 is the fastest phone on the planet till date. I would not prefer to argue on the validity of that point but yes I would rather say that the performance of the core and the responsiveness of the device are brilliant. It is a very agile phone which works with ease even when multiple heavy apps are open. Battery life adds to the wonder list of this device! Even on a loaded day, it gives nearly 18 Hours of continuous power if charged fully which is much better than Galaxy Nexus which gave a mere 10 hrs on a busy scheduled day.
Software
When it comes to the software, the ICS (Ice Cream Sandwich) of Nexus 4 isn't anything out of the box when compared with Galaxy Nexus. But this OS of Google is a bit more polished than the current 4.2 'Jelly Bean'. And innovative changes are always on the mind when it comes to Google!
Majority of the software updates in 4.2 are related to camera. And coincidentally, camera is one of the main attractions of Nexus 4. It is more interactive, more edgy like you can swipe through the pictures while editing is live on your phone. Isn't that awesome? More to add, there are several new editing options with the brand new HDR photo mode topping the list. Now click and edit pictures in Nexus 4 in no time!
Another good addition to the bag is Photo-Sphere, a new shooting mode which enables you to click a panoramic Street View picture all by yourself (You can include yourself too).
Gesture Typing is also a new inclusion to this mid-range phone. It makes one hand typing in a QWERTY keyboard easier than ever. As of Gmail, there is a much needed update of scaling the e-mails (messages) within the width of the screen of Nexus 4.
Google's latest initiative Google Now has always been an issue whenever it came to its sharpness of searching capabilities. Google has proved all its critics wrong by improving the speed and quality of voice search by leaps and bounds. And now it's really looking like the theoretically prescribed Google Now.
Wrap-Up
This new flagship Android device is arguably the best Android smartphone till date and arguably the best of 2013. In USA, it is priced around $600. Only one con that i noticed in Nexus 4 is its hesitation in playing third-party apps. Either they are crashing while opening or not fitting in the screen properly. I am sure that these small issues will be taken care of with time.Another big issue is the absence of LTE in the phone.That is the most unexpected part of Nexus 4. Otherwise, it is the best midrange phone with so much heavy features than SIII or One X. If you are a hardcore android person who likes to fiddle with its phone or a techy guy who wants a high-end smartphone in performance and specs, then i would say this is the phone for you. Just go and grab it.
Ratings:
DISPLAY-8
CAMERA-8
PERFORMANCE-10
SOFTWARE-10
BATTERY LIFE-9
Pros:
Better Build Quality than Galaxy Nexus
Best version of Android (4.2)
Excellent device at the most nominal price
Cons:
Display a bit washed out, especially in broad daylight
Glass covering at the back breaks easily
No SD card slot.
Disclosure: As an Amazon Associate, I earn from qualifying purchases. The commission help keep the rest of my content free, so thank you!