Google and LG quietly updated the Nexus 4 design to make it more slip resistant. The design changes were made on the back of the mobile phone to avoid the extra slippery surface to be the cause for the mobile phone to fell off the table or any surface.
The changes were reported first by many new Nexus 4 owners claiming that their mobile phone has a slightly different back surface as compared to other Nexus 4. But the news officially came out when a German site confirmed that it is indeed a design change by Google and LG.
Changes in the Nexus 4 Design
There are two noticeable changes in the new design of the Nexus 4.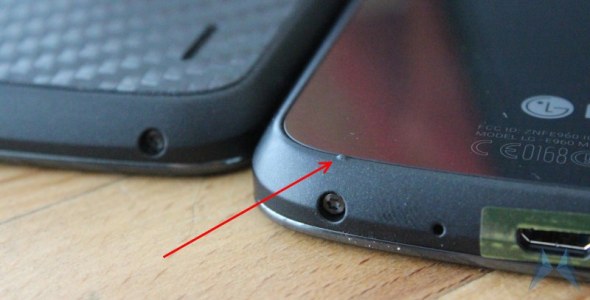 First design change is in the speaker area and the camera lens at the back. Both of them have been reduced in size. While the camera border is now a bit towards outward, meaning that the border of the camera will touch the surface before if the mobile is put on a table or a surface. So it provides a bit of a resistance against the over slippery surface of the Nexus 4.
The second change is on the rubber surrounding the phone body from all sides. There is now a small numb on each side of the rubber, thus again providing a bit of a resistant against the surface.
There is another advantage of the nubs. Due to the new nubs, there is a bit of a gap created between the lying surface and the mobile speaker. This gap will allow the speaker to provide more loud volumes to notifications and other sounds.
People who have already purchased the Nexus 4 might not get this advantage from the revamped Nexus 4 design and might still need to be extra ordinary careful while placing their mobile on a surface and avoid slipping the phone like a bar of soap. Such users might rely on external bumper cases for this issue.
People who intend to buy the Nexus 4 in the upcoming days, should not panic about the design change as it is not much noticeable and does not change the overall looks of the mobile phone. In fact, those who are planning to buy should wait for the new Nexus 4 to arrive at the shops.
Disclosure: As an Amazon Associate, I earn from qualifying purchases. The commission help keep the rest of my content free, so thank you!