Google is beefing up further its efforts geared toward extending the market reach of Android by integrating the Chrome OS for personal computers into the mobile operating system.
Baking the Chrome OS into Android only validates the superiority of mobile computing over the traditional desktop or laptop devices. It's also an acknowledgement on the part of Google, if subtly, that segmenting the market into the mobile users and traditional computing devotees has already lost its relevance as far as Google's business is at stake.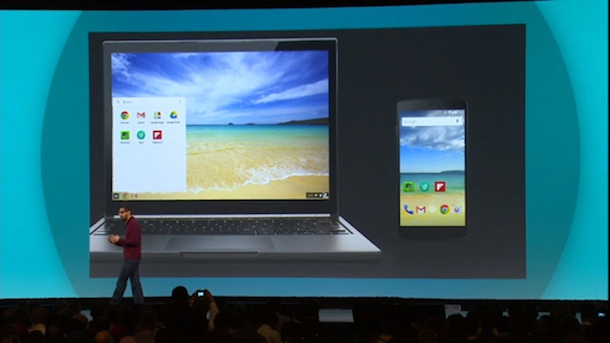 The move is also the culmination of a two-year collaboration among Google engineers to bring the different operating systems into a single ecosystem for the billions of users out there who continue to patronize Android despite the recent mass exodus of millions of Google fans to the iPhone.
Loyal Android fans are not likely to get their first glimpse of the unified operating system anytime soon, but industry sources told the Wall Street Journal a beta version is set for release next year, while the full version will be unwrapped in 2017.
In the beginning, Google envisioned Chrome OS to be a platform for interfacing the Web and browser experience of users using their mobile devices. It was designed to enable users to open applications through the Chrome browser in a one-stop shop model so that people no longer need any other means of getting access to software.
Most PCs that run the Chrome OS are cheaper versions of their flagship, with only the basic features and hardware installed.
Google's intention was to test the waters with both the Android and Chrome OS, so it supported the two products with separate dedicated teams. Through the years, however, mobile computing has emerged as the top preference among billions of users, gradually leaving the traditional computing behind, though not entirely making it bite the dust.
More than ever, this is perhaps the latest in Google's attempt to bring Android to as many devices as the operating system can penetrate, meaning the diverse pool of mobile devices and computers that have different carriers and manufacturers.
Android already runs many of the smart devices people possess nowadays, including wearables and the car infotainment systems. Extending its reach to personal computers will enable Google to forge partnerships with more developers who will then build more apps for the ecosystem.
It is still not known what the new, integrated operating system will be called. And even Chromebooks, which run the Chrome OS, will have a new brand name. But one is sure, users will then be able to access the Google Play Store and download apps using their desktop or laptop computers.
Disclosure: As an Amazon Associate, I earn from qualifying purchases. The commission help keep the rest of my content free, so thank you!