If you happen to own an Android device then there is no end to the possibility of customizing your device. In android you will find hundreds of launchers which can take away the boredom of same setup.
Some of the most popular launchers are Go Launcher, Nova/Apex Launcher, Themer, Aviate launcher and many more. You can even give your non Nexus device a look similar to what we see on stock Android device, isn't that great? There are launchers which give your device the look of a Windows Phone or iOS even.
There comes a plugin for a launcher named Espier which provides your phone with Control Center along with iOS 7 theme which is really awesome. If you want to find out what else does it do and how to do that, check out the guide below.
Requirements:
Since it is a plugin for Espier Launcher so you will have to install launcher first, then only you will be able to use it. After installing the launcher head over to Play Store and search for Espier Control Center 7 or use the following links to download it. We have two versions of this application one paid and other free.
Download Espier Control Center Pro: Paid 
Download Espier Control Center: Free 
Setting up Control Center: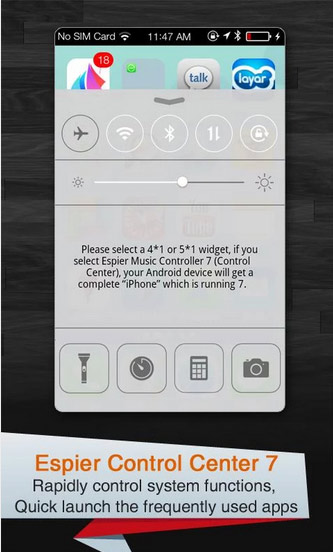 Setting you Control Center is pretty easy. After installing plugin you will see a drawer line, if you pull that up Control Center will show up as it does in iOS 7 in iPhone.
In the first look you won't able to differentiate between the one found in iPhone. As the entire toggle buttons are in their place. Then you have toggle for brightness after that you will notice the difference. As here instead of Music Player you will see space to add widgets which is awesome in a way, as it gives you more freedom to add application which you use more.
In case you want to have same Control Center then you can download plugin for Music Player for Espier Launcher too. But I personally recommend using the widget which we use the most.
If you are using free version of Espier Launcher then you will be bound to use Google Play Music only but if you want to choose from the set of players installed then you will have to buy the license.
More Settings: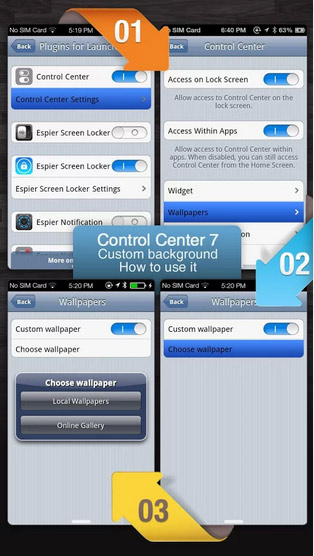 There are some usual settings which are found in iOS 7 such as ability to access Control Center from Lock Screen, Ability to access within Apps and more.
If you find this Control Center useful then do share this post on Facebook, Twitter and Google Plus. If you are facing any kind of difficulty then make sure to ask us out.
Disclosure: As an Amazon Associate, I earn from qualifying purchases. The commission help keep the rest of my content free, so thank you!