Finals were over and summer vacation has started. An app that ranked as top 1 on the US educational app ranking chart, has caught the eyes of many students during the final season. The e-learning app is Gauthmath, where students have free resources to enhance math education, and to get instant, on-the-go maths step-by-step solutions for free. With the perfect combination of technology and real experienced maths tutors, Gauthmath provided the most helpful maths assistance to struggling students and parents in final preparation.
Even challenging maths questions like word problems and geometry questions for app solvers using AI techniques, Gauthmath can do it. When students were reviewing maths, just take a snap, tutors would send explanations in mins. The convenience brought by tutors of the app helped many middle school and high school students preparing their finals in remote studying. It explains the reason of the thrive of Gauthmath communities on multiple social media platforms. Students are grouping together and using a new way to learn math at home, especially in a post-Covid era.
The app is spreading all over the world
Gauthmath has launched in 173 countries by June. It certainly has won the hearts of students struggling with math homework. Don't know the answer to a math question? Just Gauthmath it. It provides a solution for those who are not a big fan for online classes. In Gauthmath, students don't need to sit tight and listen to maths tutoring for methods that they've already known. Just snap the part that they feel disturbing, mins later, detailed explanations are provided. No need to take up the time of a friend who learn maths well or parents who've been not practicing maths in years. Plenty of tutors are ready to tackle the problems in the app.
From North America to Southeast, students found an efficient way to prepare for their finals when they couldn't go directly to their teachers for help when studying at home. By helping each other with an experienced tutor stand by 24*7. A Discord user from Indonesia told us her story of how Gauthmath helped her "Recently my teacher had forced me to take additional mathematics. Well, thanks to covid all of our classes were being held online. My math teacher would turn on his camera, and would write everything on the whiteboard. Now, I live in a third world country, with not the very best internet connection. Half the time, the whiteboard would be too blurry or my teacher's voice would be lagging. I had absolutely no idea what he was teaching and when he would ask whether I understood it or not, I'd just reply saying yes. Exam season was going to start soon, and I was really nervous for all my subjects, especially mathematics. I was trying to solve some logarithm practice questions, when I happened to get stuck on a particular question. Now usually I would search a related video on YouTube or post it on Reddit and get a repsonse. This time, when I posted my question on Reddit, I got a repsonse from a gauthmath tutor who provided me with the solution. Later he dm'd me telling me about Gauthmath on Discord. I joined it, thanking him. Trust me, when I joined this server, everything seemed too good to be true. I instantly downloaded the app and was impressed with how wonderful and amazing everything was. I kept thinking, nah this can't be true, I bet this is some trial version or something. But nope, THIS IS REALLL! The staff were extremely helpful and humble. There's always someone there to help. The gauth coin system is great as people are getting something in return for helping each other, and I feel motivated to earn them. Thank you so much for this server and this app. This is a blessing for students like me.
Tutors were level up. Answer chanllenging questions in a snap!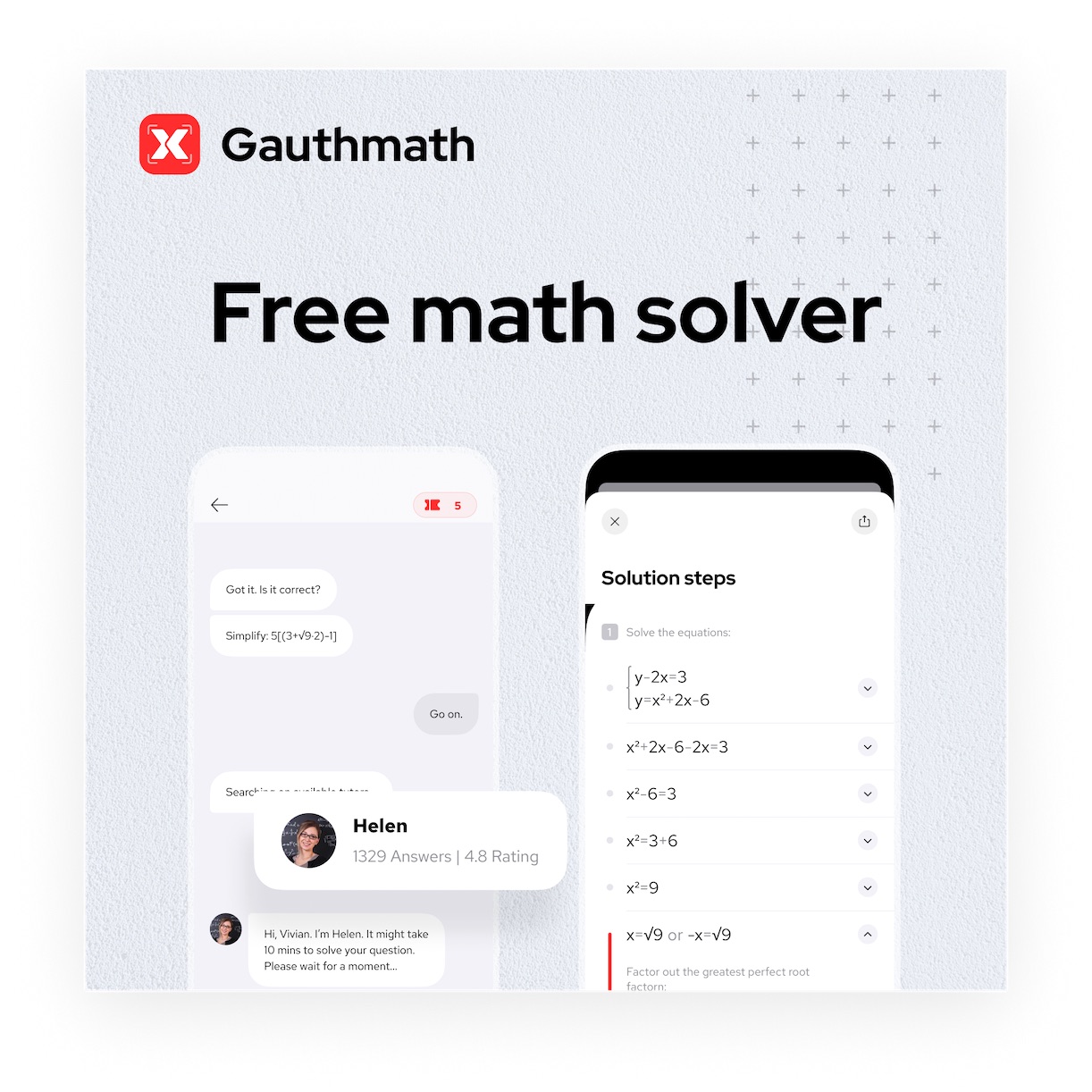 For a math solver app, the most important feature is efficiency and accuracy. With math doctors developing methodologies to train tutors to solve complex math concepts, tutors' answering speed and accuracy were improved significantly. They could even solve high level maths questions within minutes. Tutors' selection procedure and elimination system were also improved significantly. Only the ones who passed Gauthmath tests with good scores could stay and help the students.
The company has been improving its speed and accuracy ever since its first launch. They have a strict selection system for tutors, which ensures the quality of the answers, according to staff from the Gauthmath team. The tutors need to go through strict training sessions before they could take any questions from the platform. With more users coming to Gauthmath for help, they said a more efficient and intelligent system will soon be ready for millions of users. The App perfectly combines advanced techniques with human power as well, giving students a brand-new experience of interacting with tutors.
The interaction between a tutor and a student is relaxing. There is no pressure from an adult tutor that could implement on a student who's not good at maths.The system has been improved in a way that solutions would be checked twice, by the AI and the real tutors, before it comes out. When students have more advanced math questions, Gauthmath will directly connect the student to a live tutor 24/7 for solutions. This strict and efficient AI system created by the Gauthmath team has helped students who lack educational resources due to Covid.
The users are forming a fun maths learning community on social platforms
With the math-learning spirit, Gauthmath has created a fun and friendly maths community with over 50,000 members on Discord as an extension for maths exploration. Many students have found their way of studying math there, such as participating in the math puzzle events, discussing math fun facts with tutors in voice channel, and post maths trivia that no one knows! The events in the community took away the pressure of maths-learning and contributed to an enjoyable environment for students to learn. There are always fun events in the community every day, ranging from study-related activities such as Math Quizzes, Speech Competition, to art-related activities such as Art Competition, Talent Show… What's special about these events is that almost 95% are self-organized by Gauthmath members themselves! A fun place to learn math.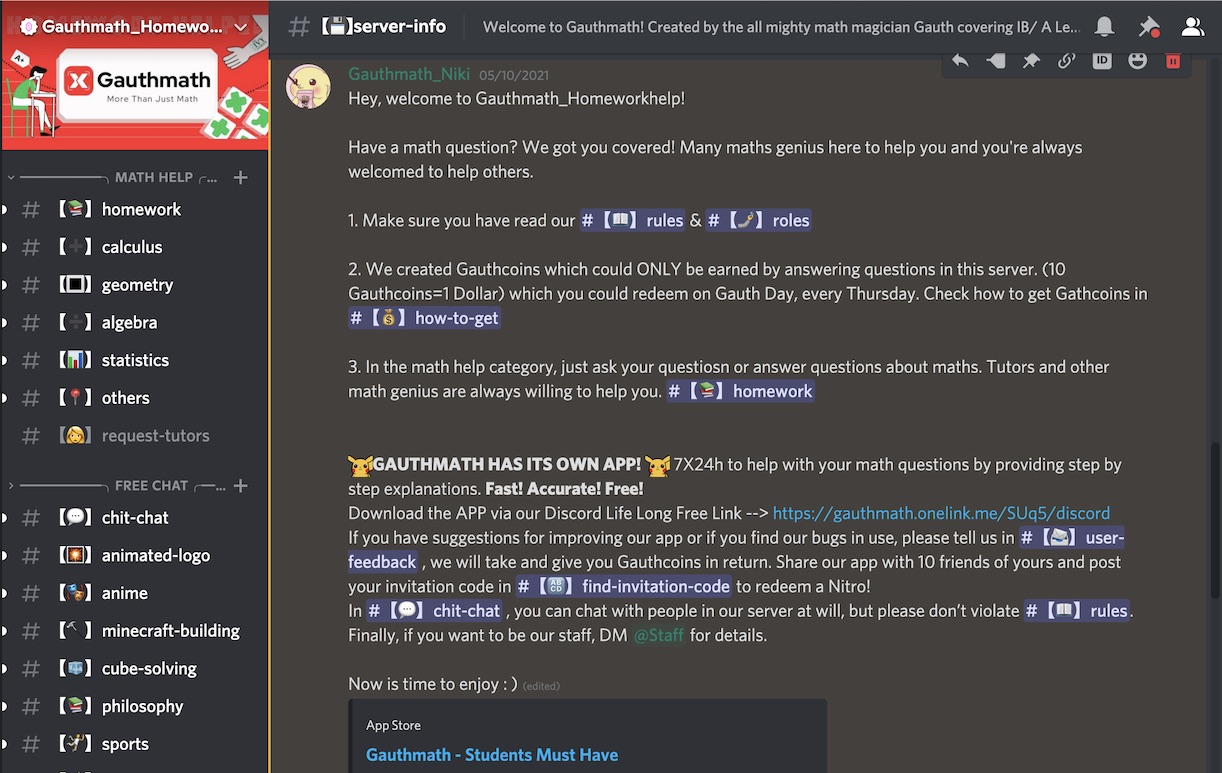 Everyone can ask and everyone can answer in the community. As what we feel in the app, its members' community are dedicated to provide everyone a chance to ask and express themselves. No one will be laughed at for being different. Whatever the difference comes from poor maths grade or full score on maths. The members community that Gauthmath is trying to build on Discord is that everyone can help everyone to learn math and everyone could get themselves math studying buddies.
For example, the Math Puzzle competition, which happens regularly on the server, has triggered many students' interests. Many members even start learning more math after the competition just because they want to "win" next time. One member claims that it is rare for him to study in the summer, but this time he has decided to learn more knowledges because he wants to prepare for the next math puzzle competition. Gauthmath server has successfully managed a balance between study and fun, providing students an ideal learning atmosphere within the server.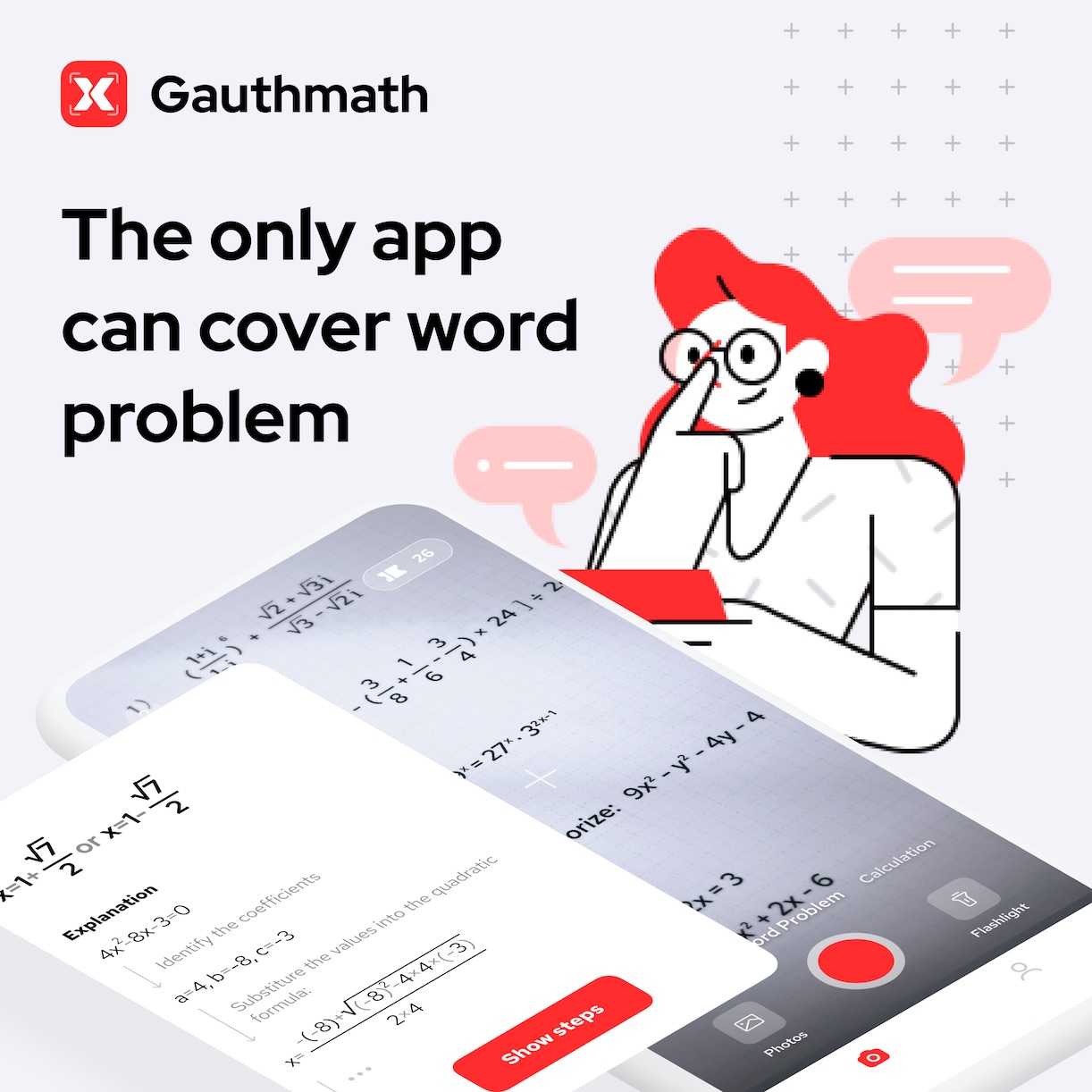 As one of the managers in the server, one student gave his opinions about the Gauthmath server: "I love being an admin in Gauthmath the community is great! I decided to become an admin here because I love the community and want to give more back and help out more!" Many other members of the server have also expressed the same admiration and appreciation for the server. As mentioned, the community enables everyone to learn together while giving them enough fun activities during Covid-19 quarantine. Recently, Gauthmath server has started multiple study programs that are designed to help students improve math or other subjects during summer vacation. For example, "Study Buddy" is one of their popular ongoing summer learning activities, which helps everyone to find a study partner. The purpose of having a study partner is to supervise each other and make summer vacation more meaningful for server members. "Sometimes when you have a study buddy, you have much more motivation to work on certain tasks especially during the summer," one student in Gauthmath server said. There is a designated channel for students to post their goals and progress. If you visit the Gauthmath server in the morning, you will see over 20 students live streaming their study screens or notes in the voice channel. Once they finish a task, students will record it in a certain channel to keep track of their progress. Many students even share them reading books, playing instruments, or even doing arts or sports. One of the staff of Gauthmath commented, "We designed these programs for summer just because we want our students to enjoy and efficiently use their summertime to develop some interests or skills, while not making it too boring or coercive." Students can improve together and encourage each other as friends through these programs.
The youngsters love it, which explains why Gauthmath went viral on Tiktok. Search #gauthmath on TikTok, one could find millions of influencers and TikTok users posting duet videos about Gauthmath. User engagement on TikTok is unprecedented for an educational App. After going through some TikTok videos, one top discussed topic is the accuracy and speed of Gauthmath. For example, one video showed that Gauthmath has solved a 10th-grade algebra question within 2 seconds after the student snapped a picture in the app. Another TikTok video shows a funny duet video with a teacher who tries to boost everyone's confidence before final exams.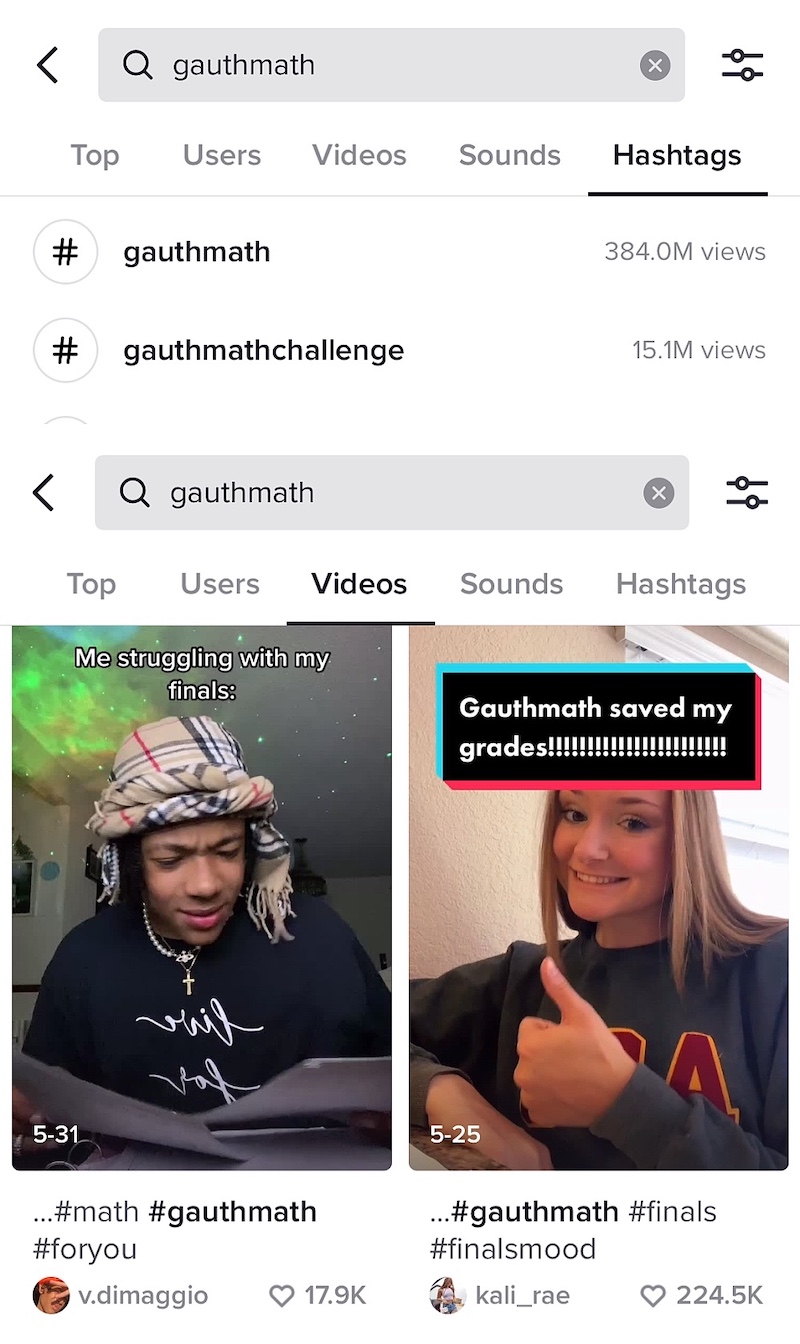 Not only in the US, but Gauthmath is also popular in South East Asia and other regions. One of the Gauthmath TikTok activities, "Put Your Fingers Down" has gone viral on Indonesia TikTok. There are over 49k users shooting this Gauthmath duet video, making it one of the most popular activities in South East Asia TikTok. People are not only sharing experiences of Gauthmath but also engaging with all other fun maths activities on TikTok.
A life-savor for remote-studying students in final preparation
Due to Covid, many students had to stay home for classes and homework, which means that students have fewer opportunities to interact with teachers. It was also hard for parents to keep track of their kids' homework as well. Gauthmath community acted as a free tutor that both students and parents could access during quarantine. Whenever a math question is asked, a tutor will soon show up and help. One of the tutors in the Gauthmath Discord community has been helping students with math questions since March, he commented: "I am so happy to be a tutor here as it gives me a chance to put all of the maths I have learned to use for a good cause and it's great for the students as they know that they can always get help on any problems that they are stuck on within seconds." The community has connected math geniuses with students who need help with math around the world, making it a sustainable math community on Discord.
Many members love Gauthmath for its friendly and equal atmosphere. One student said, "Gauthmath is the friendliest server I've ever seen on Discord. People are so nice to me and I have enjoyed studying and having fun here." The words "friendly", "equal" and "relaxing" were often used to describe Gauthmath server because everyone is treated respectfully. For many events and open discussions, staffs are there to maintain a respectful and educational space for everyone. Gauthmath staff said, "By establishing a community like this, we are also achieving our company's value, which is to make education more equal and accessible." In Gauthmath server, even though the tutors are not professional, it still gives many students chances to ask for help from those who could give. An online platform like this can redefine e-education, as it opened a new door for people who lack educational resources in the world.
Still free but have a ticket system. Might charge in the future?
Gauthmath has always been free since it's launched, but when will they start charging users? As we've seen in the past, educational apps will eventually need to find a way to sustain their businesses. For Gauthmath, there is no answer. As of today, Gauthmath has a ticket system, which eliminates the users every week from asking too many questions. Every user will be given a certain amount of tickets every week and the ticket can only be gained by inviting more friends to the App. Will this become a paid subscription in the future? Maybe or maybe not. The staff of Gauthmath did not give a clear answer to this question. But I do believe that with the unparalleled quality of the App, users will be more willing to make purchases and support.
Disclosure: We might earn commission from qualifying purchases. The commission help keep the rest of my content free, so thank you!