Are you a professional YouTuber looking for some advanced features for video editing or just a beginner searching for a simple tool?
FilmoraPro is the answer to all your questions. I was a novice when I started using the Filmora video editing software and now, that I have become a thorough professional, I am still continuing with the advanced software, FilmoraPro from the same Wondershare family.
It has given me more control over the features but the ease and simplicity of the software remain the same with the help of FilmoraPro guide. For me, Filmora's video editor for pro is the ultimate software offering advanced features that any professional filmmaker or YouTuber would want for video editing. But, the simple interface and easy navigation of FilmoraPro also makes it an ideal tool for any semi-pros.
4 Features of FilmoraPro
1. Bring Clarity in Sound
One of the most vital requirements in a video is the sound. The clear and right soundtrack or sound effects can smoothly describe a sequence even without any words. Such power has the role of sound in the videos. But, when you shoot a video, there might be several background noises spoiling it or your video might need a background voiceover or tracks to describe the sequence. Filmora's pro video editor lets you bring clarity in sound or add voices or music to your video with its audio noise reduction, audio transition, audio compressor, and automatic audio sync feature.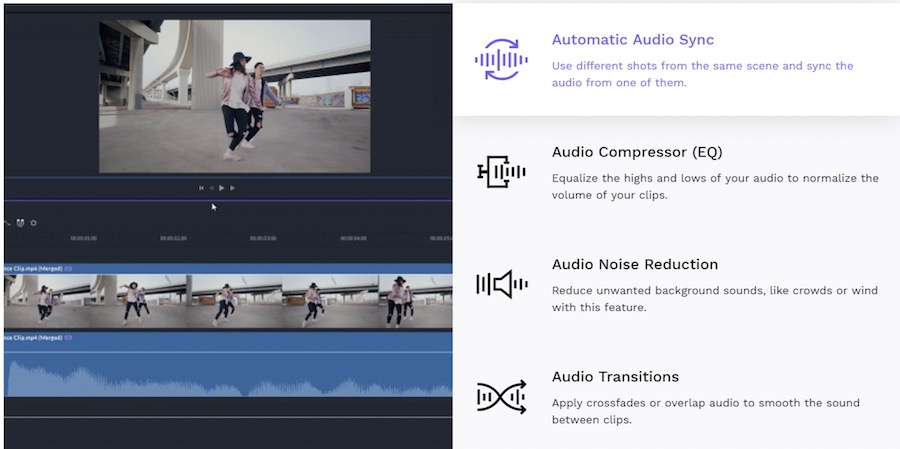 2. Give Wings to Your Creativity
Is there any parameter set for refining the video clips? Do you know how much precision you want in a video? The answer is no and thus, you are not bound by any limits. Just explore your creativity and use the amazing features that FilmoraPro offers to refine the video clips with precision. From advanced editing features to range markers and timeline grouping, your imagination and creativity can fly and attain the best and the most perfect video.
3. Use Animations to Make a Clip Unique
I loved using Filmora as a novice but when I started looking out for enhanced and sharper features, I could not think of any better tool than FilmoraPro. Do you know why? It is because no other software offers such advanced features like customized animation as your signature style and the best part is it is so easy to use that even a beginner can easily follow and complete it.
From dictating your animations to setting keyframes to control your effects, speed changing, and creating aesthetically designed video with highly customizable text effects and motion graphics, FilmoraPro is the ultimate software for video editing.
4. Let Loose Your Cinematic Flair
To enhance the aesthetic appeal of the video and give it a movie like or cinematic flair, there can be no other better software than FilmoraPro. As per my experience goes, Filmora's pro video editing software has hardly any competitor that can give it a tough fight. It is the leading app that allows you to correct colors and make rapid changes with high-quality presets. With auto-correction feature, FilmoraPro offers scopes, color wheels, shadow midtone, and highlight control.
Conclusion
With such amazing features of FilmoraPro, I am highly satisfied and happy with the way my YouTube videos are turning out. I would highly recommend Filmora's pro video editing software to all the filmmaker and YouTuber friends. I can bet once you start using FilmoraPro, you will never look for any other software for video editing. Rather, you might wait for Wondershare's next addition to the Filmora family for enhanced and sharper features than FilmoraPro. What say!!!
Disclosure: We might earn commission from qualifying purchases. The commission help keep the rest of my content free, so thank you!