We go online everyday to make searches for everything from sports scores to the weather forecast. This has caused us to become attached to the respective search engine that we always find ourselves using. To integrate a new web browser into your routine can be a bit daunting at first, but with Bing Rewards , it's a smart move. Today, we will talk a bit about Bing, the service is literally paying you to search the web using their search engine. If you aren't using Bing Rewards with your web searches, you are loosing out.
Bing as a Search Engine
Bing has been around since 2009, an entity that is a part of Microsoft. The search engine has since grown into almost forty languages, and even finds its place as an option on the iPhone as a default search engine if you wish. Bing is well known in commercials as well, including their head-to-head challenge with Google. The search engine offers an approachable and minimalistic design on the home screen, with a featured photo as the background that changes daily. You can search images, videos, news, maps, and also access your MSN and Outlook accounts.
Overview of Bing Rewards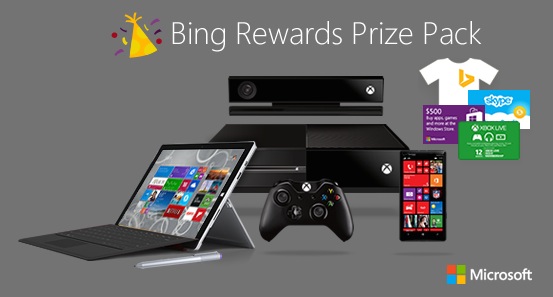 With Bing Rewards, the search engine is hoping to bring on more long term users by presenting an incentive to search using their service. With Bing Rewards, all you have to do is consistently use their product. Every search contributes toward a reward payout and they can be in the form of gift cards or discounts. In addition to web searches, Bing Rewards also allows individuals to gain through checking out features Bing has to offer. You can sign up through Facebook or your Microsoft account. Bing can be a great resource for you to not only find out more information about the games you'll be enjoying this summer, but also to find out stores that offer your game for the best price using the shopping component of Bing.
The Rewards You Reap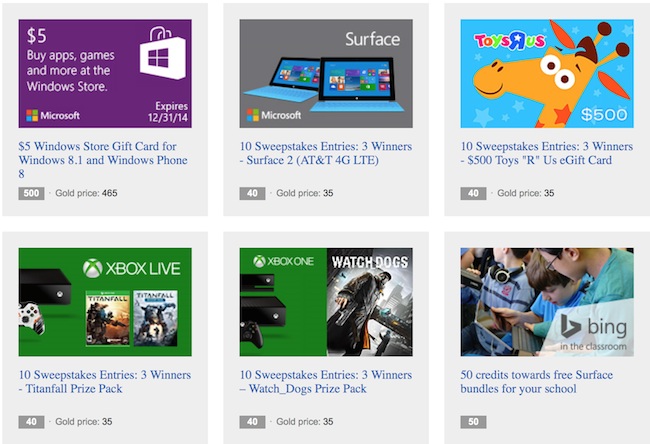 There are three normal, and consistently available, routes to gaining credits. Firstly, you can invite friends to join. Once they reach "Silver Status", which is very possible to do on the first day of signing up, you get 500 credits. You are limited to 100 potential Silver status users to invite.
This pretty much means that you can invite as many individuals as you want, but your payout limit is 50,000 credits through this method. For every two mobile searches, you earn a credit, with the limit of 10 credits a day, and Bing offers the same two for one opportunity with PC searches, however with a 15 credit limit a day for that.
Bing Rewards is great news for gamers. Bing is the search engine that is searchable using Xbox devices, and once you reach 40 credits, you can use that toward 10 sweepstake entries for a Watch Dogs prize packing, that includes the Xbox One. 525 credits unlocks the keys to a $5 Gamestop gift card, or even a $5 credit for Rixty Universal Gaming. This is a few of the many reward payout options available to you, including 950 credits for a 1 month Xbox Music Pass, or 699 credits for a month of Xbox Live Gold. If this doesn't spark you to make Bing your default search engine, then I don't know what will.
Setting Yourself Up for Success
It may seem daunting at first to reach such a credit amount, however there are a couple of ways that you can make this goal easy to achieve. First, on your mobile and desktop browser, make bing.com your homepage. For Mac users, this is possible by going to Opening Safari > Click "Safari" > "Preferences" > On the "General" tab, change the homepage domain to http://www.bing.com/. On your iPhone, make Bing your default search engine by going to Settings > "Safari" > "Search Engine" > "Bing".
Let us know in the comments below about your thoughts on Bing's Bing Rewards initiative.
I'm required to disclose a sponsored partnership between our site and Bing. I have been compensated in exchange for this post in the form of payment, product or experiences.
Disclosure: We might earn commission from qualifying purchases. The commission help keep the rest of my content free, so thank you!