Whether it is against your will or you approve of it, the United States' presidential candidates are turning to Facebook to reach the mass of voters who have flocked to the social networking site for information.
It comes in the form of advertisements, and just like any other ads, political candidates have found a way – stealthy or otherwise – to get their message across the intended audience. Facebook, for its part, is no doubt complicit of the act because it has become easier to send political ads to specific audiences via the social networking platform.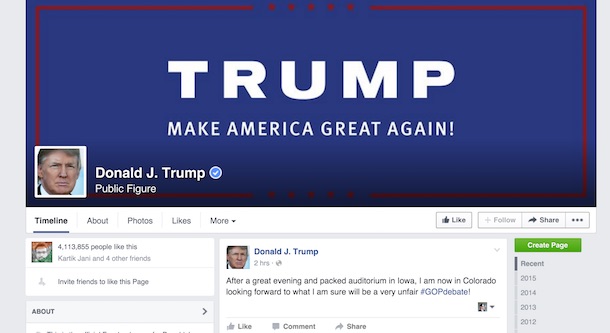 The camp of Ben Carson even admitted to the fact that the presidential candidate is relying heavily on Facebook as the core platform for his campaign. And why not? Carson's Facebook page has gained a huge traction among users, with more than 4 million followers and counting, he's at the top of the presidential bets in terms of Facebook following.
It's on Facebook that these presidential wannabes place their photos or update their campaign locations in real time or later. Facebook has become a steady stream of information from them, so it makes sense why these candidates are buying ads to target voters who are on Facebook.
On top of a constant flow of campaign posts and political agenda, they also use Facebook to place ads right on the news feed of specific users. There are even ads that count by hundreds but pertaining only to one candidate.
You begin to question whether this is not intruding into the privacy of Facebook users.
So how exactly does a political campaign target Facebook ads? One of the methods employed in online political campaigns via social media is loading a list of users to whom the ads will be custom sent. Well, there could be no indication of privacy intrusion in this case because the names were collected from people who attended political rallies and signed up.
Then it will be up to the campaign managers as to how focus ads on those potential voters and decide how many ads to target to them, the frequency of the ads and which specific action to take thereafter.
According to Facebook, the company can create a new list out of those audiences and provide the presidential candidates a roster of people to whom their ads will be targeted via the website.
Facebook says it can help political campaigners reach more audiences and donors. But campaigners also crawl the profile data of users in order to serve ads to them, which makes you wonder to what extent of privacy they can reach.
Disclosure: As an Amazon Associate, I earn from qualifying purchases. The commission help keep the rest of my content free, so thank you!