Facebook has just sent out invites to April 4 event at its headquarters with the title, "Come See Our New Home On Android". This is enough of a proof that Facebook will be announcing the next Facebook Phone at the April 4 event.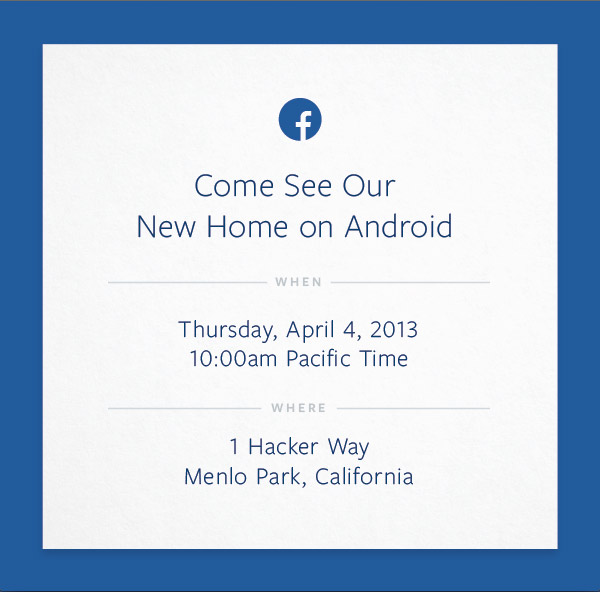 Few days ago, we discussed about possible rumors of a new Facebook Phone in collaboration with HTC to be announced in the upcoming days. Well, this 4 April event date confirms that the rumors were indeed true.
For people who are thinking about the intensity of the event, can guess from the fact that such kind of invitations sent by Facebook are done only if there is something huge that is going to happen at the event, just like the Graph Search and News Feed re design events.
The new Facebook Phone will be from HTC, obviously, with a modified Android OS especially created for Facebook integrity and functionality. There are also some rumors that this project might be known as the Facebook Home instead of the Facebook Phone.
According to a site, Facebook is also working with HTC on an advertising campaign which clearly suggests that Facebook will use HTC hardware for its new Facebook Phone.
Recap of the leaked Facebook Phone Specs
If some of you have missed out the possible specs of the new Facebook phone, here is a short summary of what the phone will have.
According to rumors, the phone will be codenamed HTC Myst having a 1.5 GHz dual core processor, 1GB RAM, 16GB internal storage and a 4.3 inch display. The phone is also reported to have 5 MP camera at the back with 1.6 MP at the front for Skype and video calling.
Although, all the bits and pieces point to only one thing and that is the new Facebook Phone, but if we look at the history of Facebook CEO mark Zuckerberg, he had consistently denied of the fact that Facebook will dwell in the mobile phone industry. According to him, it is not the company's strategy to build its own hardware system like other companies do.
With the April 4 date set, what do you think will be the new big announcement from Facebook? Will it be a Facebook Phone as speculated always or will it be a new Facebook App Store or a mobile OS?
Disclosure: As an Amazon Associate, I earn from qualifying purchases. The commission help keep the rest of my content free, so thank you!