Contract management, for most businesses, has outgrown the capabilities of older contract management systems. First, we had filing cabinets filled with paper contracts. These required frequent reviews to manage terms, dates, and other information. The next solution was contract software that served as organized and searchable repositories. This step allowed companies to access their contracts better, but still left a lot of tedious work for people incorrectly entering, tagging, and tracking the contract throughout its lifecycle.
Now, we have entered a new generation of contract management software. Evisort is a contract management software driven by artificial intelligence. Machine learning allows algorithms to sort, tag, file and even understand the language of contracts. A distinct advantage that Evisort has in this new frontier of AI is that the software comes pre-trained in over fifty functions. Machine learning takes time, but Evisort is ready for use upon installation.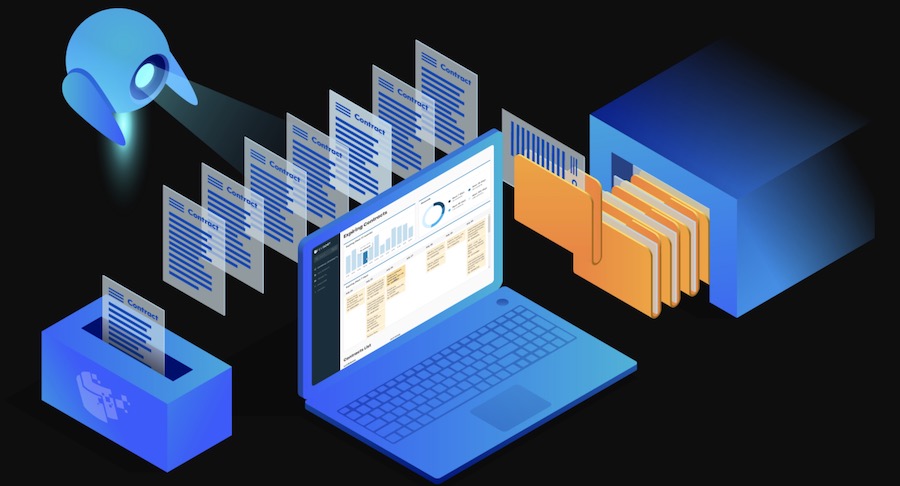 The Benefits of Evisort
Evisort integrates with virtually all other IT platforms meaning there is no need to update or change your existing IT. Evisort also has the capability to find contracts stored on other platforms, and integrate them into the repository. The power of Evisort brings every department together to paint one picture of the status of a contract.
The cloud-based storage repository is secure and accessible from any device anywhere, including mobile devices. Business no longer only takes place within the walls of your company, but around the world. With a cloud-based storage system for contracts, deals can be finalized anywhere.
Evisort can clarify the content of a contract, learn from the weak language in prior contracts, and suggest better clauses that have a higher success rate.
The software gives users full access to extract all data and metadata with just a few keystrokes. The extraction of data can include a single contract or by date range, clauses or keywords.
The options for sorting documents have almost limitless parameters, such as renewal or initiation dates, keywords, clauses, and phrases, or what type of contract. You set the parameters and the software returns the results in seconds. The capability to do this type of search puts your entire contract repository at your fingertips.
Evisort is a powerful risk mitigation tool. Without the power of artificial intelligence, contracts are often miss-tagged or otherwise lost within a system. Evisort assures you can not only find your contracts but sets alerts to warn users of approaching date in a contract. Evisort also has the capacity to identify non-standard language and issues appropriate alerts. Some risk mitigation tools are automatically initiated in the software and others can be customized to fit the needs of your business.
Evisort is unique in its capacity to manage, and learn from, third party contracts. Having third party contracts as part of a company's contract repository allows you to see all the information that has an impact on the bottom line of the company.  Learning from third party contracts means that Evisort will be able to identify areas of non-compliance or reasons for the non-completion of a contract.
Evisort and other contract management software solutions come with a large selection of pre-built templates. Evisort differs in the capacity to allow users to access previous contracts with the same provisions and to create custom templates.
The software platform can upload hundreds of contracts that include thousands of pages at one time.
Contracts are the launching point of crucial insights into the health of a business. Evisort provides analytics that can help your company gain insights into what is working and what is not. The analytic capability of Evisort searches for patterns of success or failure in previous contracts, allowing you to create more successful contracts.
There are numerous contract management software solutions on the market. The type of artificial intelligence offered by Evisort gives limitless possibilities for utilizing the software in any enterprise or industry. Evisort can handle businesses of any type or size, without worry that you will outgrow your contract management solution.
Disclosure: We might earn commission from qualifying purchases. The commission help keep the rest of my content free, so thank you!